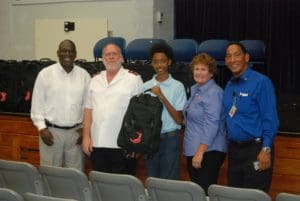 In February, D'Shawn Hodge, a ninth grader at the Charlotte Amalie High School and a member of the FEMA Youth Preparedness Council, sent a letter to Senator Stedmann Hodge Jr.
He asked for senator's assistance in procuring 15 emergency classroom kits to be placed in 15 at classrooms in CAHS. Hodge's staff responded immediately to identify an agency to complete the request. Maj. Steven Pearl and Mary Ann Brown of the Salvation Army USVI answered the call, thus D'Shawn Hodge's dream become a reality.
On June 7, Maj. Pearl, Mary Ann Brown, and Sen. Hodge presented not 15 but 25 emergency classroom kits to D'Shawn. In attendance were Alsted Edwards, principal of CAHS; Ms. Richardson, 9th grade principal at CAHS; Stefan Jurgen, insular superintendent; Eduardo Carmona, representing the Office of the Governor's Office; Sen. Hodge's staff, and several CAHS students.
D'Shawn gave some riveting remarks thanking the Salvation Army and, most of all, Sen. Hodge for the kits. The senator told the CAHS students, "For all of you sitting here today, it's about leadership. All of you have the capabilities to get anything moving. It's about networking; it's about building relationships, professional relationships. At the end, we must take care of one another. And, Mr. D'Shawn Hodge did exactly that today."