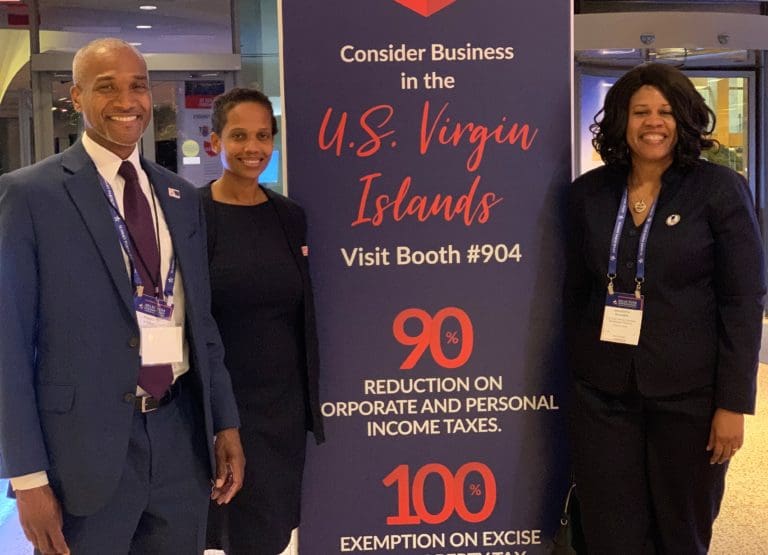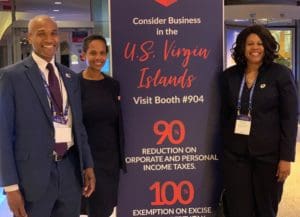 The USVI Economic Development Authority representatives recently promoted the benefits of doing business in the U.S. Virgin Islands and the territory's tax incentive program to prospective investors during a business development marketing mission at the 2019 SelectUSA Investment Summit in Washington, D.C., from June 10-13. The summit featured speakers such as advisor to the President Ivanka Trump, U.S. Commerce Secretary Wilbur Ross and National Economic Council Director Larry Kudlow.
The three-day event was a promising landscape for Kamal I. Latham, chief executive officer of the U.S. Virgin Islands Economic Development Authority; Margarita A. Benjamin, managing director of Economic Development; and Shanell Petersen, managing director, marketing and 2040 Vision, to meet and encourage prospective investors to explore business opportunities in the USVI. More than 3,100 people attended this year's summit, which included 1,200 business investors from a record 79 global markets.
According to CEO Latham, "Our participation at the SelectUSA Investment Summit was extremely successful. We had tremendous opportunities for one-on-one meetings, especially conversations with investors and businesses representatives from Asia, Europe and Africa," said Kamal I. Latham, USVIEDA chief executive officer. "This year's summit resulted in new promising leads and connections as we seek to recruit more businesses and attract more investment into the U.S. Virgin Islands," added CEO Latham.
During the 2019 SelectUSA Investment Summit, USVI Economic Development Authority representatives
• engaged in more than 20 one-on-one meetings with prospective investors
• made 75 contacts and scheduled 10 post-event meetings,
• attended panel discussions and sessions on the importance of business development in the United States,
and
• networked with booth visitors at the exhibition hall.
The USVIEDA applied for, and hosted, a SelectUSA Investment Summit Spinoff Event in the USVI, which followed the summit in Washington, DC. The Spinoff Event for the U.S. Virgin Islands, the "2019 U.S. Virgin Islands Investor Forum", was held from June 13-15, 2019 on St. Thomas and St. Croix, USVI.
According to SelectUSA, this "Investment Summit brings together companies from around the world and economic developers from across the United States, helping to establish connections that will lead to business investment projects. Past participants have announced more than $103.6 billion in investment projects within five years of attending the Summit."
To learn more about the SelectUSA Investment Summit, visit https://www.selectusa.gov.