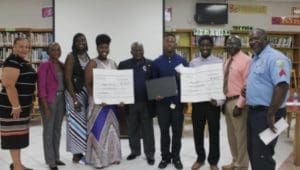 Four students were the recent recipients of the Lieutenant Colonel David C. Canegata III Scholarship offered through the Virgin Islands National Guard Association (VINGA) to students enrolled in the Junior Reserve Officer's Training Corps (JROTC) program at local high schools. Qualifying students were required to submit an essay, letter of recommendation and other documentation to be considered for the award.
A brief ceremony was held July 17 on St. Thomas and July 18 on St. Croix to award $1,000 first-place scholarships to Samara Cherival of St. Thomas and Malik Maillard of St. Croix. Laptops were awarded to second-place winners, Kamal Tyson of St. Thomas and Kimberly Hector of St. Croix.
Lt. Col. (retired) Beresford Edwards, president of the V.I. National Guard Association, presided over both gatherings and offered students his congratulations.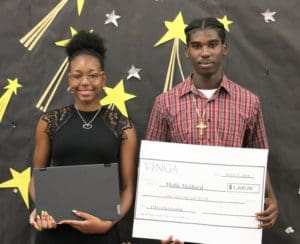 "It is indeed an honor and privilege for us to be here today to present this scholarship in honor of Lt. Col. David C. Canegata III, who died in Iraq on Jan. 20, 2007," he said at the St. Croix ceremony. "This is an opportunity to honor someone who gave his all — who gave his life for this country, and I believe this is the best way to honor him by investing in our young people. So, we are here today to honor him by presenting this scholarship."
Maillard, who will attend Delaware State University in the fall to study aviation management, expressed excitement at his accomplishment.
"I was actually surprised because when I applied for it, a couple weeks passed and I didn't hear anything," he said. "After a while, I got an email saying I won, so I was really happy." Maillard's scholarship will be used toward college tuition.
Hector will attend Barry University in the fall to study nursing and expects her new laptop to serve her well.
"I felt good because I never really won anything like this before, so it was a good feeling," she said.
A third student, Jalen Roper of St. Thomas, was the recipient of the Brigadier General Elton Lewis Scholarship in the amount of $1,000. The award is given to students pursuing a career in Homeland Security or Law Enforcement.
V.I. National Guard Chief Warrant 3 Atatcha Randolph, part of the VINGA scholarship committee, read prepared remarks on behalf of Shenneth Canegata, wife of the late Lt. Col. Canegata III.
"This academic scholarship given in his honor is an amazing way to keep his memory alive," Randolph read. "He believed continuing education was an important individual right essential to the success in life. David was committed to giving back, especially to the youths and the young adults in his community."
Assistant Commissioner Maria Encarnacion, Ed.S., and Instructional Development Director Yvette McMahon-Arnold, Ph.D., represented the Department of Education on St. Thomas and St. Croix, respectively.
Lt. Col. David C. Canegata III Scholarship is funded by donations from members of the V.I. National Guard. Canegata died during Operation Iraqi Freedom.
Danika Sweeny was the first recipient of the scholarship in August 2017; there were no applicants in 2018