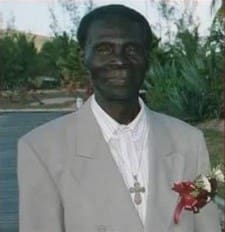 Perry Derille Belle of Estate White Lady died on July 31. He was 100 years old.
He was preceded in death by his wife, Zipporah Belle.
He is survived by his daughter, Cloretta "Telly" Belle; sons: Mitcheson "Joe" Belle, Anthony "Jule" Belle, Watson "Boba" Belle, Keithroy Belle, Evanson Belle, Trevor Belle and George "Kenneth" Belle; grandchildren: Keishaw Belle-Burnett, Kaleem Belle, Kenisha Belle, Prince Rome Campbell, Jade Belle, Garth Belle, Karissa Belle, Rushell Belle-Dotson, Jamah Belle, Atamah Belle and the rest of the 17 grandchildren; 16 great-grandchildren; sisters: Ullie and Izzy Belle (Domminica); and nieces: Roach and Ponie Belle.
He is also survived by nephews: Alvin and Dean Johnson, David Sloven, Dennis, Renold and Francis Belle (Dominica); daughters-in-law: Christina "Christy" Belle, Sheila Belle, Jolanda Belle, Leona Belle and Sandra Blanchette-Belle; sister-in-law, Maude Johnson; special friends: Aldon Rodgers, Marvis Percival, Charles "Todd" Barker, Zenon Santiago, Verne, Jermaine, Madame and Cynthia Athil, and Melissa Griffith; cousins and other relatives: Inez Joseph, Cynthia Benjamin, Markey Benjamin, Romella Benjamin, Gloria Benjamin, and extended family in Dominica and Antigua; as well as other family and friends too numerous to mention.
A viewing will take place at 9 a.m. and a funeral service at 10 a.m., Tuesday, Aug. 13, at St. Ann's Catholic Church. Interment will follow at Kingshill Cemetery.