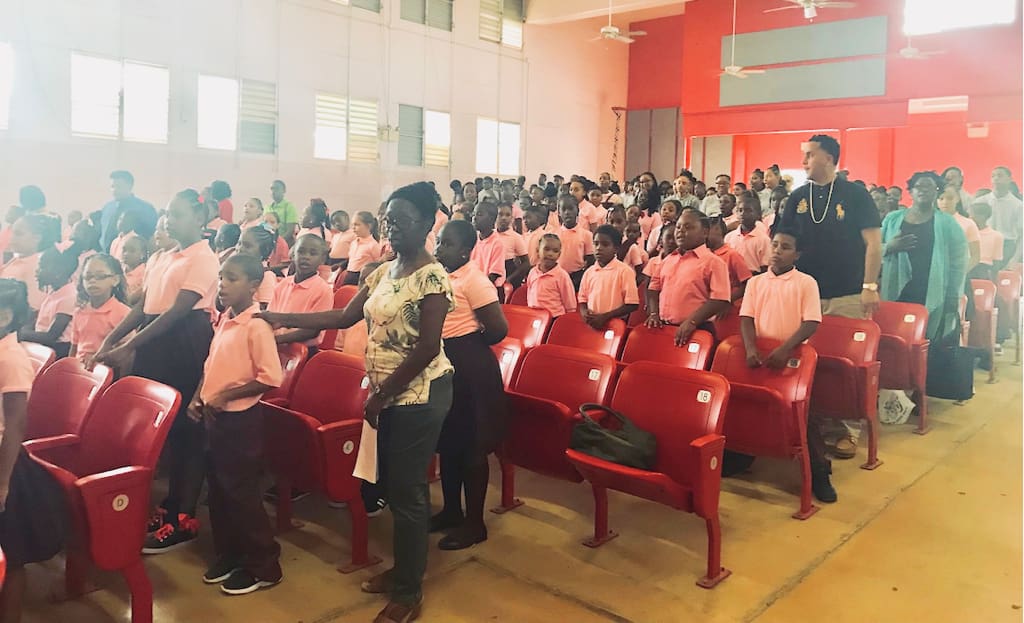 Students went back to class at Juanita Gardine K-8 School for the first day of the 2019-2020 school year, sharing the campus with an additional contingent of seventh and eighth graders.
Two other schools in the St. Croix District, Pearl B. Larsen and Eulalie Rivera Elementary schools, also added junior high grades seven and eight.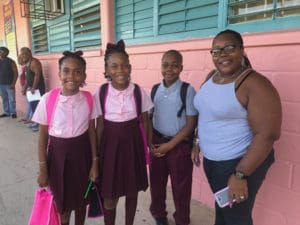 Arthur A. Richards Jr. High and Alexander Henderson Elementary are now Arthur A. Richards K-8 at the Arthur A. Richards Jr. High site.
Buses were unavailable to transport new and returning students to the Gardine campus, but students arrived via family vehicles and taxi vans, despite the transportation glitch.
"It's a transition, but I think we had enough time to get mentally prepared for it," said Principal Barbara McGregor about the additional grades. "We want them to have that middle school experience. Some of the eighth graders coming back to us may feel they're coming back to an elementary school, but we have done a lot of preparations in terms of making them feel like they are a middle school student."
McGregor indicated the three respective wings of the school: students in kindergarten through third grade are on the 100 wing – right in the front. The fourth through sixth grades are next, and the seventh and eighth grades are located in the back.
Each has its own separate wing.
Members of the Rotary Club of St. Croix were present to welcome students who have participated in the Early Act Program established at the school. The program is designed to give something new and exciting every year for all the students, Early Act Director Anselma JohnAyala said.
"We want the students to see that leadership is about being yourself and about being the best that you can be," she added.
Rotary President Jewel Cumberbatch gave pencils to students as a "welcome back to school" gift from the Rotary Club. Past president Kai Nielsen said that a big piece of it is that it gives the Rotary an entrance into the school.
"When the kids come with their ideas, we can help finance their project," he said.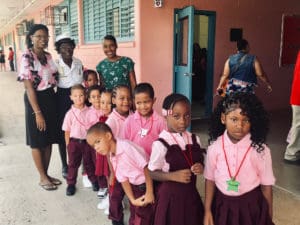 He spoke about the 800-foot greenhouse Early Act helped build in the back of the school when the students showed interest in having a peace garden. Nielsen indicated that once the Rotary is charted at a school, it provides the opportunity and sanctions necessary to help finance a project.
Students moved about the corridors with parents accompanying them to their classrooms. Most of the students entering seventh or eighth grades were former Juanita Gardine sixth graders or recent Elena Christian seventh graders.
However, Nailah and Omar Lang were students at Alfredo Andrews Elementary School, and this is their first academic experience at Juanita Gardine. The siblings will be in seventh grade. Nailah said, "I'm scared, and I want to go home." Her brother Omar said he is also scared, but he will try it. Their mother Yahaira Cruz said they've been at Alfredo for so long, and she hopes the new experience will be different for them. "Nailah needs extra help, and I hope she will get it here," Cruz said.
McGregor introduced the faculty and staff at the morning assembly and gave the students instructions on what will be expected of them in the new school year. She discussed the uniform colors for the kindergarten through sixth grade, which will remain the same – pink shirt and maroon skirt or pants – and grey shirt and maroon skirt or pants for the seventh and eighth graders.
Assistant Principal Anne Marie Gordon also spoke at the assembly, encouraging the students to stretch a little bit higher and push a little bit more to study harder. She shared the information she received that, last year, the Juanita Gardine School showed the most growth of all the elementary schools in the district.
Althea Bridgewater was a fifth-grade teacher who went back to teaching second grade. "I'm back with my babies," she said. "I worked hard to make this room cheerful and comfortable for my students. It's their home away from home. They're excited and ready to learn, and I'm excited and ready to teach them."
Ammerjine Aaron took her kindergarten students on a tour of the campus. She introduced them to the crossing guard as someone who was here for their safety.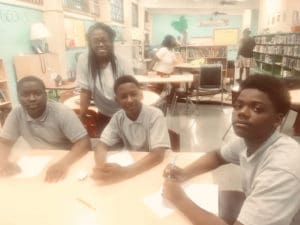 Later, Aaron welcomed her students back from their art class and spoke of the excitement of the additional grades.
"It's new, and we're up for the challenge," she said. "I don't foresee any problems. Our students were here before, and they're back like big brothers or sisters to the younger students," Aaron added.
"You can see my excitement. I'm wearing my 'red' along with my new hairstyle," she said with a laugh.
McGregor gave a "shout out" to the custodial workers and maintenance staff. She praised the "awesome" work they did preparing the classrooms for the new school year. Cluster leader Evanson Matthew did a fantastic job, she said. They were up on ladders painting, and they were repairing plumbing. They continued throughout the weekend with no let-up, she continued.
McGregor also recognized Charles Velasquez as someone who worked in a huge way to get the school in tiptop shape. "Look at the floors," she said, pointing out the highly buffed tiles. "And the walls are so colorful and painted so well. It's a masterful job," she added.
With the extension of the grade level, McGregor said, "We have spoken with Joann Creque of the Future Business Leaders of America, and we are excited about getting our own chapter at the school. We look forward to the Junior Honor Society, as well. We want to get these organizations ready as we look toward the seventh and eighth grades being recognized as a middle school."