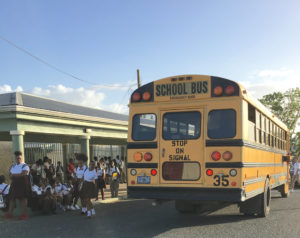 St. Croix Central High School will be closed Tuesday, Nov. 19, due to a recurrence of gaseous odors impacting the campus, the Department of Education reported.
The school let out early Monday in response to the odor, after being closed three days last week due to the same problem. Monday the school was reopened after Education announced sewer lines in and near the campus had been flushed and other corrective actions were taken.
The announcement from the Department of Education said professionals continued to work diligently to identify the source of the odor. Responding agencies and departments include Education, V.I. Fire Service, Department of Planning and Natural Resources, V.I. Territorial Emergency Management Agency, V.I. Waste Management Authority, Department of Health's Division of Environmental Health, Department of Public Works and the Virgin Islands National Guard.
"The health and safety of our students and staff are of the highest priority, so we will continue to work closely with our partner agencies and do whatever is necessary to rectify this issue," said St. Croix Insular Superintendent Carlos McGregor.
Joint efforts to identify and mitigate the source of the scent included canvasing the immediate and surrounding communities and industrial sectors, and cleaning and deodorizing sewer lines on and near the Central High School campus, according to Education's news release. The work began last week and continued throughout the weekend.
Staff at the Gov. Juan F. Luis Hospital and the Department of Health's Emergency Medical Services are prepared to support, respond and provide immediate assistance to residents impacted by this issue, the Department of Education said. Residents with health issues relating to this incident are advised to report to hospital immediately.