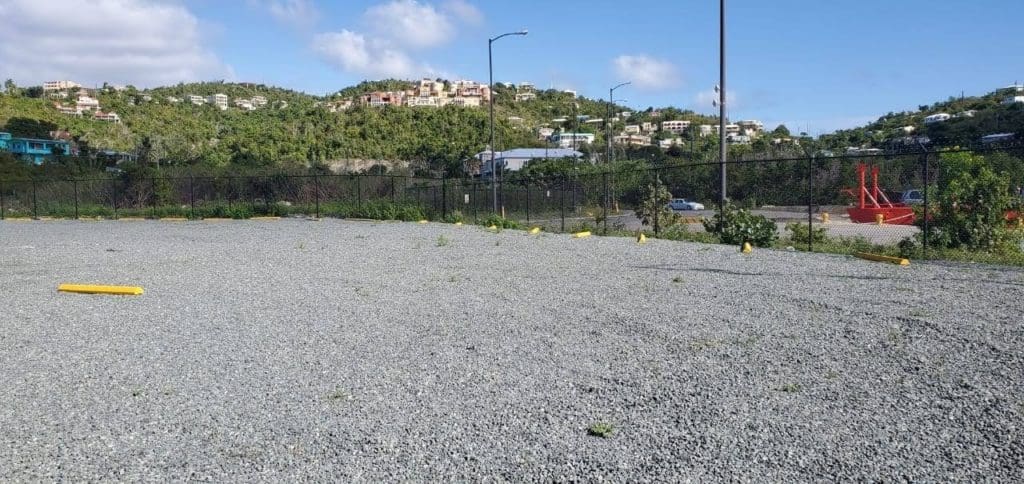 The Enighed Pond gravel parking lot adjacent to the Theovald E. Moorhead Dock and Terminal will reopen on Monday, Dec. 16. The lot will be opened daily from 5:30 a.m. to 11 p.m. as a paid parking facility with approximately 200 parking spaces. The temporary parking rate will be $10 per day until VIPA completes the installation of permanent parking lot equipment, which is anticipated to be finished by February 2020.
Thereafter, the parking rates will be:
First half hour — Free
31 minutes to 1 hour — $4
1-2 hours — $6
2-3 hours — $8
3-10 hours — $12
10-24 hours — $15
Lost ticket — $15 per day
Monthly parking — $175 per month
The VI Port Authority closed the lot in August to remove derelict vehicles that were illegally stored there and to install new fencing, gravel and lighting. The closure was initially planned to last 10 days. It was extended to make additional improvements and reopen the lot as a paid parking facility to better manage the property and ensure that the lot would not return to its previous "junkyard" conditions.
Improvements include:
Replacement of the damaged chain link fence;
Regrading of the existing surface area and new landscaping;
Installation of a new concrete draining swales and four drop inlets to the existing storm drain system;
Installation of a flexible, pervious masonry paving system;
Installation of a new precast concrete wheel stops, new height clearance bars at the lot entrances, and a height entrance par at the swing gate to control the entry of oversized vehicles and emergency access;
Installation of new lighting on the existing light poles and a security camera system to improve safety for users of the lot; and
The installation of a new parking lot ticketing system to covert the lot to a paid parking facility while retaining the existing ADA parking spaces.
The lot was also expanded to add approximately 50 new parking spaces for a total of 200 parking spaces. In addition, the Authority has hired three St. John residents to serve as parking lot attendants to monitor the lot. The cost of the improvements total about $400,000 – not including the installation of the parking equipment.
Free short-term parking will be available at VIPA's parking lot at the Victor W. Sewer Marine Facility when the construction of the new U.S. Customs and Border Protection facility is completed.