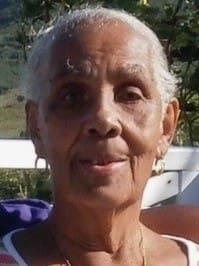 Lois A. Canegata, also known as "Cannie" or "Radio Mom," of Estate St. John on Dec. 10. She was 98 years old.
She is survived by her daughters: Eirene E. Canegata, Leah Edel West and Karen L. Parris; grandchildren: Craig Canegata, Jonathon Coggins, Alfred West III, Kia West MD, James Canegata III, Tiffany Parris and Ernest (Ernie) Parris II; great-grandchildren: Jelani Coggins, Kimoi Woodley and Jahheah Canegata; nephew, Dodson K. James Sr. (Gerian); great niece, Alyssa James; great nephews: Dwayne James, Kevin James and Dodson James; and sons-in-law: Ernest Parris, Ignacio Llanos and Jose P. Encarnacion.
She is also survived by sisters-in-law: Melba Biggs and Carmen Canegata; special friends: Schjang family, Gloria Waterman, Sharon D. Hill, Brenda Joseph, Iris O'Donoghue, Anita Nibbs, Josephine Hector, Monica Jacobs, Debbie Guadalupe and Lisa Rose Bough; other relatives: Messer, Schuster, Morales, Farchette, Lang, Canegata, McDonald, Motta, Webber, Biggs and Marcie Steele; as well as other relatives and friends too numerous to mention.
The viewing will take place at 9 a.m. followed by the funeral service on 10 a.m. on Thursday, Dec. 19, at St. John's Episcopal Church, Christiansted. Interment will be at Christiansted Cemetery.