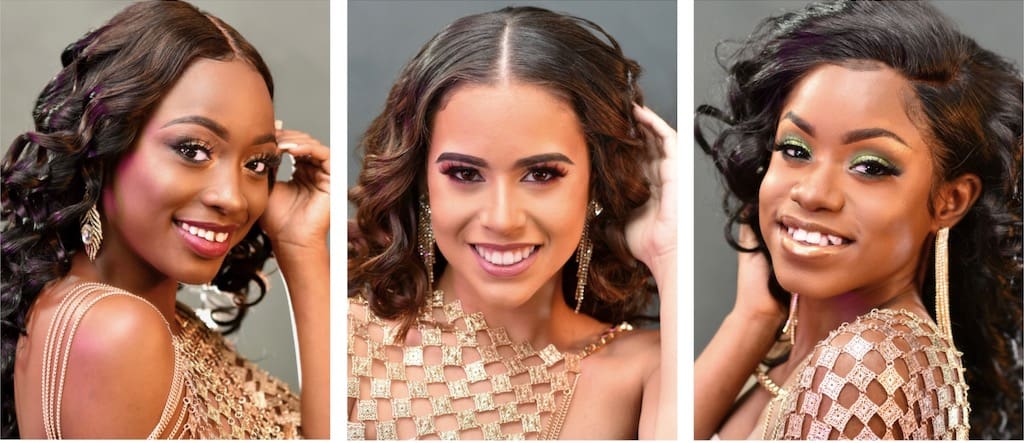 Contestants in the 67th annual Miss St. Croix Festival Queen Pageant are ready to grace the stage at the Island Center for the Performing Arts beginning at 6 p.m. Saturday, Dec. 21.
Covered seating will cost $35 if purchased in advance or $40 at the door. Bleacher seating is $25 in advance or $30 at the door. VIP seating is $95 and includes cocktails from 5:00 to 5:45 p.m., food, desserts, an official pageant booklet and gift bags.
Tickets are available at Sweet Magnolia Boutique in Christiansted, Urban Threadz in Sunny Isle, Jane's Bridal in Mount Pleasant and Armstrong Ice Cream in Frederiksted.
The three contestants, Allayeah John-Baptiste, Izhani Rosa and Tatyana Massiah will display their runway style, intellect and cultural awareness in their bid to reign over the Crucian Christmas Festival events.
Allayeah John-Baptiste, 23, is contestant No. 1. She began her dance training at the age of three and in 2007 competed in her first pageant, in which she was crowned Crucian Christmas Festival Princess. At 15, she captured the title of Miss Virgin Islands Outstanding Teen in 2012. John-Baptiste is a 2014 graduate of the Good Hope/Country Day School and holds a bachelor's degree in political science from Iona College.
Contestant No. 2, is Izhani Rosa, 20, also a graduate of Good Hope/Country Day School. She attends the University of Tampa, where she a junior with a double major in Spanish and psychology. She plans to attend graduate school focusing on clinical psychology. Her credits include membership in the Dolphins swim team and dancing with the Cruzan Dance Company, Pointe Dance Academy and Caribbean Dance School. She is president and choreographer of the Caribbean Dance Troupe at her university.
Tatyana Massiah, contestant No. 3, is 23 years old. She has been a member of the St. Croix Educational Complex Marching Band cheerleaders, Frederiksted Moravian Church Steel Orchestra and St. Croix Majorettes. Massiah attended La Roche College and was a member of the Black Student Achievement Organization, National Honor Society of Leadership and Success and Cheer and Dance Team. She graduated 2018 with a Bachelor of Arts degree.
Special guest performances at the pageant will include two St. Croix natives, dancer Nateli M. Ruiz and singer Kruziano.
Ruiz's credits include the American Ballet Theatre II. She has worked with David Parsons, Debbie Allen, Mariah Carey and Academy Award nominee Queen Latifah.
Kruziano is billed as a versatile, up-and-coming Latin artist in the music industry. His genre is reggaeton, trap, R&B and pop. He is a music producer, song writer and musician.
The show will be hosted by Merlisa George and Paul Nawrocki.