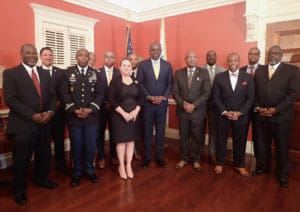 In furtherance of Gov. Albert Bryan Jr.'s mandate of transparency and open government, Government House has begun "The Press Box," a podcast that features informal discussion with members of the Bryan/Roach Administration that are live-streamed at 5:30 p.m. on alternate Thursdays.
The podcasts, which are also available for viewing after the live feed, can be found on the Government House Facebook page: www.facebook.com/GovernmentHouseUSVI.
The first episode of "The Press Box" featured an interview with Governor Bryan conducted by host Brad Nugent and was live-streamed on Jan. 16.
The second episode, which aired Thursday, Jan. 30, featured Gov. Bryan and Public Works Commissioner Nelson Petty Jr. discussing the Paul E. Joseph Stadium project and other issues relating to Public Works.
The next episode of "The Press Box" will be live-streamed at 5:30 p.m., Thursday, Feb. 13, and feature Commissioner Petty.