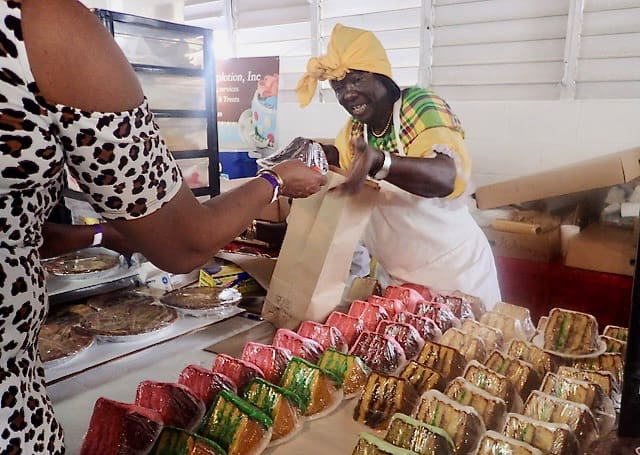 Agrifest patrons strolled through the Rudolph Schulterbrandt Agricultural Complex, dodging the frequent showers while buying clothing, jewelry, leather goods, fresh produce and lots of traditional food and drinks.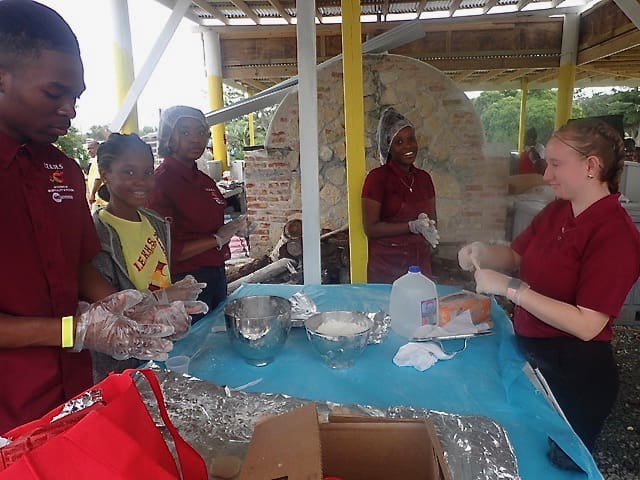 Some said the crowd was smaller than Saturday's but the walkway was crowded with people laughing and greeting each other, and lines formed at the favorite food booths. The St. Kitts Masqueraders entertained the crowd, dancing up and down the sidewalk.
The crowds spilled over into the farmer's pavilion, with 39 vendors showing off flawless produce of many colors. People filled sacks with red, yellow and brown tomatoes, rich purple eggplant and sunset colored squashes. There were fresh spices from Grenada and big beets, tiny pineapples, red okra and gigantic pumpkins.
Twini Payne, of Twinstad Enterprises in Antigua, said he has been farming for more than 20 years and attending Agrifest for 10. His daughter, Shanayah, 13, helped bag and sell oversized heads of lettuce and cabbage, pearl white onions, butternut squash and other vegetables. She said her job on the farm is to plant seeds. Payne will stay after the event to sell leftover produce to other vendors and markets, so he doesn't have to take them home. His business was brisk, so he may not have to worry about leftovers.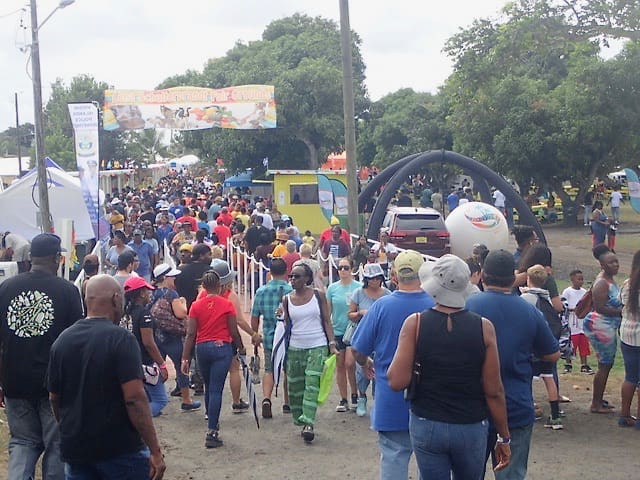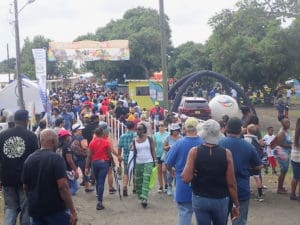 In addition to the fresh food, the crowds were interested in eating treats on the spot and packing large containers to take home. There were 88 vendors packed into the food pavilion – named this year in honor of Lena Schulterbrandt – and in booths outdoors around the bandstand. Pork and goat roasted all day in a huge brick cook oven and juicy fragrances wafted throughout the fairgrounds.
People consumed roasted, stewed and fried chicken and fish with all the usual side dishes – macaroni and cheese, potato stuffing, peas and rice, salad and cole slaw. Traditional specialties included dukena, kallaloo and souse. They washed it all down with passion fruit juice, tamarind, sorrel, lemonade and peanut punch. Those with bigger appetites, indulged in cake, tarts, funnel cake, donuts, ice cream and sorbet.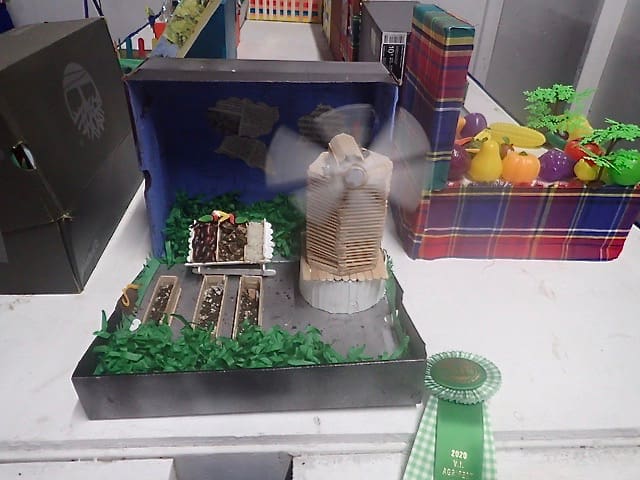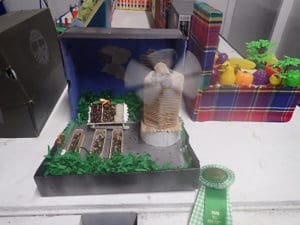 Wilma Rodney stirred a pot of chicken and another of Johnny Cakes. She smiled and said she was "busy," and cake maker La Verne Bates agreed as she moved quickly around her table to serve customers.
Scott Kelly and Rohan Reid are visitors from Washington, D.C. Reid is from Jamaica originally and was clearly enjoying fried plantains. Kelly ate his chicken with gusto and both men said they liked the coconut bread.
There were the food demonstrations and competitions. Students from Ivanna Eudora Kean High School's hospitality and tourism culinary arts academy on St. Thomas made Johnny Cakes and learned about coal pot cooking. Kean's culinary arts director Kerish Robler demonstrated cooking vegetables using the ancient method. The culinary team included Azuliyah Pratt, Raekieya Brady, Jasmine Schanfarber, Jackwon Gordon, Icehlah Doyling, J'naejah Scatlifte and Jada George.
Schools Win Ribbons for Projects
The school projects this year focused on recycling and followed the theme: "Agriculture: Trendy in 2020." There were several ribbons awarded for individual accomplishments such as Jayden Arroyo, from Lew Muckle Elementary for his solar powered sugar mill.
First place: Alfredo Andrews Elementary students won for their creation of vertical gardens, turmeric tie-dyed clothing and a farm pod.
Second place: Eulalie Rivera Elementary created a tribute to bees, made planters from banana stalks and a scarecrow "You are what you eat."
Third place: St. Patricks School turned water bottles into aquariums, sewed bags from used fabrics and made a sturdy ottoman, covered in madras, from cardboard paper rolls.
Saturday's culinary winners were (first, second, third):
Red Peas Soup – Friedensfeld Moravian, Corliss Nathaniel, Tiwana Williams
Kallaloo – Tiwana Williams, Friedensfeld Moravian, Corliss Nathaniel
Peppermint candy – Lyra Tonge, La Verne Bates, Edith Matthew
Dundasla – Lyra Tonge, Friendensfeld Moravian, Edith Matthew
Lasinger – La Verne Bates, Lyra Tonge
Maubi – Friedensfeld Moravian, Edith Matthew, Helen Straker-Phipps
Guavaberry jam – Friedensfeld Moravian, La Verne Bates
Pound Seasoning – Friedensfeld Moravian, Edith Matthew, Marisa Trinidad
Tamarind drink – Edith Matthew, Tiwana Williams, Eleanor Sealey
Green Lime – Friednsfeld Moravian, La Verne Bates