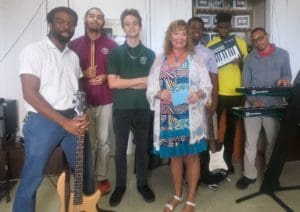 Street Level VI presented another donation in its ongoing series of support for island youth music programs. This month's beneficiary is the Scholarship Program for the high school music students of Gifft Hill School.
Street Level VI (SLVI), founded a year ago by Priscilla Lynn, aggregates information on upcoming live music entertainment on St. Thomas, St. John and Water Island, and recommends choices through public forum placements.
According to music teacher Dennison Blackett, "The SLVI donation will be applied towards our new scholarship fund for high school students to attend a five-week program at Berklee College of Music. It will help with application fees and instruments that they would need to travel."
Street Level VI challenges others to match or exceed the group's regular donations to youth music programs on St. Thomas, St. John and Water Island.
"This is our second donation – the first one was given to G-Clef Music Academy for their fledgling Youth String Orchestra Program. The next designated recipient is the St. John School of the Arts youth music program," Lynn said.
Nominations are encouraged by submitting them as a post on the Street Level VI Facebook Page. More information can be found by calling 227-8451.
Gifft Hill School Mission: To educate, challenge, support, and empower students to ignite their passion for learning in preparation for college, careers, and their roles as stewards of the island and global community. Gifft Hill School is committed to academic rigor through experiential learning and compassionate community in an enriched environment.