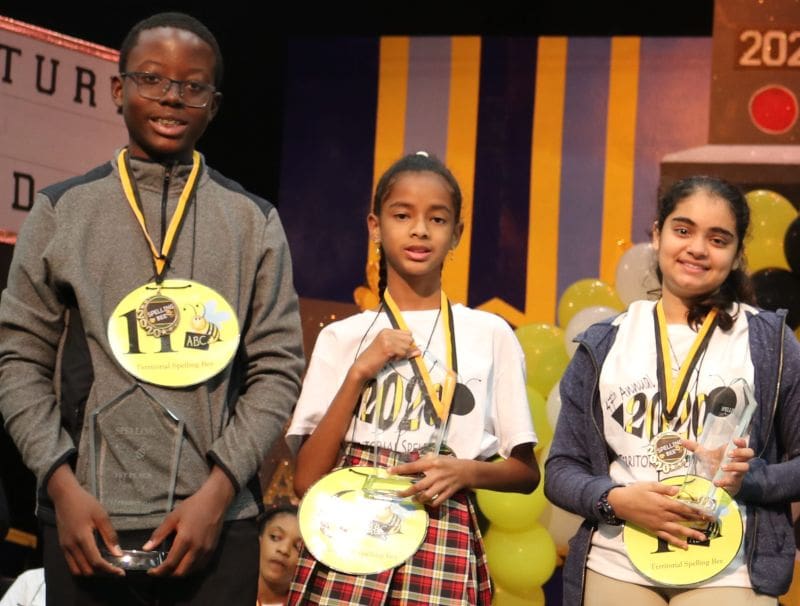 For the second year, St. Croix's Michael Atwell clinched the Territorial Intermediate Spelling Bee title, winning after 16 rounds with the word "eucalyptus."
An eighth grader at St. Croix's Good Hope Country Day School, Atwell will be heading to the Scripps National Spelling Bee in National Harbor, Maryland at the end of May. Last year, Atwell was one of 562 spellers at Scripps to take the preliminary, or written test, which is worth a potential 30 points. This year, he hopes to qualify to spell on stage, and said after Wednesday's bee that a strong practice routine, understanding word roots and definitions and "having patience" could help him get there.
"Making sure not to rush is important," Atwell said. "It's better to hear the word said multiple times, hear the definition and understand its point of origin than guess. I'm looking forward to trying again at the national competition and showing them what I've got."
Like Atwell, several other spellers Tuesday were in their last year of eligibility for Scripps, which targets students from fourth to eighth grade. Third runner-up Priya Giyanani, from Antilles School, had also set her sights on the national bee after winning the St. Thomas-St. John District bee three times in the past few years.
According to coach Sonya Swan, Priya's commitment to mastering the etymology of the words instead of just memorizing them has been the key to her success. Priya made it past the 10th round but fell to third after incorrectly spelling the word "omniscience."
"There are about 1,500 words on the spelling list, and often times, you will see students who are taught or encouraged to memorize them because they don't really change from year to year. That becomes difficult, however, when the words are exhausted, and the officials have to go 'off list.' Understanding the words' origins helps them prepare for that point in the competition, and gives them an understanding of how to break down something they may not know," Swan said. "Priya carries that determination with her wherever she goes, it is how she carries herself as a student, and while I know she really wanted to advance, I'm proud of how well she performed and her commitment to making it this far."
Second runner-up this year was Kalyn Blackwood, a sixth grader from St. Croix's Ricardo Richards Elementary School, who said afterward that no matter how prepared a student is, nerves onstage are sometimes hard to overcome.
"Being in front of so many people, it is a little overwhelming when you first get onstage," she said. "Even as hard as you've practiced, it still takes a while before you get the hang of it and it starts to get easier. You just have to be focused. It was a great experience though, and I am excited to try again next year."