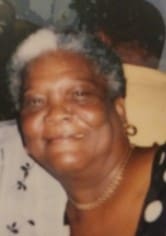 Elita Elsina Parris Todman of Estate Bordeaux No. 17 died on March 19.  She was 80 years old.
Elita was preceded in death by her daughter, Dawn Marie Knight Callwood; sisters: Olive Thomas, Kathleen Lewis, Mariel Pickering, Esther Gittens, Sylvia Parris and Mary Lewis; and brother, Franklin Parris.
Elita is survived by her husband of 42 years, Maxwell Todman; brother, Emile Lewis; children: Zina David, Elroy Knight, Lucien (Renee) Todman, Deloise (Charlie) Charles, Liston Todman, Trisha Crooke and Dennis Orlando Forbes; grandchildren: Angel (Celena) Garcia, Inieka (Vern) Nimchan, Ziray David, Elroy and Terrele Knight, Xi'an, Akili, and Maddox and Makai Todman; great-grand kids: Sidhania and Raja Nimchan; and brothers/sisters-in-law: Charlie Boo, Jewel, Ishmel and Kenneth.
She is also survived by nieces and nephews: Gary Lewis, Elwin, Marlon, Desarie, Russell,Wendell, Dexton, Maurice, Elston, Lil Junie, Darwin, Janis, Rhea, Cherice, Mona, Arleen, Beverly, Cassius, Hugh, Otto Jr., Joyce and Colleen; special friends: Caswell and Jackie Calender, Tito and Stephanie Amaro, Milton Fret (aka Bull), Jeovanny Camacho (aka Anna) and Noel Martin; as well as other friends and relatives too numerous to mention.
The viewing will be held at 9 a.m. followed by a funeral service at 10 a.m., Monday, March 30, at Zoe Church, formerly known as Zion (across from the airport).  Interment will be held at Eastern Cemetery, Smith Bay.