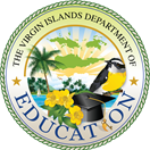 In an effort to continue providing parents with efficient service during restrictions imposed by COVID-19, the Virgin Islands Department of Education (DOE) is now offering its parent portal application, public school registration and student transfer request forms online. The forms may be accessed through the "For Students" and "For Families" links on the DOE website: www.vide.vi.
Parent Portal is a powerful online tool that will allow parents the opportunity to obtain information about their child's class schedule, grades and attendance from any computer or device with access to the internet. In order for parents to access the online system, they must be the authorized parent or guardian on record at the child's school and agree to terms that ensure students' information remains protected.
Parents or guardians who wish to enroll their children in the Virgin Islands public school system can now download the application forms and email them to the appropriate district. The applicant will receive an email or telephone call from an enrollment representative to schedule an in-person appointment.
Those who wish to transfer their children to schools within the public school system may also access and submit a transfer request online.
For more information, visit www.vide.vi/for-students or www.vide.vi/for-families.