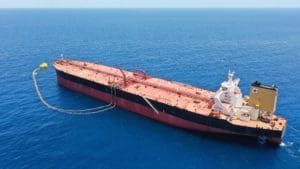 Limetree Bay Terminals LLC (LBT) successfully commissioned its new crude oil offshore mooring platform last month. It safely loaded several million barrels of crude oil in May to Very Large Crude Carriers (VLCCs) using the company's new state of the art offshore Single Point Mooring (SPM) buoy connected to the shore via subsea pipelines. These pipelines are safely capable of high flow rates to and from marine vessels.
"We are looking forward to many years of safe and environmentally sound transfers to and from offshore vessels here in St. Croix, and we remain excited about the future of Limetree Bay Terminals," said Jeff Hersperger, senior vice president of operations.
For any questions about opportunities related to this asset, contact Keith Neal, vice president of commercial, at [email protected]. Please refer to the website for any additional information: www.limetreebayenergy.com
About Limetree Bay Terminals
Limetree Bay Terminals LLC operates a well-established crude, fuel oil, refined products and LPG storage terminal on 1,500 acres on the south shore of St. Croix. The terminal has approximately 30 million barrels of commercial shell capacity and 11 inland docks as well as the new deep water offshore Single Point Mooring buoy.