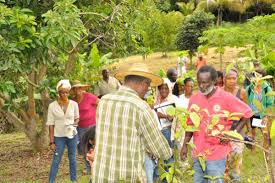 On Sunday, April 19, Virgin Islands Good Food Coalition Inc. (VIGFC) launched its COVID-19 Producer Survey. The coalition surveyed food producers in the U.S. Virgin Islands to better understand the impact the pandemic was having on several areas to include production capacity, market interruption, critical service gaps and the overall well-being of farmers.
Good Food Coalition also wanted to explore what innovations, collaborations and new opportunities were made available as a result of having to work differently. It received a limited number of responses from various large and small food production entities on St. Croix and St. Thomas.
The low response rate on the food producer survey speaks to the limitations and difficulty in data collection for this vital group. This difficulty is amplified during the COVID-19 pandemic, as the pandemic further places a spotlight on our need for strengthening our local food production capacity.
Given the small number of respondents, the results do not currently comprise a representative sample; however, they serve as an important initial window into the needs and status of local USVI food producers. The preliminary findings from the coalition's survey indicate the following:
-Most of the respondents are full-time food producers with several years of farming or ranching experience.
-The main products grown or managed by the respondents were produce (fruits, vegetables and herbs). The most common items were herbs/tea, followed by leafy greens. All of the respondents also purchase local produce themselves.
-A small majority of respondents sold their products at the farmers' markets, while others sold to grocery stores, restaurants and Farm Tiendas.
-The vast majority of the respondents fall into the category of "Socially Disadvantaged Farmer or Rancher," as defined by the U.S. Department of Agriculture.
-The COVID-19 pandemic is negatively impacting nearly all respondents, with the largest impacts being the loss of direct sales to consumers, supply chain disruption, and loss of sales to wholesalers and grocers.
-In terms of the pandemic, most respondents felt that they had access to adequate information on COVID-19, but the vast majority did not have an adequate supply of Personal Protective Equipment (PPE) and/or sanitation tools for their needs. This is especially relevant since more than half of respondents were not currently covered by health insurance.
-A quarter of respondents do not currently accept electronic payment, and approximately 40 percent of respondents would like assistance in setting up electronic payments. Furthermore, more than three quarters of respondents would like to be listed in an online directory of food producers.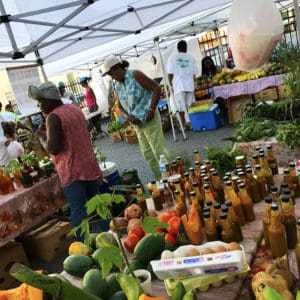 According to Sommer Sibilly-Brown, Virgin Islands Good Food Coalition Inc.'s founder and executive director, "We need data. Collecting data gives us an opportunity to accurately capture the territories farm and food story. We are competing on a global level for resources and support, and we need to understand the entire narrative on impact and leverage it."
Good Food Coalition sent this first round of surveys out via mass email to approximately 100 addresses and the response was poor at best. Sibilly-Brown said: "We all know data is a problem for our territory, in this case, we were aware of that. We repeatedly hear from all sectors of the community that data is scarce. This is what we are attempting to change.  While we know under normal circumstances data collection is difficult, gaining access to farmers via a teleworking/electronic medium is a Herculean task. We still did it, because it's part of the story.
"The assumption is that the majority of our farmers are not tech ready, they do not check emails, they do not use Zoom, Microsoft teams or Skype, and as the survey revealed they are not prepared for ecommerce. We are shining a light on this because we need to find ways to increase farmer knowledge, access and technical support services. We can no longer afford to wait, we have to bring our farming community into the 21st Century, and now this pandemic has pushed us.
"Now that the territory is opening up, the coalition will be diversifying our strategy to include collecting data at farmers' markets and through phone calls. We are also interested in the food security of consumers."
We are encouraging food producers who have not participated in the survey to assist in the coalition's efforts to collect important information that can serve to better connect them to local and national resource opportunities, make important policy decisions and access Federal grant opportunities. To that end, the VI Good Food Coalition is committed to expanding its data collection methods to include collecting data at farmers' markets and through phone calls. The second round of surveys are set to begin the first week of July.
About the Coalition
The Virgin Islands Good Food Coalition (VIGFC), was founded in 2012 and is the only community-based organization of its kind in the Virgin Islands (VI) that works to bridge the gap between the VI community and the territory's policy makers, in order to facilitate long-term change in the VI food system. The overall goal of the VIGFC is to build a healthy local food economy that supports farmers and locally-owned food businesses, and ensures that healthy food is available and accessible to every resident of the Virgin Islands. The V.I. is currently in deep and desperate need of strategies that will assist local farmers with increasing their incomes, ensuring that their produce is sold in a timely manner, and facilitates communication between farmers, institutions and local consumers who will purchase produce and/or products.
For more information about how to support this and other Virgin Islands Good Food Coalition Inc. initiatives, please contact the organization directly at [email protected] or 332-0253.