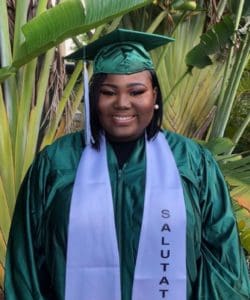 In this year of uncertainty, three young women from St. John will receive assistance towards their education as winners of the Ruby Rutnik Scholarship Fund.
Ki'Janne´ Alfred, who graduated from the Gifft Hill School this June, will be getting a one-year award of $2,500 for this coming school year.
Two former winners who are already in college – Vela Culbert, a senior at Goucher College near Baltimore, and Jada Jarvis, a sophomore at The New School in New York City – will receive smaller awards totaling $2,500.
The year has been challenging for all of the winners of the scholarship as the COVID-19 pandemic forced their schools to replace classroom learning with online instruction.
"It was definitely tough, but after two weeks, I had to learn to prioritize; I had to make a new schedule of my day inside my house," said Ki'Janne´ Alfred.  She succeeded, graduating as the salutatorian in her class, with plans to major in political science at Stetson College in Florida. Ultimately, she would like to return to the Virgin Islands as an attorney and eventually become a judge.
Graduation this year was bittersweet for many students because of the pandemic, but Ki'Janne´'s life became exceptionally difficult as her father, Davison Alfred, died only days after her graduation.  Her mother, Deverell Alfred, now needs to leave the island for medical care, so Ki'Janne´ will travel to Florida earlier than expected to accompany her.
In spite of the obstacles, "Ki'Janne´ will succeed wherever she chooses to go, and whatever field of study she pursues," said one of her former teachers.  "She is dedicated, focused, curious and motivated."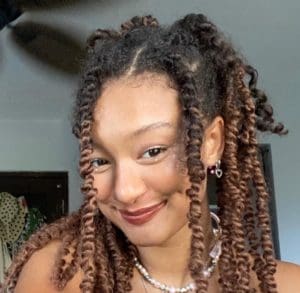 Jada Jarvis still isn't certain what her sophomore year will be like as she pursues her major in "Culture and Media" at the New School.  Like many students, she left the campus during spring break and came back home to St. John when the coronavirus epidemic became serious. Two of the courses that she took during the past semester were tech-based and easy to complete online, but her internship with the creative team at Baby Phat, a line of clothing and accessories, needed restructuring as New York went into shut-down mode.
Jada is planning to return as a full-time student, though she wonders if it's worth paying New York City rent if all her classes are offered online.  "I love living in New York – it's exciting, and it's opened my mind to so many things," she said.  Whether she returns to the city or not, being back on St. John has deepened her appreciation of nature, she said.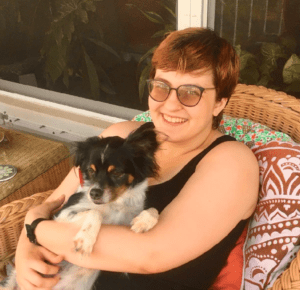 Vela Culbert has already made the decision to remain on St. John this fall as all of her classes at Goucher College are being offered online. "I decided to stay here and save some costs," she said.  "The campus is open, but the classes I've registered for are hybrids" – where a few students are actually in the physical classroom, but the others attend remotely, she explained.
This summer Vela is working at Big Planet in Cruz Bay and volunteering with Island Health and Wellness Center, a non-profit primary care practice. As a business communications major, Vela will be working to expand the clinic's youth outreach effort, similar to something she did for a campus wellness organization this past year.
The Ruby Rutnik Scholarship Foundation was created 23 years ago to honor the memory of Ruby Rutnik, who was a senior at American University when she died in a car accident in 1996. Heartbroken by their tragedy but resilient in spirit, her family organized a softball tournament in 1997 for female high school students throughout the Virgin Islands as a way to fund the scholarship.
In 2014, the Rutnik family decided to end the tournaments and use the funds already raised to establish an endowment through the Gifft Hill School on St. John.  Since its inception, the fund has awarded a total of more than $170,000 to more than three dozen recipients.