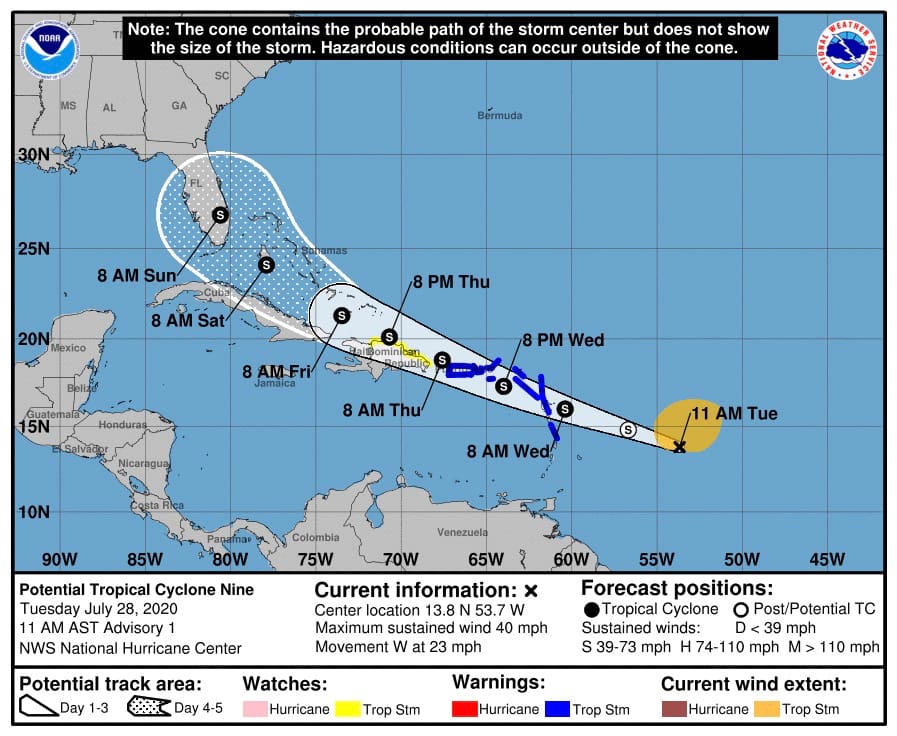 A tropical storm warning is up for the Virgin Islands as a system now designated Potential Tropical Cyclone 9 continues to approach the U.S. Virgin Islands, the National Hurricane Center reported in its 11 a.m. Tuesday update.
A tropical storm warning means that tropical storm conditions are expected within 36 hours. The potential tropical depression is forecast to be upgraded to a tropical storm Tuesday night or Wednesday before it reaches the Leeward Islands.
At 10:15 a.m. today, a Flash Flood Watch was posted for the Virgin Islands. The watch will be in effect until Friday morning.
The potential depression is packing top winds of 40 miles per hour and is on a westerly course at 23 miles per hour. At 11 a.m. today, the center of the depression was near 13.8 degrees North, 53.7 degrees West or approximately 585 miles east-southeast of the Leeward Islands or 783 miles southeast of St. Croix.
The NHC warned that the storm will produce heavy rains and potentially life-threatening flash flooding and mudslides across the northern Leeward Islands, the Virgin Islands and Puerto Rico.
A U.S. Air Force Reserve reconnaissance aircraft is scheduled to investigate the system early this afternoon and should provide additional information on the intensity and structure of the low-pressure area.
The NHC stressed that since the system is still in the formative stage, greater than average uncertainty exists regarding both the short-term and longer-term track and intensity forecasts.
The forecast track puts the center of the storm system within ten miles of St. Croix's southwest coastline late Wednesday night, with most of the winds, showers and thundershowers spreading across the entire territory given the large size of the weather system. At that time, the system will be a strong tropical storm with top winds of 50-60 miles per hour.
The V.I. Territorial Emergency Management Agency urged residents to closely monitor the progress of the weather system.