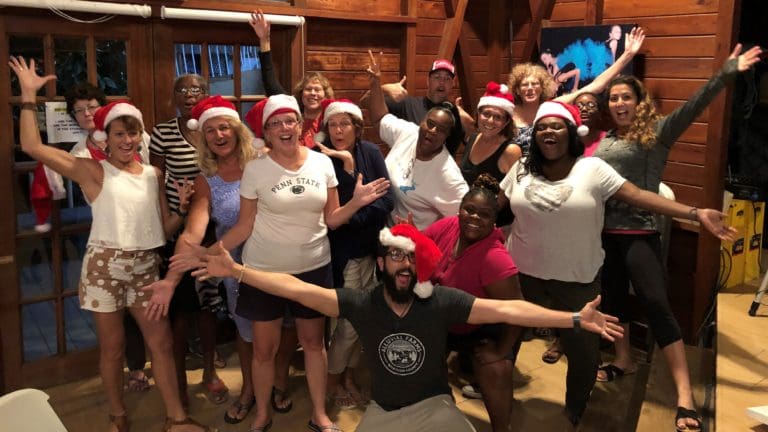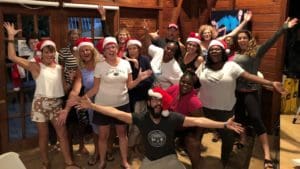 Since the St. John Recovery Choir formed to support St. John's long-term recovery from hurricanes of 2017, members have come together to sing music that uplifts the spirit and soothes the soul.  "We began in the wake of hurricanes Irma and Maria to help buoy us in the time of recovery," director of choirs Kristen Carmichael-Bowers said.  "We'll continue to call ourselves that until everyone has their roofs back."
This season, with the COVID-19 pandemic, it's not safe for choir members to breathe deeply and sing out in the same space.  But that's not going to stop this resilient community choir from rehearsing or leading the annual Holiday Celebration event.
Carmichael-Bowers has decided to commit to a holiday event on Dec. 19, whether it be live in the park or virtual.  The choir will have Zoom rehearsals for the fall session, and the upside of going online is that everybody is welcome to join, whether on island or not.
Rehearsals will be held Tuesdays and Thursdays from 5:30 to 6:30 p.m. starting Oct. 6.  Tuesday rehearsals will focus on reggae and quelbe music; Thursday rehearsals will focus on learning harmonies to favorite holiday music.
The music will be simple and a lot of fun, Carmichael-Bowers promises.
"Shy singers, this is your year!" she said.  "You can sing out loud and proud without anyone else hearing you.  We can't hear each other when singing simultaneously during Zoom rehearsals because of the slight time lag, but we'll see each other as we sing to recordings, and, eventually, we'll get to sing together in person again without being rusty."
Rehearsals will be held twice a week for an hour instead of once a week for two-hours because of the constraints of using a virtual platform, but Carmichael-Bowers still intends to make the sessions joyful.
"We'll begin with a quick warmup, play a music game, and have a minute or two for a social check-in (because, after all, choir is community), then we'll sing a song or two," she said.
Recovery Choir is open to anyone ages 14 and older, and registration can be completed at the Sing St. John website at https://www.singstjohn.org.  Sing St. John is the non-profit that serves an umbrella organization for the Recovery Choir as well as choirs for children and seniors.
Those who are less comfortable using online platforms can contact Carmichael-Bowers at (802) 380-0761 or by email to info@singstjohn.org.  Because she will be showing people how to use Zoom before rehearsals begin, she's urging those who need help to contact her as soon as possible to schedule their time.
Members are asked to make a $50 donation to enroll for the fall term, but St. John residents who might not join because of the fee will be granted a waiver if they select that option on the registration form.
Advance registration is required for security purposes, and you will need to receive an emailed invitation from her to join the rehearsal.  "We want to make sure no one 'Zoom bombs' our rehearsal with unwanted media" Carmichael-Bowers said.  To encourage wide participation, she's being much more flexible about regular attendance of virtual rehearsals.  "You can come as many or as few times as you want.  That's the gift of this Zoom session, because we are singing just for the joy of it," she said.
Recovery Choir members are also eligible to register for two free courses taught by Carmichael-Bowers starting Oct. 5.  Sight-singing will be offered on Mondays from 10-11 a.m., and vocal technique on Wednesdays from 5:30-6:30 p.m.  "Regular attendance in these classes is required, however, because we build upon skills that we learn as we go along," Carmichael-Bowers said.
The emphasis of Recovery Choir, as with all of Sing St. John's programs, is on meaningful community connection and resilience through singing together. "Let's reconnect and have some fun, St. John," said Carmichael-Bowers. "We need to come out of isolation — we are Love City, after all!"