When Governor Albert Bryan's order to close the schools in response to COVID-19 took sudden effect mid-March, not only did all USVI schools core curriculum and sports/after-school activities grind to a halt, but an Eco-Schools environmental program with seven participating high schools across the three islands went into immediate hiatus. With only six weeks to the completion of a project-based environmental education, FEMA funded program, the disappointment for students and teachers was palpable.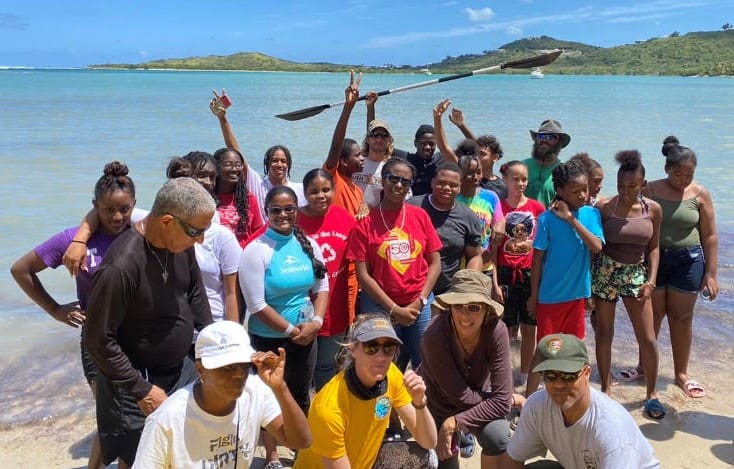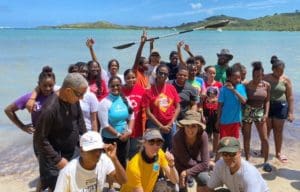 The Disaster Risk Reduction Management Program borne out of a response to the 2017 hurricanes, with a focus on USVI students learning about climate change, flood mitigation and mapping while designing a school resiliency action plan and specific campus resilience design, was created to encourage students to become active stakeholders and problem-solvers in addressing the resiliency and sustainability of their individual schools. Valerie Peters, volunteer Eco-Schools and Blue Flag Director spoke of how she recognized the urgency of needing to bring environmental education to all the students of the Virgin Islands… "the Eco-Schools DRRMP program strives to engage school communities to play an active role in understanding the impacts of climate change, and empowers students to take action and finding sustainable solutions."
Fortunately, with financial assistance from the National Wildlife Federation, and the ongoing support from NWF Regional Education Director Marya Fowler, Eco-Schools USVI was able to pick up the DRRMP as schools began teaching remotely in the Fall semester this year. Fowler said of the program: "NWF is incredibly proud of the USVI Eco-Schools teachers who are working against all odds to help make their schools and communities become more resilient to climate change. Despite many obstacles brought on by the pandemic, these teachers are forging ahead determined to provide innovative and authentic learning opportunities for their students."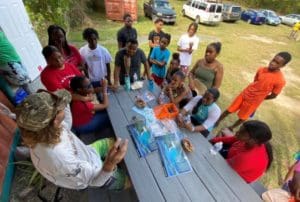 Pamela New, Eco-Schools USVI coordinator, spoke of how, despite the sometimes-overwhelming challenges of switching to distance learning, lack of tech equipment and connectivity for many students, and a whole new methodology of teaching via Zoom, Microsoft Team and other platforms, four teachers from St. Croix, St. John and St. Thomas committed to completing the program.
"I am in awe of our educators," New said. "They recognized the value of the program, not only in terms of content but also 'walking the talk' of resiliency and a commitment to green infrastructure and sustainability. Teachers are truly the unsung heroes of this pandemic!"
Jennifer Sampsell, Gifft Hill science and lead eco-school teacher, whose group has been the first to complete the program and awarded the Eco-Schools Bronze Level Award, said, "The DRRMP was very engaging for my students. I talk about climate change with my students often, but we do not usually discuss how we can be prepared for these changes in our community.  This program allowed me to take it a step further and encouraged them to make more connections.  The students learned ways to incorporate green infrastructure into their community and the importance of being resilient in the face of climate change. I look forward to working through other pathways in the Eco-schools' program to continue educating about the importance of sustainability and resiliency."
Before the shutdown, community partners from UVI, Senator Jackson, and VITEMA came to share their knowledge with the students. Field trips kayaking on St. Croix's Salt River, and to Coral World to learn about coral degradation and regrowth, gave students the opportunity for project-based learning as they explored the importance of protecting USVI watersheds.
Eco-Schools teaches how our actions impact ecosystems as water travels throughout the Virgin Islands' watersheds, filtering through diminishing salt-ponds and mangrove lagoons, and into the oceans. Through behavior change, innovative technology, and green and brown infrastructure, the future stewards of this planet can improve the health of these critical systems. Therefore, students need to be given permission to participate in the discussion of sustainability for the US Virgin Islands.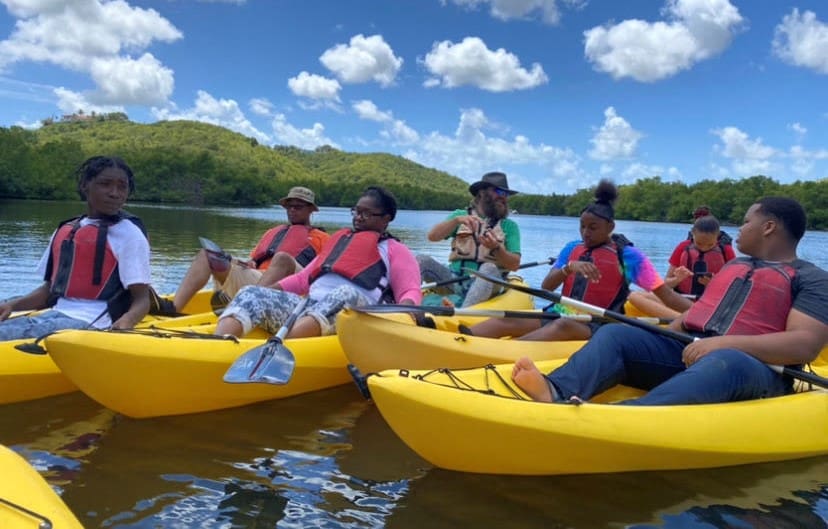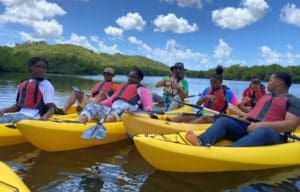 Michaelrose Ravalier, forensic science and eco-schools teacher at Ivanna Eudora Kean High School, St. Thomas, said, "Eco-Schools is a program that helps inspire youths to take care of the changing environments around us. It helps students understand the importance of sustainability, so they spread awareness throughout their communities. During the DRRMP process, students have learned about the importance of being environmentally responsible stewards. They have become more conscious of how school, community, and the world are interconnected.  Students are even more mindful that problems and solutions begin and end with each one of them.
"It has been a rewarding experience for me to listen to them discuss and collaborate on the steps of completing the Bronze Award.  Paramount to this is how they use these skills to apply to our community's ills and know that they truly have a voice and can bring their ideas to the table."
Using an adapted New York RiSC program, students studied how humans continue to impact islands — from the decimation of forests for sugar cane plantations to today's over-development of natural resources.
St. Croix Educational Complex and Career and Technical High School, under the leadership of technology teacher LaVerne Stout and retired biology teacher Ann Marie Gibbs, collaborated as they shared the same campus environs. Stout spoke of how "Eco-Schools has provided a framework for students who want to take action and make lasting changes in their school and community. I have seen the students' curiosity grow and their sense of responsibility raise to a higher level with the awareness that they gain through the Eco-School program. I have great hope when I see how ready these students are to take charge and implement projects to improve their school and community. I am proud of the progress that these young adults have made so far. I look forward to seeing the projects that these students are planning to reduce carbon footprints while creating a sustainable and more resilient environment for the society."
Educational Complex student R'Deajah Milligan added, "Eco-Schools is a program that helps inspire youths to take care of the changing environments around us. It helps students to understand the importance of sustainability, so they spread awareness throughout their communities."
All schools are invited to use the online resources the Eco-Schools USA provides free of charge to all educators and families. https://www.nwf.org/Eco-Schools-USA/Resources/Activities/Virtual-Classroom
For more information about joining the Eco-Schools program, email Pamela New at vi.ecoschool@gmail.com