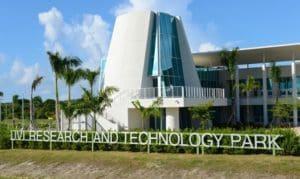 UVI's St. Thomas Campus Renamed 'Orville E. Kean Campus' The University of the Virgin Islands' St. Thomas Campus has been renamed the "Dr. Orville E. Kean Campus of the University of the Virgin Islands," to honor and commend UVI President Emeritus Orville E. Kean for more than three decades of extensive service and contributions to the University and the Virgin Islands.
Legislation to rename the campus was sponsored by Sen. Myron Jackson and adopted by the 33rd Legislature in December 2020. On Jan. 5, 2021, Gov. Albert Bryan, Jr. signed into law, Act 8404, legislation to honor and commend Dr. Kean for his contributions to the University.
"President Kean's leadership and commitment to the University and the Territory is worthy of recognition that will allow his name and contributions to be reflected upon by students, faculty, staff and this community for years to come," said UVI President David Hall. "As president of the university, I am very grateful to the contributions of Dr. Kean, and the other presidents that preceded me for creating a strong and vibrant foundation upon which we could continue to build this University into a great University."
Kean began his career at the then College of the Virgin Islands as Professor of Mathematics in 1966.
He advanced to Vice Chair of the Science and Mathematics Division, to Dean of Instruction, then Acting Director of the Caribbean Research Institute, Executive Vice President and Director of the Eastern Caribbean Center and acting vice president for Academic Affairs. In 1990, the UVI Board of Trustees appointed him to serve as president of UVI. He held the position for 12 years until his retirement in 2002.
More information is available in a news release on the Media Section of the UVI Website www.uvi.edu/
UVI Closed for Martin Luther King Jr. Holiday on January 18 The University of the Virgin Islands will be closed in commemoration of the Martin Luther King Jr. holiday on Monday, Jan. 18.
Classes and administrative offices resume on Jan. 19, at their normal regularly scheduled times.
UVI to Host the Inaugural Edith and Andre Galiber Medical Lecture Series The University of the Virgin Islands will host the inaugural Edith and Andre Galiber Medical Lecture Series at 6 p.m. on Thursday, Jan. 28, virtually through the UVI Facebook and YouTube social medal platforms.
Several medical experts will participate in a round-table discussion regarding COVID-19 and its impact in the U.S. Virgin Islands.
The panelists will include:
Tai Hunte-Caesar, M.D., Infection Disease Specialist
Esther Ellis, Ph.D., Epidemiologist
Dara Hamilton, Ph.D., Psychologist
Noreen Michael, Ph.D., Moderator
For additional information, contact Raul Carrillo by email at jcarril@uvi.edu.
UVI Ph.D. Student Publishes a Top-Ranked, Game-Changing Book for Leaders University of the Virgin Islands' Ph.D. student Greg Buschman's skillful art of balancing course work and producing an educational, gripping book has earned him Amazon Kindle's No. 1 new release in business management and No. 8 Must-Read Non-profit Leadership Author by the Nonprofit Leadership Center of Tampa Bay.
"I think You Think, We All Think Differently: Leadership Skills for Millennials and GenZ," is now listed as one of the books that leaders should read and is geared for those who will fill the leadership gap as traditionalists and Baby Boomers retire.
"My greatest wish for Millennial and gen Z generations is that they learn how to lead our society and economy to new heights without all the hang ups of past generational transitions," Buschman said. "Although older Americans are working longer, people in leadership roles are retiring or are eligible for retirement, and many have become disengaged at work," he added. "Using the strategies in this book will help each generation connect with each other, reengage disengaged workers, and help prepare the next generation of leaders to lead effectively using supportive and positive leadership."
"I love working across generational and cultural lines, especially with Millennials and Gen Z," Buschman said. The father of Millennials and Zoomers said, "I love them deeply and don't want them to enter a workforce lead by leaders who don't get the flow of our technology-based, creative, innovative and modern workforce."
The recently published book on leadership is recognized as a game-changer for organizations whose leaders want to encourage corporate cultural adoption of innovation and creativity for change. It focuses on organizational alignment during leadership transitions. The insightful and dynamic book also highlights the strong leadership team of multi-generational leaders from Boomers to Zoomers.
Buschman's long nights of writing, editing and rewriting have earned him a rank among notable and respected authors such as John Maxwell, Simon Sinek, Steven Covey and others, many of whom he admires.
"I want to thank UVI's leadership for creating the CLIC doctoral program," Buschman said. "Without it and Dr. Maddirala, Cohort 2, and my professors' education and encouragement, I would not have had the courage to take action in working toward a better future."
UVI's Ph.D. in Creative Leadership for Innovation and Change is geared to prepare learners in the field of leadership by offering an extensive study of relevant leadership knowledge. This advanced knowledge is expected to be applied toward developing innovative practice(s) in leading institutions and other complex human organizations.
The book is available for purchase on Amazon and Barnes & Noble.