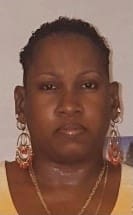 Natasha M. Jackson of Estate Herman Hill died on June 7. She was 47 years old.
She was preceded in death by her mother, Alicia Wilson Jackson; paternal grandfather, Austin Jackson; paternal grandmother, Ann Maria Stewart; maternal grandfather, Leo Wilson; maternal grandmother, Aramintha Cornelius; brother, Wayne Durant; aunts: Greta Callwood, Ana Wilson and Gwendelyn Wilson; and uncles: Webber Wilson, Halva Wilson, Woodrow Wilson and James Wilson.
She is survived by her father, Louis A. Jackson; sons: Malik Rodriguez, Ja'Shawn Rodriguez and Jahleek Rodriguez; daughter, Nadera Miller; sister, Ebone Smith; brothers: Dexter Daniel, Kevin Durant, Shawqi Jackson and Austin Jackson; stepbrothers: Joseph Schoonmaker, John and Jemaine Blair; nieces: Mia De la Rosa, Inyiah Durant, Jahnese Durant, Yatikwah Jackson, Yashyrah Jackson and Harmone Smith; and nephews: Jordan Daniel, Wayne Durant Jr., Daquan Brown, Judah Durant, Jahwon Wainwright, Harold Smith III and Ayden Jackson.
She is also survived by aunts: Doreen J. Riviere, Marva Wilson Brooks and Patricia Wilson Christian; uncle, Tyrone Wilson; daughter-in-law: Tamara Rodriguez; great aunt, Eulalie Pederson; brother-in-law, Harold Smith Jr.; sister-in-law, April Irizarry Jackson; godfather, Vaughn Hendricks; and godson, Carlos Cepeda III.
Other survivors include special friends: Juan "Chula" Rodriguez, Tricia Williams-Cepeda, Suzan Hopkins, Vernicher Simon, Shamara Christopher, Barbara Harvey, Radiah James, Sharmaine Lynch, Alma Ortiz, Emily Ortiz, Chimwala McIntosh,  Tamara Johnson, Michelle Johnson, Edna Tuitt, Monifa Bastian, Derrick Miller, Danny Derima, Halik Milligan, Bobby Sutton, LaHoma Smith, Ja Goju Jitsu-Ryu Federation Martial Arts Family, U.S. Postal Family and Marisa Allen; Special thanks to Dr. Walter Pederson, Dr. Carmen Cintron, Dr. Angel Lake and the Juan F. Luis Hospital Nursing Staff; cousins and other relatives: Denise Coumarbatch, Daphne Thomas, Ralph Thomas, Ann Marie Charles,  Troy Edney and the Pederson, Wilson, Brooks, Cornelius, Sealey, Miller, Hendrickson and Christian families; as well as other relatives and friends too numerous to mention.
The viewing will take place at 9 a.m. followed by a funeral service at 10 a.m., Friday, June 18, at Lord God of Sabaoth Lutheran Church. Interment will be at Kingshill Cemetery.
Due to the COVID-19 pandemic and public health regulations, the family requests that masks be worn at all times and social distancing be adhered to.