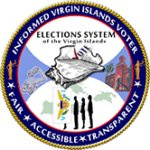 In observation of National Voter Registration Day, the Elections System of the Virgin Islands has announced extended operational hours for Thursday, Sept. 30, at its St. Thomas and St. Croix offices.
The extended office hours are 8:30 a.m. to 6 p.m. The purpose is to accommodate persons who work beyond the current temporary office hours.
The Elections System of the Virgin Islands has joined the nation in celebrating National Voter Registration Day on Tuesday, Sept. 28. It is a civic holiday in the United States and is celebrated the fourth Tuesday of September each year. The day seeks to create broad awareness of voter registration opportunities to reach tens of thousands of voters who may not register otherwise.
Due to COVID-19 and limitations on public activities, the Elections System has extended its celebration of National Voter Registration Day to a week, which started on Sept. 27 and will conclude on Friday, Oct. 1. Fees for replacement cards will be waived during this period, and free hand sanitizers will be distributed. Office locations and time are as follows:
St. Croix Elections Office-Sunny Isles Shopping Center Suite 26 (8:30 a.m. to 2 p.m. daily)
St. Thomas Elections Office- Lockhart Gardens (Upstairs Banco Popular) (8:30 a.m. to 2 p.m. daily)
St. John Elections Office- Market Place Suite II. (Tuesdays and Thursdays – 9 a.m. to 2 p.m. daily)
Documents required for registration are: Birth Certificate or U.S. Passport or Military Discharge from (DD214) or Naturalization Certificate. Also provide the last four digits of your Social Security Number.
Contact the Office of the Supervisor of Elections at 773-1021 or visit www.vivote.gov for current election news and updates.