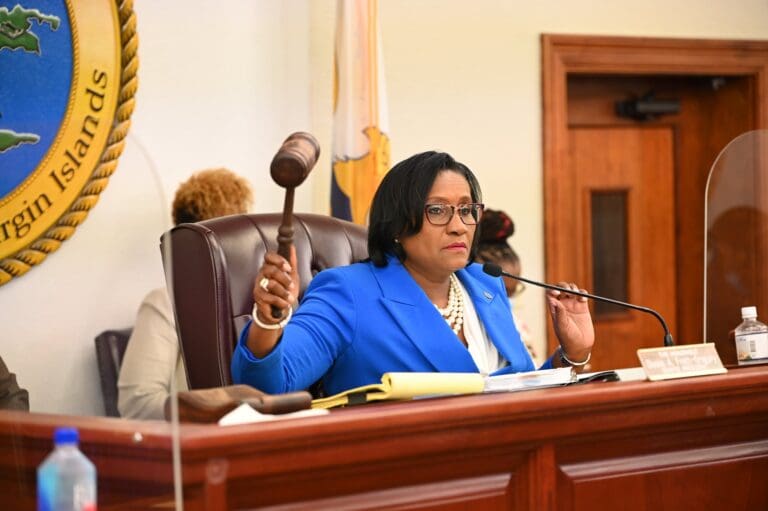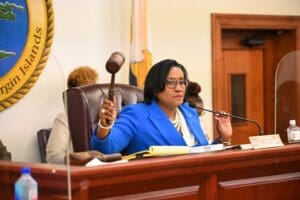 Senators addressed and approved a slew of bills during Thursday's legislative session. Bills pertaining to firearms, the V.I. Fire Service, Emergency Medical Services, the Government Employees' Retirement System, and queens of the Virgin Islands were approved. The approved bills will go to the governor to be signed or vetoed.
Senators approved a bill for the rezoning of parcels in Estate Thomas and New Quarter that allows for GERS to lease land so a developer can construct a five-story hotel in the Havensight Mall.
Almost all senators were in favor of the bill. Sen. Kenneth Gittens said that he wrote to Austin Nibbs, administrator of GERS, and told him that, "If you don't reinstate the loan program I will not be supporting this measure." Being that Gittens received correspondence from Nibbs saying "the discussion has begun" for the loan program, Gittens voted favorably on the bill.
Sen. Janelle Sarauw however, voted in opposition to the bill.
"All we do is open bars, restaurants, and our idea of economic development is hotels," said Sarauw. "I am concerned with the landscape of this district."
She added that the ships in the cruise ship industry do not stay in port during later hours in the territory because they disclosed that "there's nothing for which would attract the tourists." Sarauw implied that spaces for outdoor and indoor activities should be constructed instead of a hotel.
Sens. Kurt Vialet and Milton Potter said they would support the bill.
"This is an opportunity for GERS to diversify their portfolio," said Potter. "They're not getting into the hotel business but this is an opportunity to lease government land, not give up, to a potential developer to construct the hotel, and GERS will receive the residual income as a result."
Sen. Donna Frett Gregory acknowledged that as legislators, the body is tasked with looking at the future of the islands.
"Each island has its own footprint," said Frett-Gregory. "Some areas can be tourism, some can be light manufacturing. But we have to decide what we want that to look like."
Senators also approved a bill that requires firearm components to be declared upon their entry into the U.S. Virgin Islands.
Sen. Marvin Blyden said the territory is "one step closer to assist with illegal firearms."
He added that illegal firearms enter the territory through means that are not extremely regulated, such as by way of the sea. Blyden said, "We must find a way to close those loopholes and assist with illegal guns coming into the territory."
"There are codes and laws to curtail the use of guns," said Sarauw. "We definitely need to curb gun violence in the territory, and it begins with declaring your weapons upon entry."
Some senators felt that the bill is unnecessary. Sen. Carla Joseph mentioned that responsible individuals go through the process of registering firearms and suggested the bill is superfluous. Licensed gun owners need to be able to get parts to repair and maintain their weapons, she said.
"It infringes on our constitutional right that our forefathers in the United States put forward," said Joseph, highlighting the Second Amendment of the Constitution. "It seeks to penalize those law-abiding licensed gun firearm recipients."
Frett-Gregory asked that the body consider the possibility of various undeclared parts getting shipped over a period of time and a firearm being built as a result. The bill was ultimately approved.
Bringing a merger of the two agencies closer, the Senate approved legislation to establish the Virgin Islands Fire and Emergency Medical Services, and senators said they anticipate more efficient and effective response times for emergency responders.
"It would best serve the community if it's done," said Sen. Alma Francis-Heyliger.
Other senators agreed that it was long overdue.
"This bill will save lives," said Sen. Javan James
"History will be made," said Joseph.
"This has been one of the most debated and highly vetted bills in the Legislature," said Potter. He added, "You don't really think about it until you or your family is in crisis and needs some relief from emergency services."
One senator felt that there is still controversy regarding the merger, and that more internal engagement and feedback is needed from members of the V.I. Fire Service and Emergency Medical Services.
"I do not support the merger, " said Sen. Genevieve Whitaker. "There are issues on either side that bring concern to me … The conflict that the merger presents is that it's not clear for me that it will be a good time to do the merge."
Senators honored queens of the Virgin Islands' past and laborers associated with the 1878 "Fireburn" Labor Riot by approving a bill that acknowledges queens Mary Thomas, Axeline Salomon, Mathilde McBean, and Susanna Abramson for their pursuit of human rights and improvement of labor conditions in the former Danish West Indies, and for condemning the excessive, cruel, and unjust punishment meted out to the laborers by the Danish government.
The bill also makes a $250,000 appropriation from the Community Facilities Trust Account to the Virgin Islands Council on the Arts to coordinate the erection of a monument in honor of their work.
Senators were eager to unanimously vote favorably on the bill, with 13 of them supporting it.
All bills will be forwarded to Gov. Albert Bryan Jr. for signing.