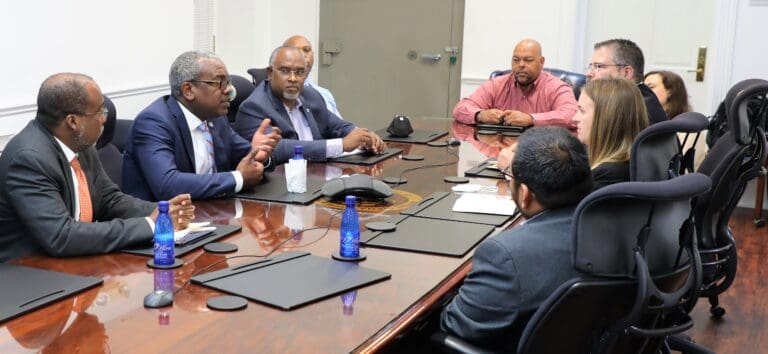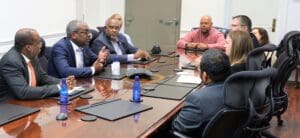 The territory may no longer be feeling the strong effects of the COVID-19 pandemic, but there is still one public health threat – gun violence – that officials have to tackle. Office of Gun Violence Prevention Director Antonio Emanuel said Thursday he, Police Commissioner Ray Martinez and government representatives led by Gov. Albert Bryan Jr. began the foundation for a plan after meeting this week with members of the National Network of Safe Communities.
The first step over the past four days – two on St. Thomas and two on St. Croix – was working with V.I. Police Department analysts and investigators on establishing a set of baseline data on "who the frequent flyers are" and how they are connected within local neighborhoods. The Police Department's research, which was done in conjunction with the National Network of Safe Communities years ago when the organization first partnered with the government, has suggested there is a small, targeted group of individuals committing or spearheading much of the crime.
"In almost every jurisdiction, research has shown there is a small percentage of people doing most of the crimes and causing most of the problems. We need to focus on that," Emanuel said.
With the new partnership, however, the goal isn't necessarily to lock anyone up. Zeroing in on hot spots and names gives the Office of Gun Violence Prevention the chance to reach out and begin community conversations on root causes, environmental factors and what wrap-around services are really effective in pushing someone to turn their life around.
"This is not a law enforcement approach," Emanuel added. "It's a health approach, and our goal is to see how we can provide services that help our community members who are high-risk connect with resources that make them feel less desperate."
That feeling of desperation is a focus for Emanuel, who said the second part of the more immediate steps is identifying exactly what resources and programs are available within the government and local nonprofits. There are "a lot of incredible initiatives being done, even private citizens are doing things themselves," but it's not all coordinated, he explained.
"We want to look at these programs and make sure that if they are similar, they are actually helping each other and not stepping on one another's toes," Emanuel said. And while wrap-around services like mental health care and substance abuse programs are critical, efforts that include building soft skills, like working with residents to make sure they can get a job, can make just as much of a difference.
"Oftentimes, even filling out application documents, or compiling identification is daunting, and when frustration takes over, it's easy for someone to turn to an alternative like crime," he said. "People sometimes just lack the ability to get some of the simple things done, and that's a hole we can identify and help fill."
The Office of Gun Violence Prevention is going to rely on the Police Department — which, through Martinez, spearheaded the partnership with the National Network of Safe Communities — to deal with enforcement, while Emanuel said his agency will focus on alternatives.
"We need to create an approach or strategy with the people we've identified as leading the crime," he said. "We need to contact them, the leaders of these negative factions within the community, and determine what we need to do to keep from retaliating against anyone else. And, quite honestly, some of those conversations are going to fail, but hopefully, we will be able to reach some and get them to think about how they can run their lives differently. It goes beyond changing our culture, it's an opportunity to teach people how to be better citizens."
The National Network of Safe Communities is an action research center at John Jay College of Criminal Justice that provides proven, evidence-based, life-saving violence reduction strategies to dozens of communities across America and around the world. The organization has demonstrated conclusively that within communities the overwhelming majority of residents are not dangerous and that the small number of chronic violent offenders are also at the most risk of being victimized themselves.