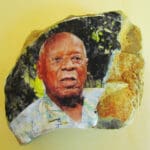 Bajo El Sol Gallery in Cruz Bay will hold a viewing of the documentary film "Reflections" and a PoP-Up exhibition entitled "Foundations" – both by Janet Cook-Rutnik. The exhibition reception will open at 5 p.m. the film screening will start at 6 p.m., Saturday, April 9, only.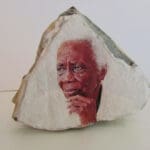 Two years ago, Cook-Rutnik began working on "Reflections," a documentary consisting of interviews with three ancestral Virgin Islanders whose lives and memories illuminate the spiritual and emotional foundations of the territory's contemporary society. This 18-and-a-half-minute film has been gleaned from eight hours of videotape and presents the views of three St. Johnians, Oscar James, Kenneth Marsh and Gloria Samuel, as they look back on their personal history and that of St. John's during the pivotal period in the V.I. from the 1930s to today.
Also included in this project are photographic transfers of archival and other photographs on rocks and concrete blocks that form the foundations of the physical, built environment.
"We appreciate artists and filmmakers who choose to document ancestral stories, particularly those who feature the stories of the Virgin Islands and St. John in particular. These oral histories are a powerful tool to help us understand the past to better navigate our future," said Priscilla Hintz Rivera Knight, curator and director of Bajo El Sol Gallery.
This project has been funded in part by the Virgin Islands Council on the Arts and the National Endowment for the Arts.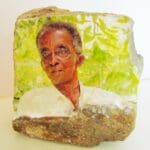 Janet Cook-Rutnik is an artist working on St. John since 1969. She studied sculpture with Richard Stankiewicz at the State University of New York (SUNY) in 1968, printmaking at Skidmore College, N.Y., in 1990 as well as public art, installation and new media at the School of Visual Arts in 2006. She was a Mid-Atlantic Arts Creative Fellow in 2008 and 2011.
Cook-Rutnik has exhibited her work throughout the Caribbean as well as in the United States and Europe. Her practice has shifted from painting, sculpture and printmaking to contemporary works incorporating video, photography and public art collaborations, often focusing on Virgin Islands history.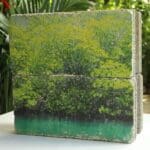 Located at Mongoose Junction on St. John, Bajo El Sol Gallery & Art Bar is a hybrid art gallery, bookstore, café, and rum and cocktail bar. As a gallery and events space, the gallery is dedicated to offering the best in V.I. fine art and cultural expression.