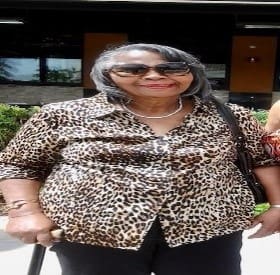 The family of Doris Brin of Frydenhoj, St. Thomas, regrets to announce her passing on Sunday, June 5, in Salisbury, Md. She was 91 years old.
A God-fearing, humble and kind servant of the Lord, she was preceded in death by her mother, Dona Todman and her husband, John Brin.
She is survived by her five daughters: Averricia D. Williams, Lael E. Housen, Javaite J. Brin, Nicole K. Brin and Odette M. Brin; adopted daughter, Carol Dowe Wooding; adopted son, Dwight Thomas; adopted  sister, Lorma Percival; sons-in-law: Herbert Housen Sr. and Lunsford A. Williams; adopted son-in-law, Clinton Wooding; brother-in-law, Darlan Brin; grandchildren: Jamal Housen, Kalik Housen, Shamian Plaskett, Walter Freeman III, O'Necqua Brin and C'Moi Mitchell; and great-grandchildren: Phoenix Freeman, Paris Freeman, Peyton Freeman, Princeton Freeman and Saint Jordan Housen.
She is also survived by special cousins: Casper Turnbull, Audrey Turnbull Draisin, Daisy Vegas, Gwendolyn Blake, Sezilee Reovan, Rebelto Harrigan Sr., Dora Harrigan, Luden Harrigan, Winston "Dick" Harrigan, Leonard Keith Amey, Antonetta Arcibald, Antoinette Skelton, Cassandra Smith, Byron "Mauby" Smith, Sanchia Percival-Hall, Jewel Harrigan, Valerie Johnson, Berencia Maduro, Erna Williams, Alice Percival, Marilyn Malone, Pamela Richards, Eastlyn Igwemadu, Ava L. Braithwaite, Derick Braithwaite, Bevin Braithwaite, Ashley Ritter, Cheryl Richards, Vernon Turnbull, Winette Turnbull, Janet Gross,  Eleanor Archibald, June Frazer Famous, Christene Frazer, Enid Hamm, Alicia Thomas-Carty, Jennifer Lettsome, Juliette Lettsome, Jasper Lettsome, Avery Kevin Williams, Winette Bradshaw, Daryl Edwards and Rosa Samuel; as well as many other relatives too numerous to mention.
Other survivors include her godchildren: Carol "Yama" Samuel, Pamela Smith, Shelly Amey, Shawn Perez, John "Sonny" Turnbull and others; and special friends: Elaine McClean, Eulaine Jones, Zula Hodge, Dorothy Smith, Essetta Barry, Leander Brathwaite George, Berniece Turnbull, Coreen Jennings, Euthanie Thomas, Gloria Fields, Naomi Turay, Clem Smith, Annette Smith, Steve Gumbs, Allegra Callwood, Kim Scatliffe, Peggy Smith, Paulette Rawlins, Shirley Hodge, Olive Phillips, Sandra Pemberton, Alphonse Powell and Mario "Chin" Jackson.
There will be a viewing held from 9-10 a.m. Saturday, July 2, at Wesley Methodist Church. The church service will begin immediately afterwards. Interment will be at Eastern Cemetery in Smith Bay.