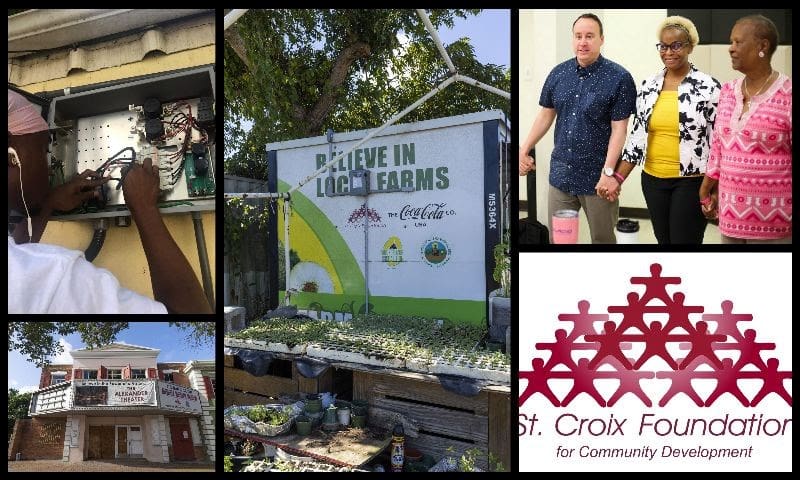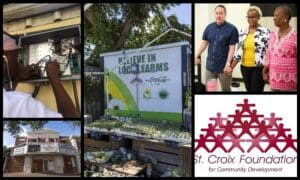 On Thursday, June 23, the Council on Foundations (COF) and the U.S. Department of Housing and Urban Development (HUD) announced St. Croix Foundation for Community Development (SCF) as a recipient of the 2022 HUD Secretary's Award for Public-Philanthropic Partnerships.
One of five organizations from across the nation to receive this honor in 2022, the award was presented to St. Croix Foundation by HUD Secretary Marcia L. Fudge and Associate Deputy Assistant Secretary for Policy Development Peter Kahn, along with COF President and CEO Kathleen Enright during a virtual awards ceremony.
The Secretary's Award is a national partnership between HUD and Council on Foundations now in its tenth year, which is presented annually to recognize a philanthropy's work with government partners as a community strategy to increase the quality of life for low- and moderate-income residents across the country.
St. Croix Foundation was recognized for its portfolio of Community Resilience investments in the aftermath of 2017 hurricanes Irma and Maria. The specific projects, which were spotlighted through this award, include:
Its Solar-Supported Community Center and Workforce Development Initiative, which certified local youth as solar installers through a nationally accredited workforce development program. Students went on to solarize local nonprofit-led community centers serving children and the elderly. Each site will serve as a resilience hub in future disasters.
Its Farm Tienda Project, funded in part by Coca-Cola One (CC1), awarded seven small farmers with "container produce stands" that operate as micro-resiliency hubs in isolated and economically vulnerable neighborhoods. Tiendas were outfitted with solar panels, Wi Fi/satellite phones and potable water to support relief and resilience during both blue and grey skies.
And, its historic Alexander Theater Restoration Project, which is transforming an historic, dilapidated movie theater into a state-of-the-art performing arts center and the only downtown Community Disaster Safe Room capable of housing 300+ people.  The theater will
(1) become St. Croix's first modern indoor performing arts and conference convening space, (2) will add to the territory's critically depleted disaster shelter pool,
(3) will offer nonprofit co-working space, and
(4) will serve as a vital economic stimulant for the historic District of Christiansted.
At the core of this national recognition is St. Croix Foundation's commitment to catalyzing social change through progressive models of civic leadership and sustainability. The award also highlights SCF's fundamental role as a community convener and bridge-builder forging strategic partnerships between nonprofit, private, public and philanthropic sectors.
According to SCF President Deanna James, "This award is testament to the Power of Place-Based Philanthropy working in full alignment with civil society. The foundation is especially grateful for our nonprofit consortium partners who continue to inspire us and remind us each day that the real formula for community resilience lies in the might of community-rooted relationships!
"Throughout the succession of crises, our community has endured over the past five years, it's our local nonprofits [that] are collectively building real competency around how to effectively activate federal and philanthropic investments to serve the most vulnerable and underserved in our community. They are undoubtedly our thought partners and collaborators every step of the way.
"The St. Croix Foundation extends our deepest appreciation to HUD and the Council on Foundations for this recognition. Because we continue to operate in national philanthropy's blind-spot in the U.S. Caribbean, we must extend very special appreciation to our steadiest philanthropic partners and co-conspirators: Global Giving, Tides Foundation, Center for Disaster Philanthropy and the Association of Black Foundation Executives!
"Thank you for 'seeing' us! And to our public sector partners at the V.I. Department of Labor, Virgin Islands Territorial Emergency Management Agency (VITEMA) and the Federal Emergency Management Agency (FEMA), we extend our sincere gratitude."
Established in 1990, St. Croix Foundation has served as a conduit for over 42 million dollars in funding for community-based projects throughout the Virgin Islands. With an incomparable track record of successful community development initiatives and national recognition for its body of work in education reform and small business development, community revitalization initiatives, and today, community resilience, the foundation continues to direct laser focus on holistic (and often times radical) approaches to philanthropy.
For more information on the St. Croix Foundation's impact and to support this work, please contact it at 773-9898, staff@stxfoundation.org or visit its website at www.stxfoundation.org.