The rededication of the Freedom statue in Emancipation Garden signals an official change in the historical narrative of the park, and the desire of a community to take control of its destiny, speakers at Freedom Day events on St. Thomas said.
On March 29, the large copper bust of King Christian IX was removed from Emancipation Garden to make way for the Conch Shell Blower – the original name for the statue that had been relegated to the periphery of the park since it was erected in 1998. Now called Freedom, the statue is meant to "lay to rest" the story that emancipation was granted to those enslaved in the Danish West Indies, and replace it with the truth that it was demanded and hard-fought.
"Marcus Garvey once said, 'liberate the minds of men and you will liberate the bodies of men, too,'" V.I. activist Michael Vante said. "In that vein, it is important that we put this moment within the correct historical context. Today is important because this rededication marks an official shift in the historical narrative and the story that exists within and as a part of Emancipation Garden. For over 100 years, the dominant story in this park was of a king that kept the status quo within the Danish West Indies – slavery in all but name. But today, Virgin Islanders have corrected the narrative of our liberation."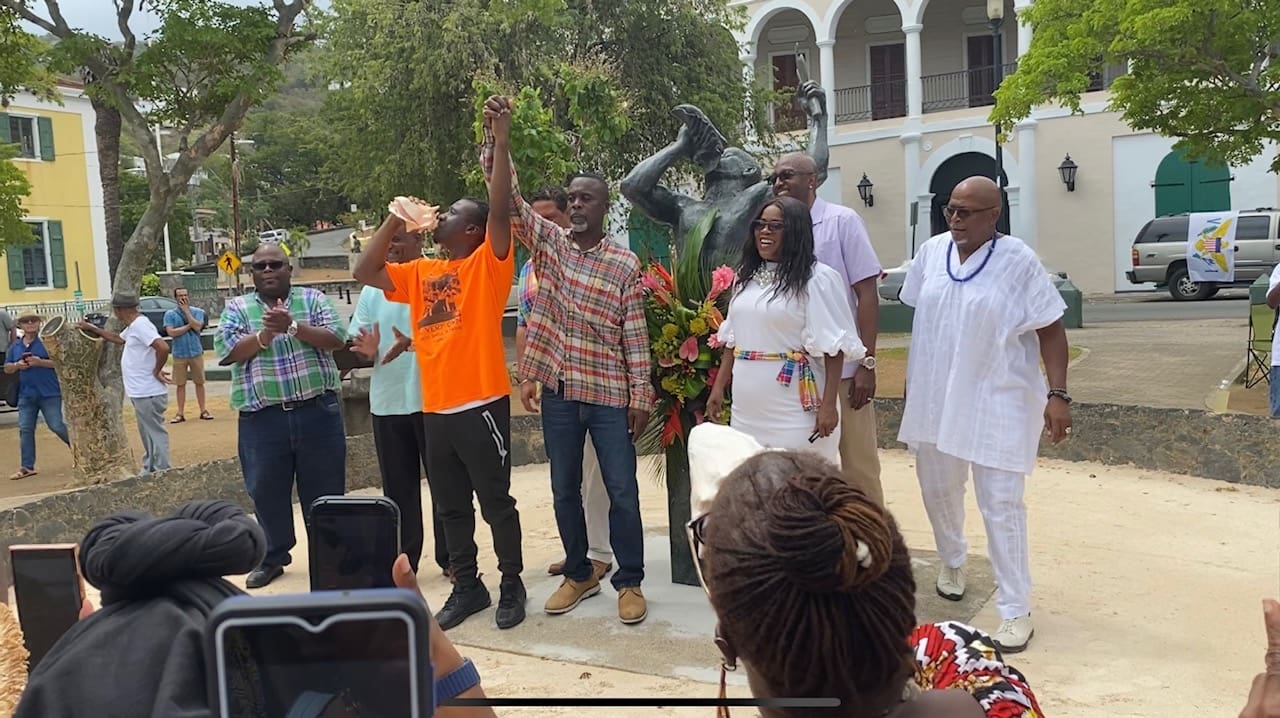 Last year, former Sen. Myron Jackson – who, along with Sen. Marvin Blyden sponsored the bill appropriating $20,000 to refurbish and relocate the Danish monarch's bust to Fort Christian and replace it with the more culturally appropriate Freedom statue – explained King Christian IX did not ascend the throne until 1863, well after the Emancipation Proclamation, but the oppression of those enslaved in the Danish West Indies continued during his reign.
By nature, all monuments are political, Vante added Sunday, and for a land that "once held some of the world's largest slave auctions," it is significant that its people have chosen to center their own story of freedom in the form of the statue now located in the heart of the park, where residents and visitors alike can see it, touch it and interact with it.
"As a park visited by people from around the world every day, any previous and political misconceptions of who gave emancipation to whom in these Virgin Islands has been summarily laid to rest," Vante said.
Jackson, who was the host Sunday on St. Thomas, also encouraged the small crowd to channel the spirit of Freedom at future Emancipation Day celebrations and be inspired to continue bringing about the change that their ancestors demanded.
"On July 3, 1848, the enslaved came from all quarters and estates in the town of Charlotte Amalie to declare themselves free, and this park was named in honor of that day," Jackson said. "We are their descendants and are here to celebrate, 174 years later, that we are a resilient and blessed people."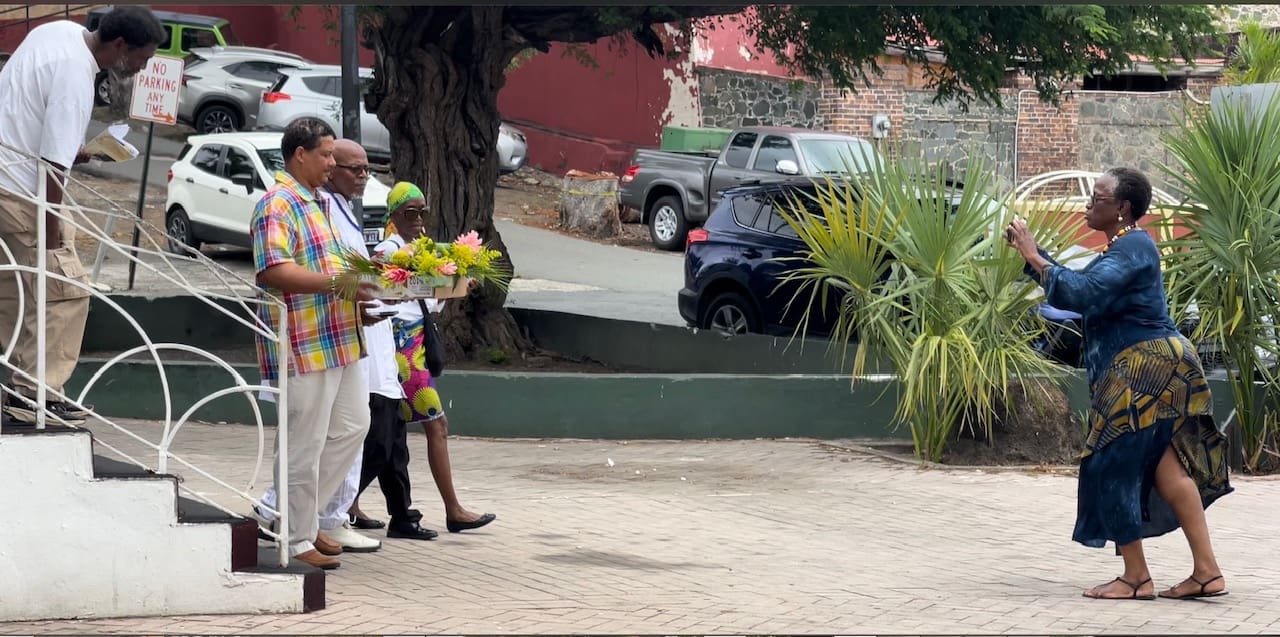 Organized by the Pan African Support Group, Sunday's event on St. Thomas also gave speakers the chance to reflect on the larger conversation of self-determination, which many acknowledged is a large step forward.
"Self-determination must be on our minds, in discussions and dialogues," community activist K. Leba Ola-Niyi said. "As our ancestors did in 1848, we as Virgin Islanders and as Africans, in particular, need to control our political status and destiny. Self-determination means that we must think for ourselves, do for ourselves, govern ourselves and produce for ourselves instead of having others do it for us. It may just be an idea now, but we must want to put it into reality."

Legendary V.I. storyteller Glen "Kwabena" Davis brings out the musical side of children attending Freedom Day events on St. John. Together, they had a brief recital in the bandstand at Franklin Powell Park in Cruz Bay. (Judi Shimel video)
Events on St. John and St. Croix also honored the significance of Emancipation Day with historical reenactments, storytelling, music, and poetry.