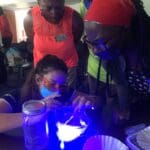 The University of the Virgin Islands (UVI) hosted two educator workshops — June 28 on St. Thomas and June 30 on St. Croix — to demonstrate hands-on, interactive lessons from the newly released USVI Marine Debris Curriculum. The curriculum includes 12 lessons for middle and high school students and highlights marine debris composition and abundance, sources and transport, impacts, and solutions.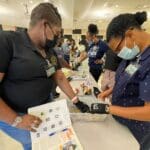 It also spotlights 16 locally relevant research projects and individuals working on marine debris issues. The curriculum was co-created by the Virgin Islands Established Program to Stimulate Competitive Research at UVI (VI EPSCoR) and 61 Virgin Islands educators in workshops in 2016 and 2018. Kits are now available on loan with supplies for educators to implement these lessons in the classroom with funding from the Virgin Islands Department of Planning and Natural Resources (VIDPNR).
Thirty-seven educators attended the workshops from 15 schools across the territory, in addition to individuals from the V.I. Department of Planning and Natural Resources and the Virgin Islands Children's Museum. Attendees shared that "the hands-on activities were very meaningful" and "no matter what you teach, you can make an impact on the environment with these lessons."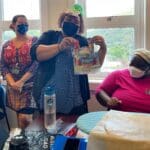 "We were extremely pleased by the interest in this workshop and the enthusiasm with which educators engaged with the lessons and activities. We hope that by providing this curriculum and resources to implement it that educators and students will see the ways they can reduce marine debris and become part of the solution for its reduction along our shorelines," said Kristin Wilson Grimes, Ph.D., research assistant professor at the Center for Marine and Environmental Studies at UVI and project co-lead.
To download a free copy of the curriculum and to learn more about marine debris efforts in the territory, go to: https://viepscor.org/about-marine-debris-in-the-usvi
To request a hard copy of the curriculum or more information about the kit loaner program, email: allie.durdall@uvi.edu.
For more information, contact the Public Relations Office at pr@uvi.edu.