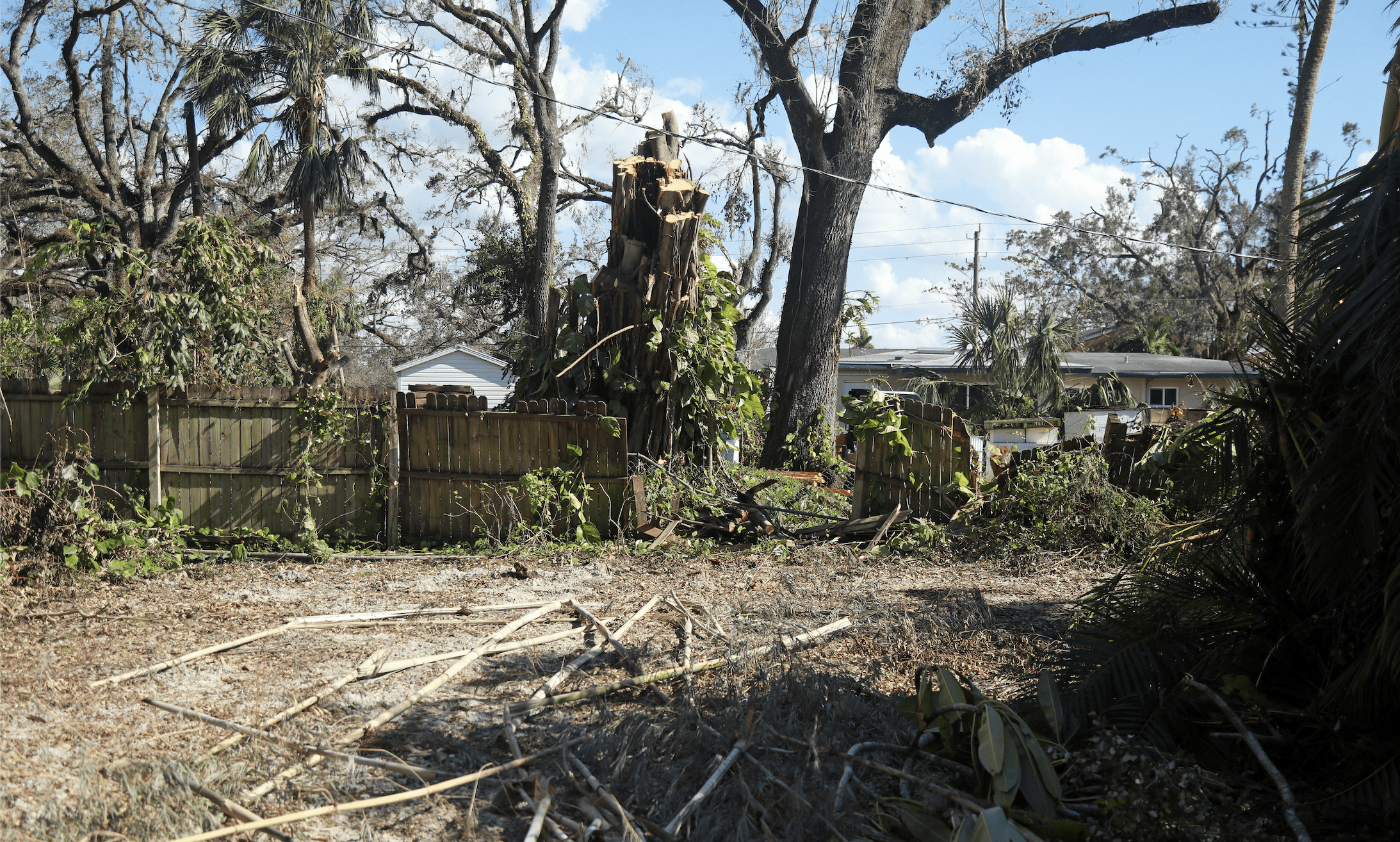 What were the chances that we would return to the U.S. mainland after two years living and working on St. Thomas — two years of hurricane-free seasons in the islands of IrmaMaria — to ride out the eyewall of Hurricane Ian at our home in Fort Myers?
Most of the world had never heard of our town or surrounding Lee County before Sept. 28; a narrow, improbably developed band between Naples and Tampa, little higher than the Everglades swamps from which it emerged.
We are flanked by the barrier islands of Sanibel, Captiva, Pine, and Fort Myers Beach and by the Caloosahatchee River, carrying warm Gulf waters past tens of thousands of homes for 67 miles.
Hurricane Ian kept us in suspense about its landfall, but there was never a question of its force. As early as Sept. 23 Florida Governor Ron DeSantis ordered a blanket state of emergency. Yet I think we were in a state of denial about Ian's approach, blinded by its wide cone and slow, uncertain track. Our county officials waited until the day before the storm to make provisions for evacuation, shelter and sandbags.
When the evacuation order did come, we packed our bags but debated.
"In all my years, the river has never come over our sea wall," my friend Linda Mattos assured.
The window for movement outside closed before we could make up our minds.
The eyewall that came to stay
I grew up with Florida hurricanes but nothing like this. The morning of Ian's landfall, we watched its march on Facebook until the Internet and power went out. Then our only forms of communication were the wind's power and text messages of our friends.
I had seen the scorched earth effect of a high Category 4 while reporting from Irma's ground zero in the Florida Keys. So when the wind began stripping the giant mango trees of their leaves, I knew the eyewall was upon us. By 6 p.m., the trees and landscape were bare.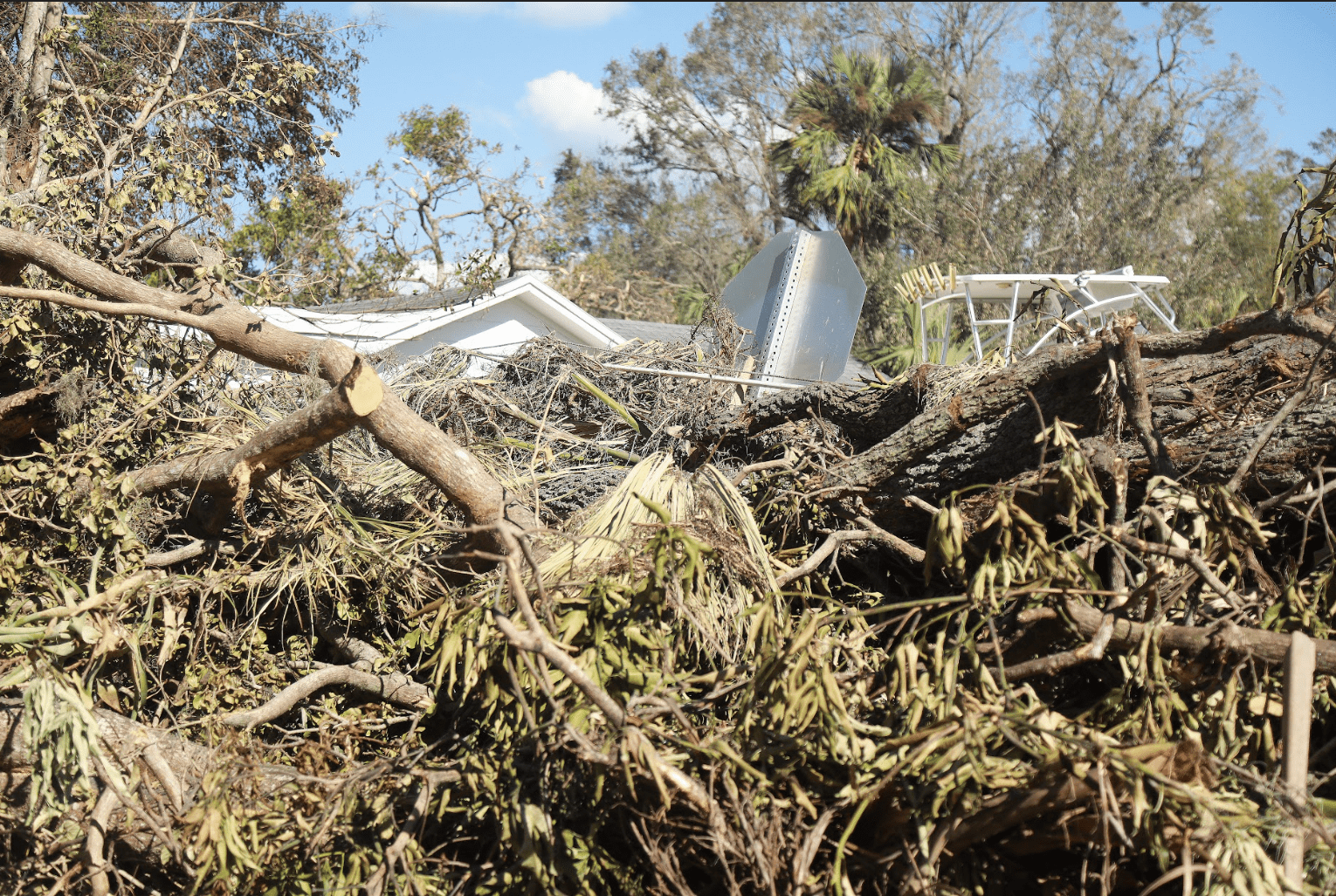 For an instant, the wind dialed back and the glooming sky brightened.
"We made it," Martin flopped on the bed, exhausted.
"Unheard of 12-18 ft. storm surge forecast for Fort Myers on already saturated ground," a text came from our friend Corinne Van Rensselaer on St. Thomas, "Praying your area is less than that."
Another text came from Linda: "It's in our backyard."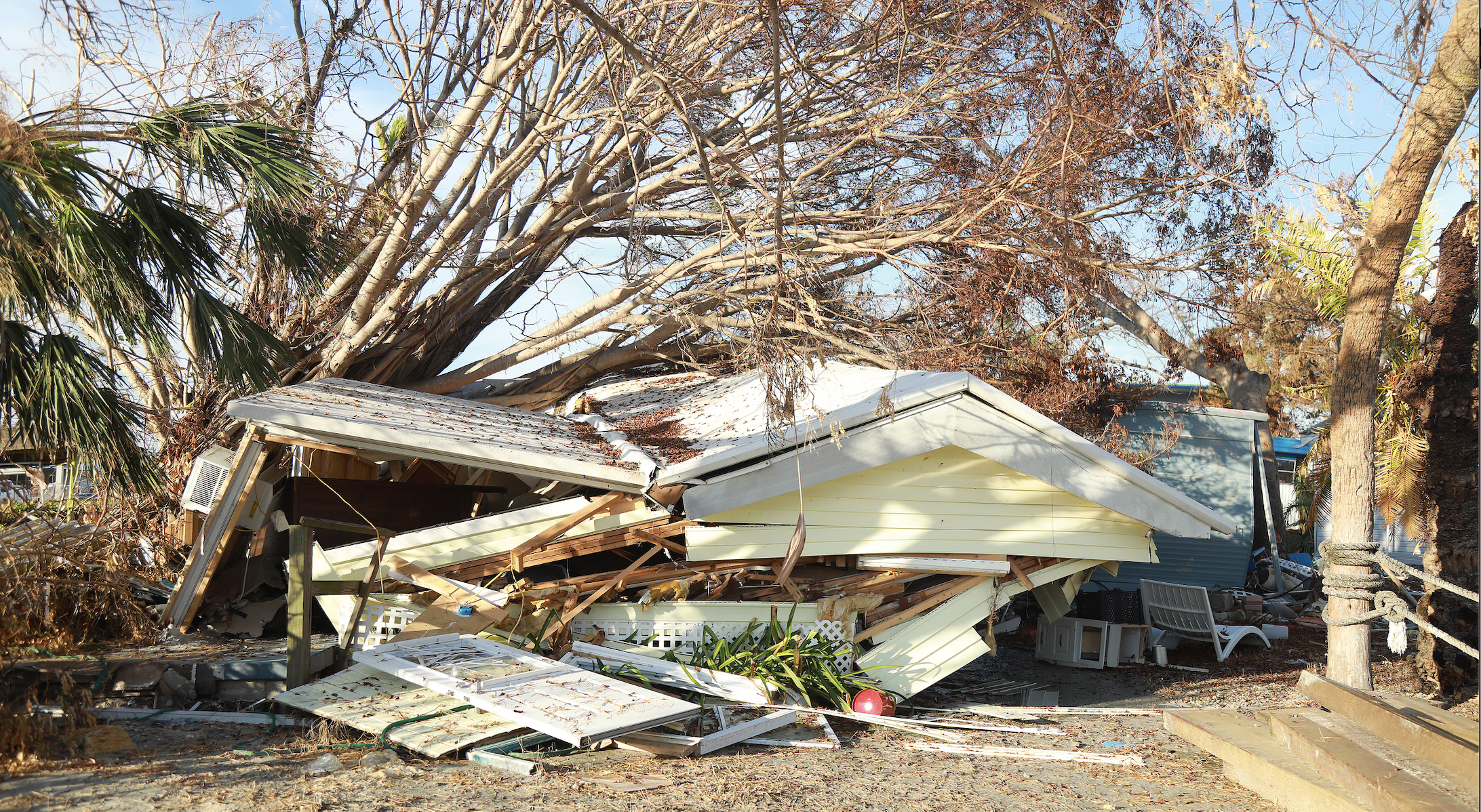 And another from our neighbor Teri Isacson in the townhomes behind us: "Our first floor is flooded. We're moving to the second floor."
Out the window, we saw the wind clocking around, pushing the river toward us at peak high tide. A sheet of silver spread in our direction as the Caloosahatchee breached a neighbor's sea wall, poured over our street and entered our yards.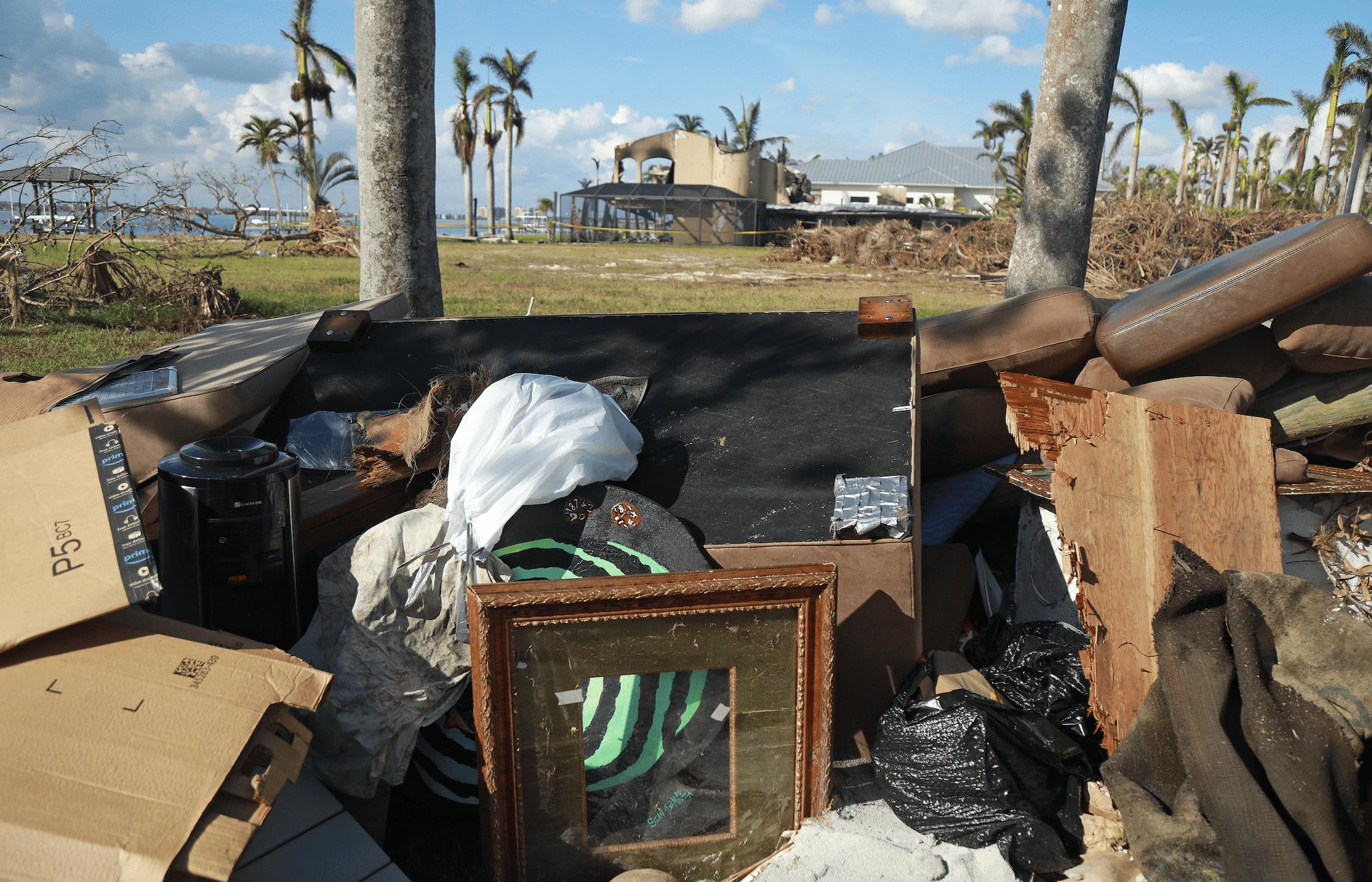 Without a second story to retreat to, we grabbed our bags, pushed our bodies against the front door to open it, and ran for our truck in a 150-mph wind, dodging felled palm trees and power lines to Linda's house.
At that moment, neighbors and dogs were swimming to our friend Kerri Brittain's home to shelter in its upper stories while her first floor was filled with raw sewage. The attendant at our local gas station was carrying his wife to the second-floor balcony of the Sea Chest, a nearby hotel. Another neighbor was fleeing his house with his wife and dogs to ride out the storm in his SUV under a bank awning. And Willie Joe Shotmiller, a homeless man who texts me his whereabouts every day, sent a photo of what appeared to be a shuttered motel with room number 2769.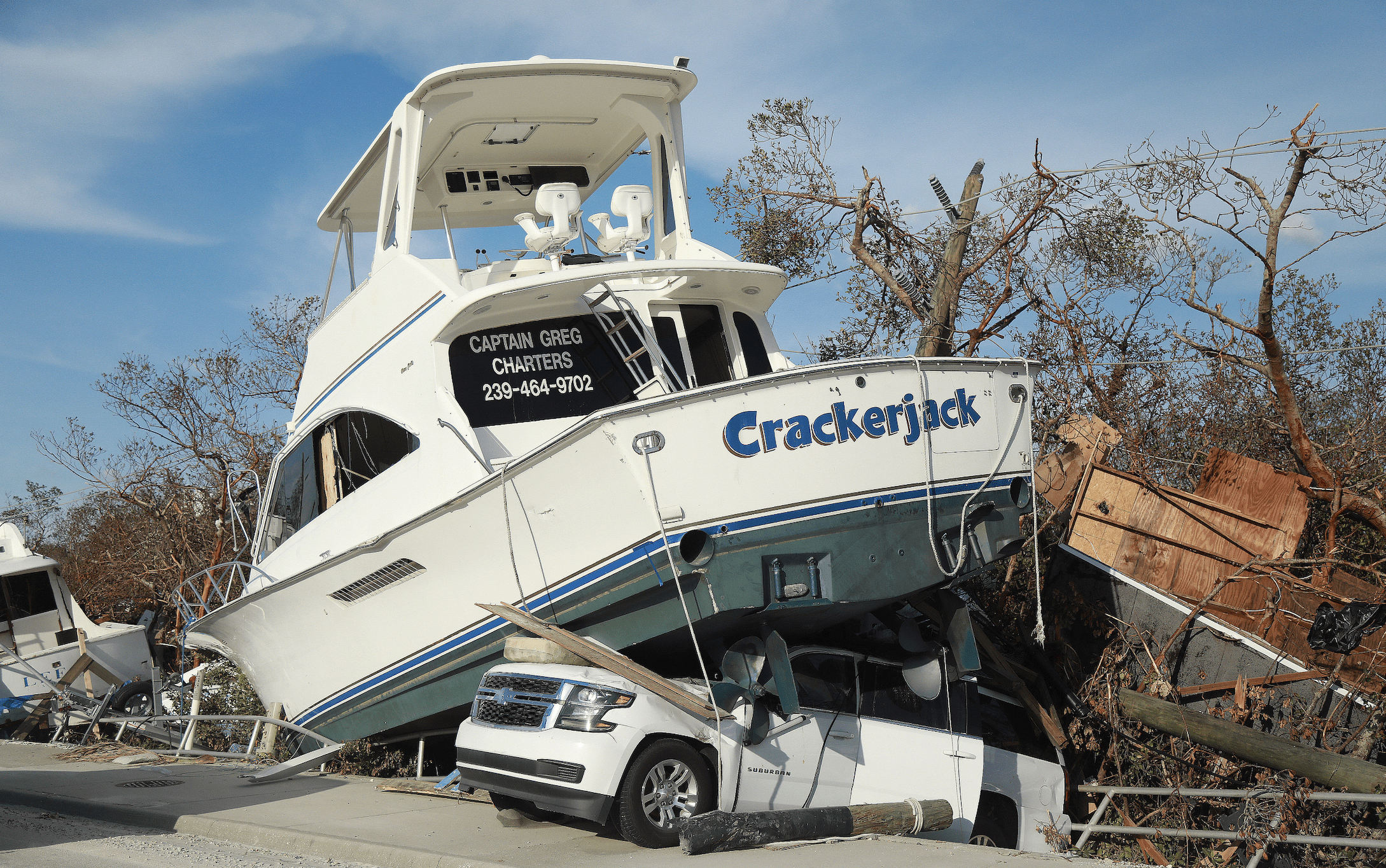 We watched with Linda and her husband, Dan, as the waves below their balcony took out their dock and flooded every surrounding home but theirs. When the tide turned at 8:30, the water began to recede, but the wind grew fiercer. The back of Ian's eyewall, its worst side, had stalled over Fort Myers and didn't want to leave.
We rose from a sleepless night and picked our way home through a landscape like a Jackson Pollock painting. People were wandering outside their ruined houses with ashen faces. Our street was impassable. Massive oak, mango and African tulip trees lay on their sides across the yards, some lifted by their roots.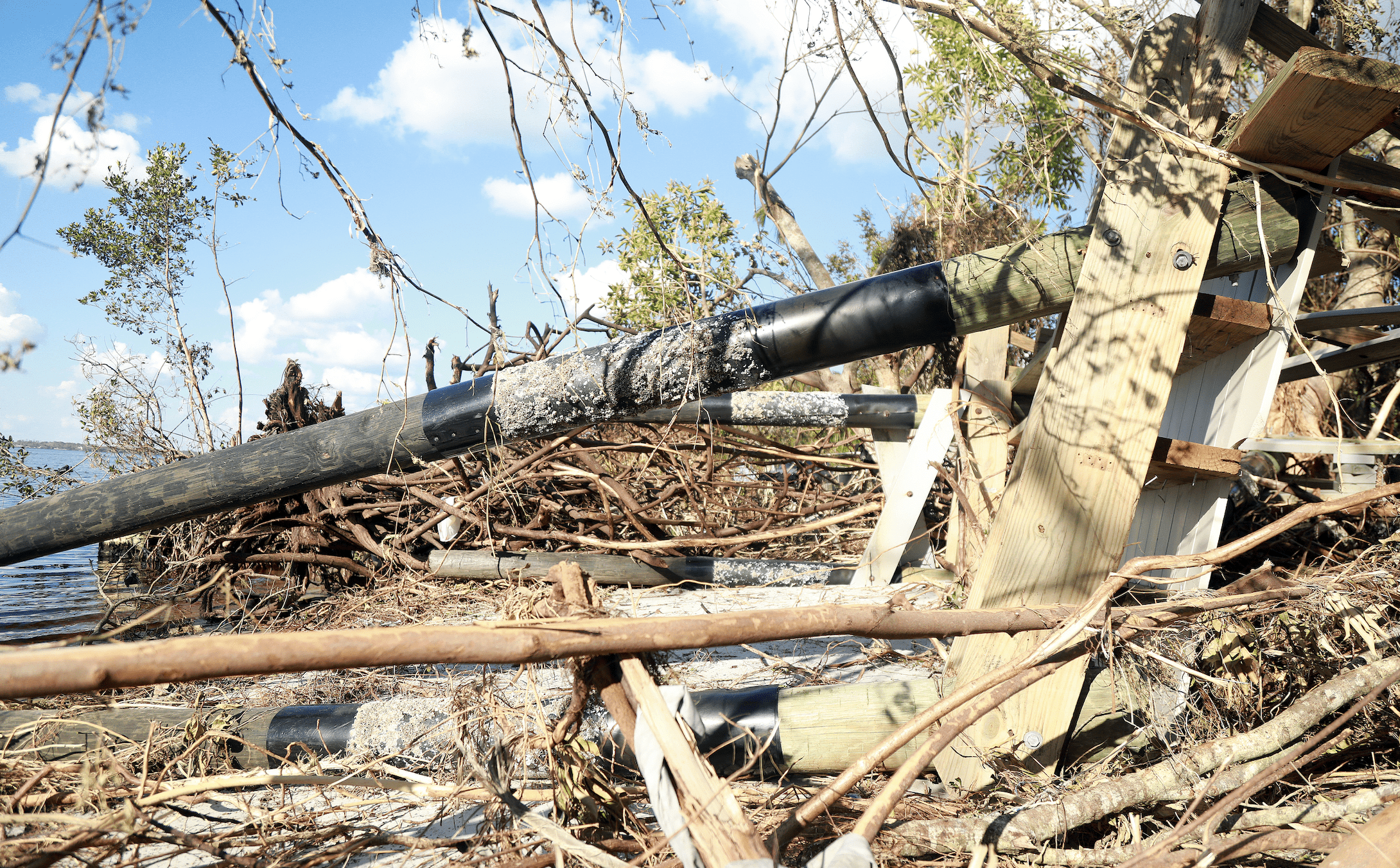 Cautiously we opened first the door of our home, then the studio, then the home of our tenant, and held one another, sobbing.
They were dry.
Digging out
Official help comes slowly after natural disasters, as territory residents know. As a construction manager at the V.I. Housing Finance Authority, Martin marveled at the patience of an 80-year-old widow who was still catching water in buckets in her bedroom four years after IrmaMaria. Now it was our turn to stand on lines wrapping around the block for the rare open service letting in one or two customers at a time.
Luckily our corner of Fort Myers is full of Hispanic go-getters, and as I walked back and forth to Linda's house to charge our phones, I found them already at work.
A crew of undocumented Guatemalans with a truck, chain saws and gas to power them helped us haul out the big trees.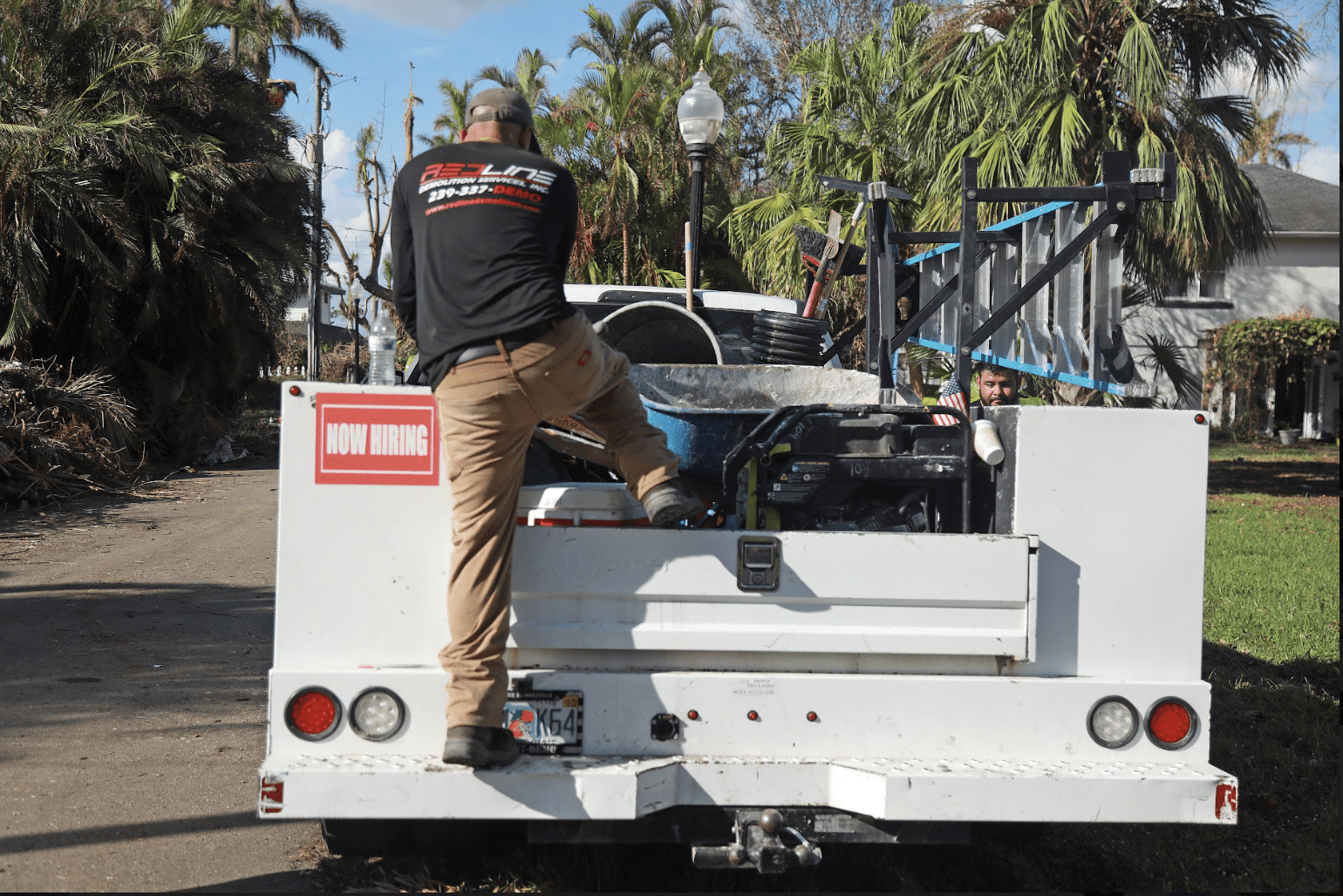 Our Mobil station was among the first to resume pumping gas beneath a bizarrely twisted canopy that's now memorialized in the New York Times.
The owner of our Bravo supermarket was the first to open his darkened aisles. "The gouging has started," he explained why a box of eggs cost $9. "I used to pay $35 for a crate. Now they're charging me $150."
Our hopes soared with the appearance of line workers from as far away as Oregon going house to house, rebuilding our power grid. The V.I. Water and Power Authority partnered with Electric Cities of Georgia to join the mutual aid response effort, according to WAPA Communications Director Nyomi Gumbs.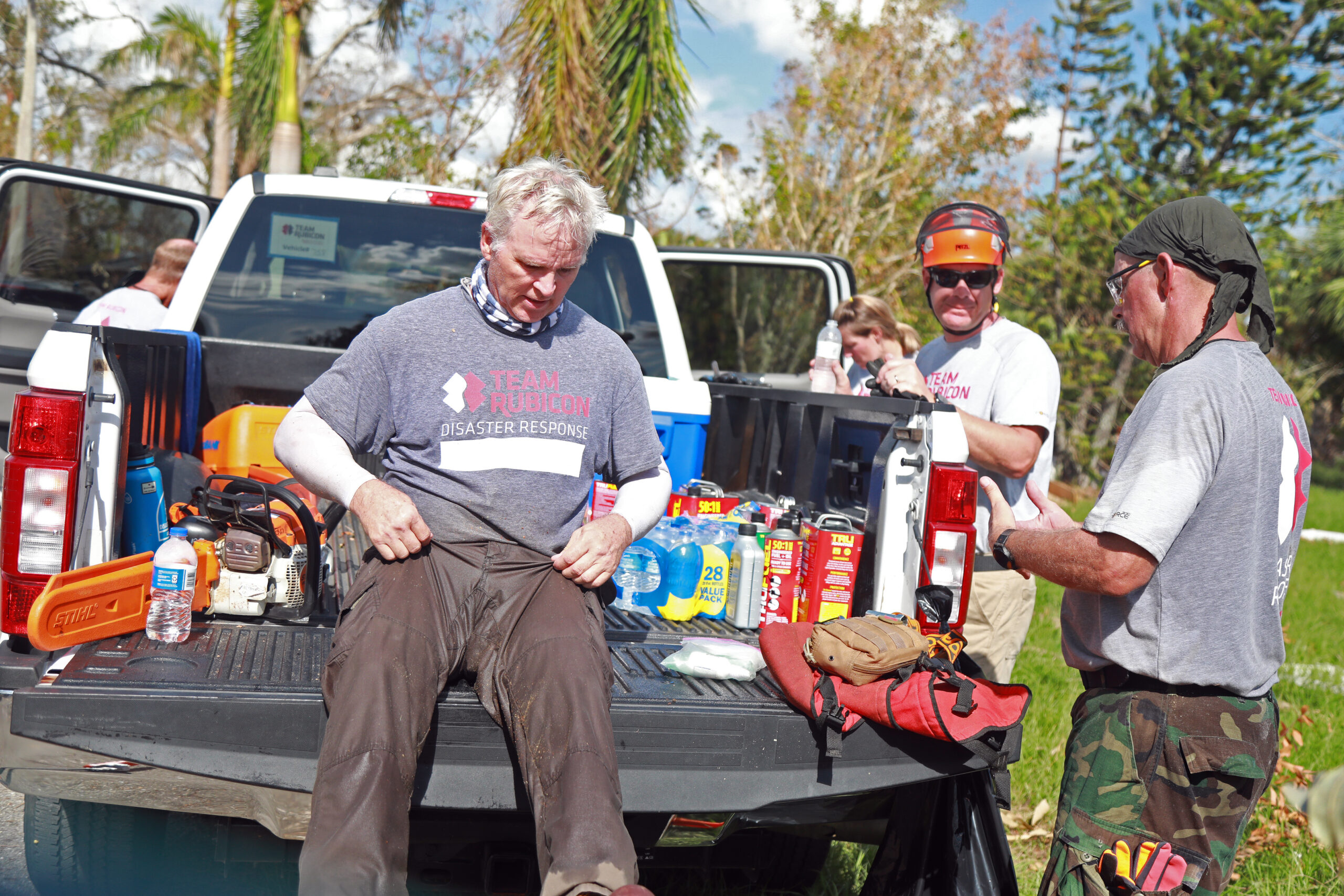 "They have our list of available linemen, and we stand ready to respond if called upon," Gumbs said by email.
On day four, the Oasis, our little restaurant-that-could, started serving full breakfasts on generator power and boiling enough water to the required 200 degrees to offer coffee.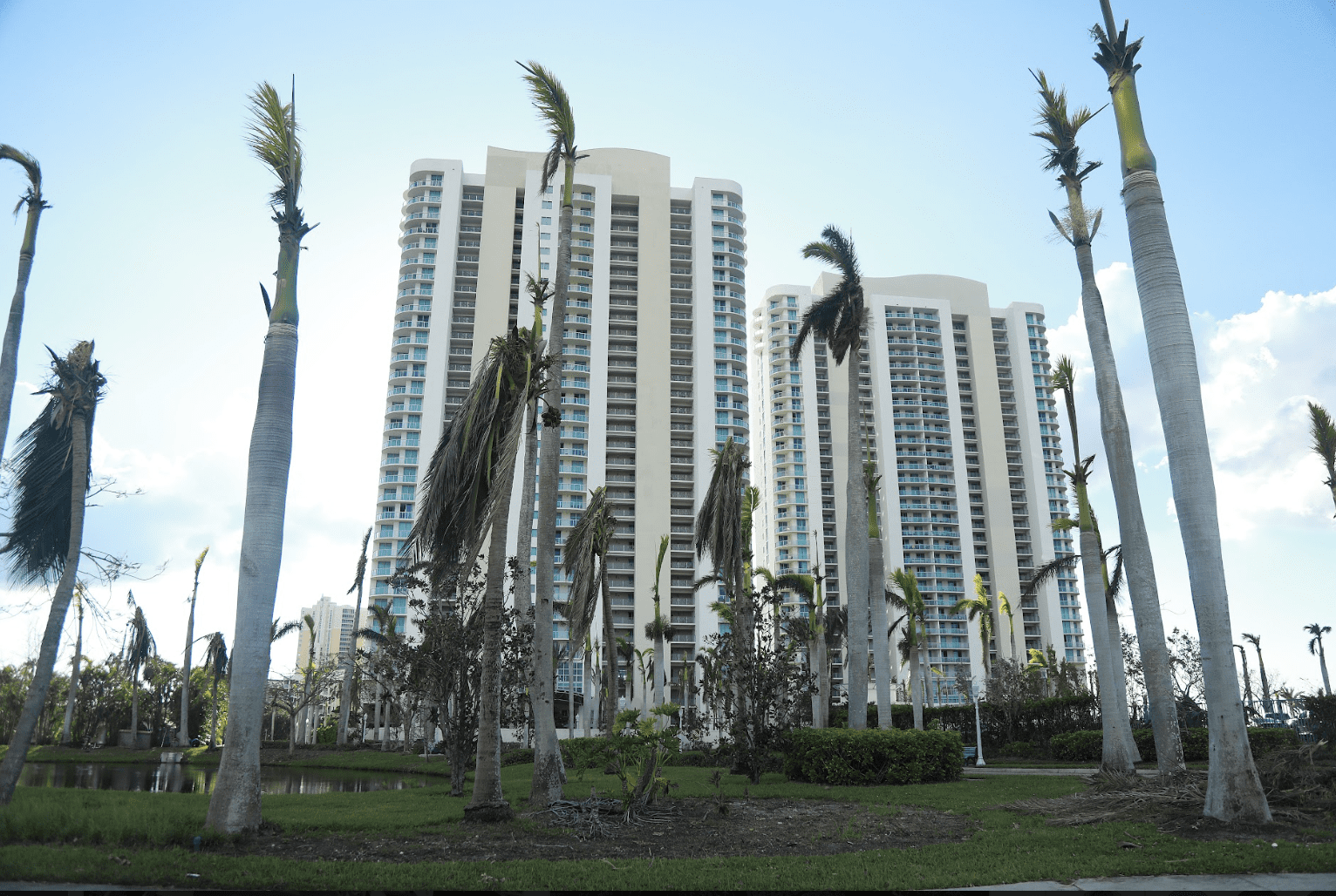 Martin repaired the plumbing. Our tenant who escaped the storm to Orlando used his Internet connection to find us an electrician. A passing church woman gave us a paper plate of wilted spaghetti. A Red Cross worker dropped canned water at our door.
The owner of a crumbling body shop hoisted a sign overhead, "Be kind."
Sometimes a crushing moment
Two men in Lee County killed themselves after seeing the damage from this storm. Our friends are capable and strong, but they, and we, wobble between high energy and despair.
"I'm disappointed with the direction our lives have taken," Martin spoke from an abyss of self-pity on surveying the wreckage of his garden, a paradisal half-acre where we were married beneath the flowering potato trees. In my sadness, taking his comment for blame, I spent the night plotting my escape to Provence or St. Croix.
Linda and Dan went to bed for the afternoon after seeing his roofless office. Teri took to the comforts of electricity and clean water in Fort Lauderdale for a week, and our beloved next-door neighbors, the Daniels, collapsed on their porch; he sleeping off a night of partying; she with a Category 5 hangover.
As the recovery lumbers into action, the sounds of sirens, Chinook helicopters and chainsaws continue to underscore our days. We still buy food and water sparingly, afraid of running out of cash, and walk wherever possible, afraid of running out of gas. I nurse my only shoes, a pair of flip flops, through our yard and roof work on two houses, boil our water and add lemons and salt to keep us hydrated.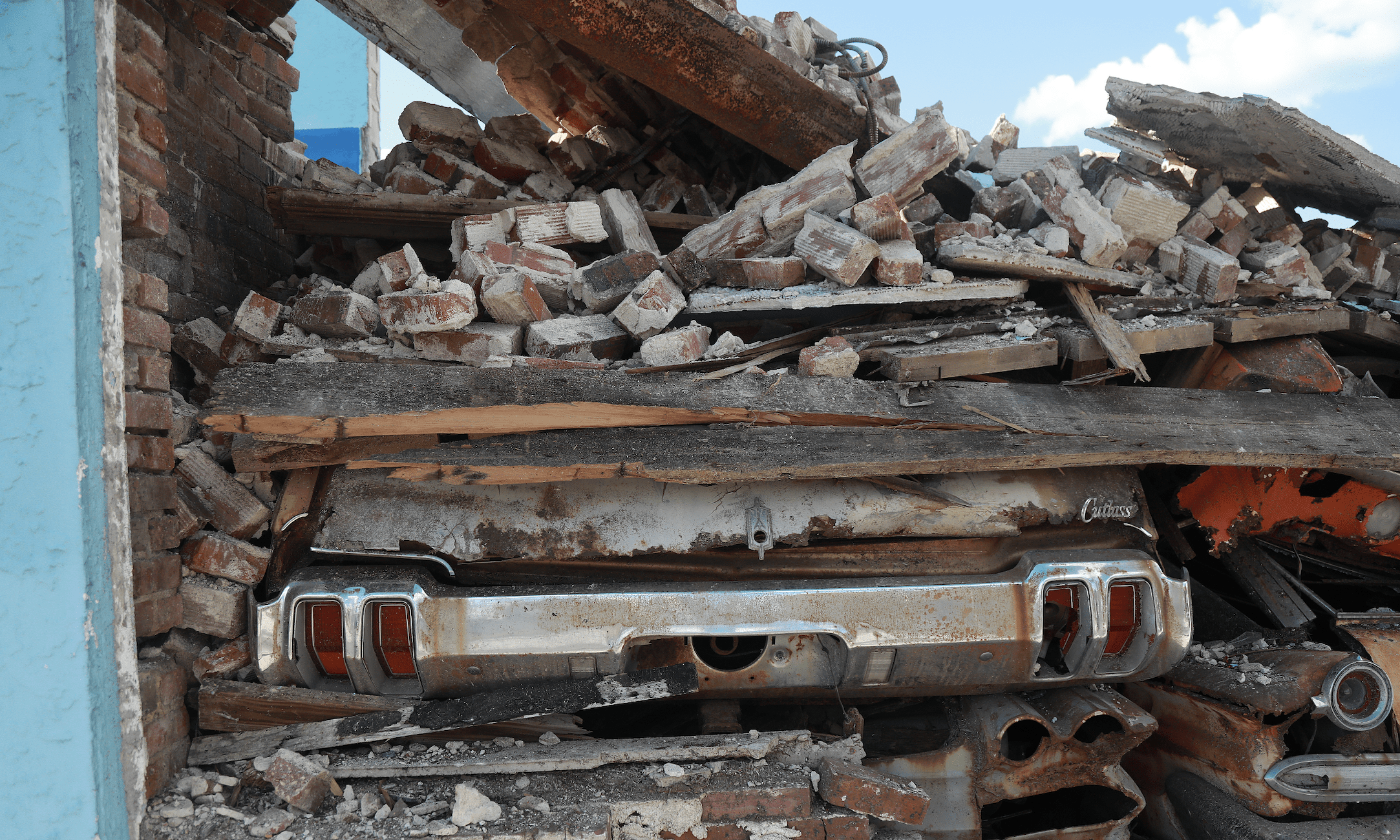 The day President Biden flew to Sanibel Island to survey the damage wrought by Ian, Martin watched Air Force One fly over our home, marveling at the billions of aid dollars that have begun pouring into our state — and how little of it will touch us. Like so many Floridians, we didn't carry insurance for this storm because of the prohibitive cost.
Forever changed
But it's OK.
Ian left us with high blue skies and a fall tang in the air. It set the birds to singing loudly and reduced our lives down to a daily punch list of recovery tasks.
We have electricity now but still enjoy bucket baths in the backyard, candlelit dinners and lingering in bed feeling the breezes through our open windows. Each day rewards us with another problem solved, a small movement forward, something we can do to pay it forward or back.
We feel more connected to our friends, to strangers and one another than at any time in the past.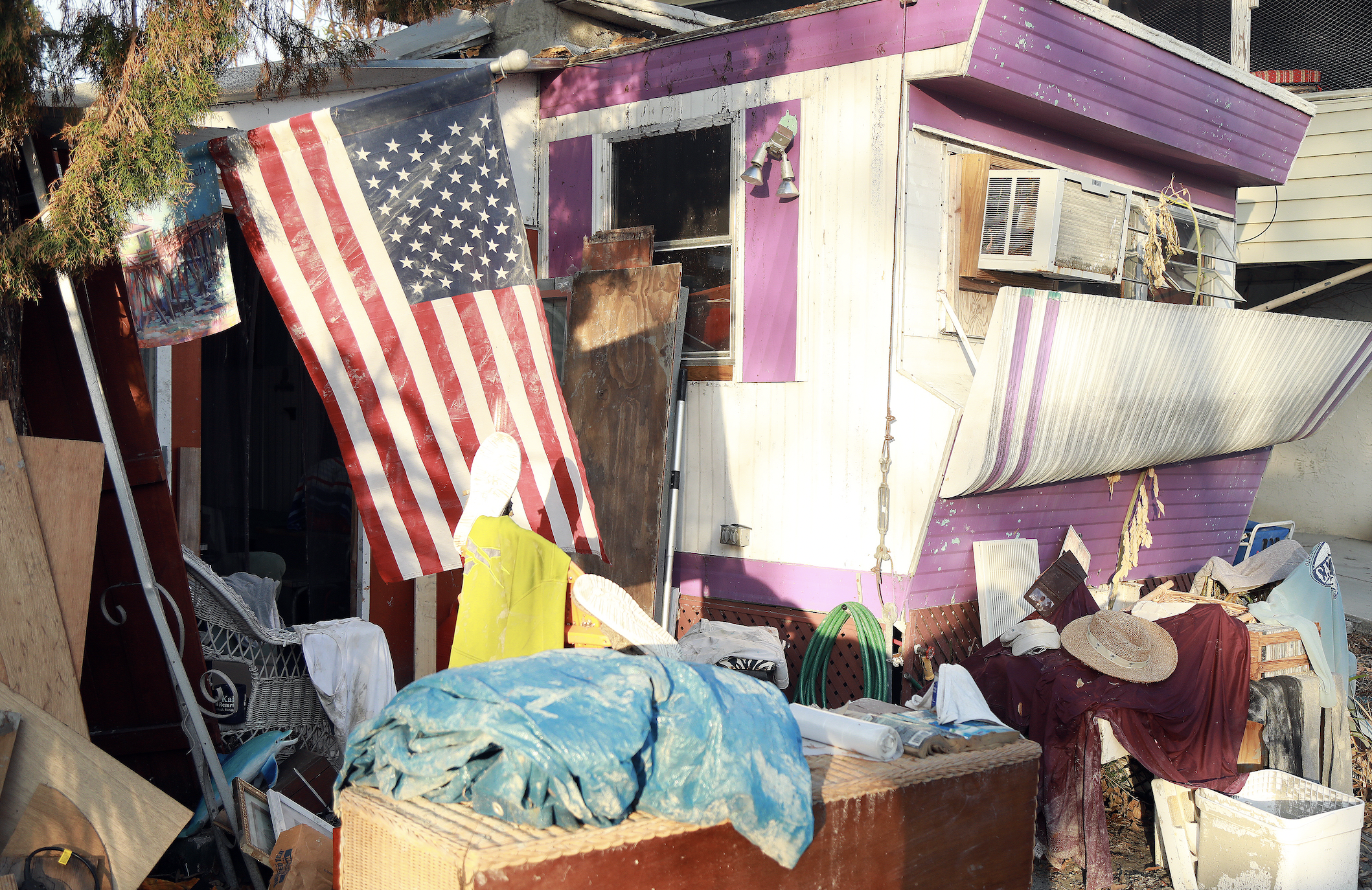 Our neighbor's possessions have been piled on the curb now. Some have walked away from their homes. Others are leaving to start over in other states. Carpet baggers call offering cash and 7-day closings to buy our real estate.
One evening I walked to our community center on the river to see how the fishing pier had fared. It didn't. In the parking lot was a lone pickup truck, its flatbed full of belongings. A woman, a man and a young pit bull sat on a fallen log, watching the sky drenched with purple and orange.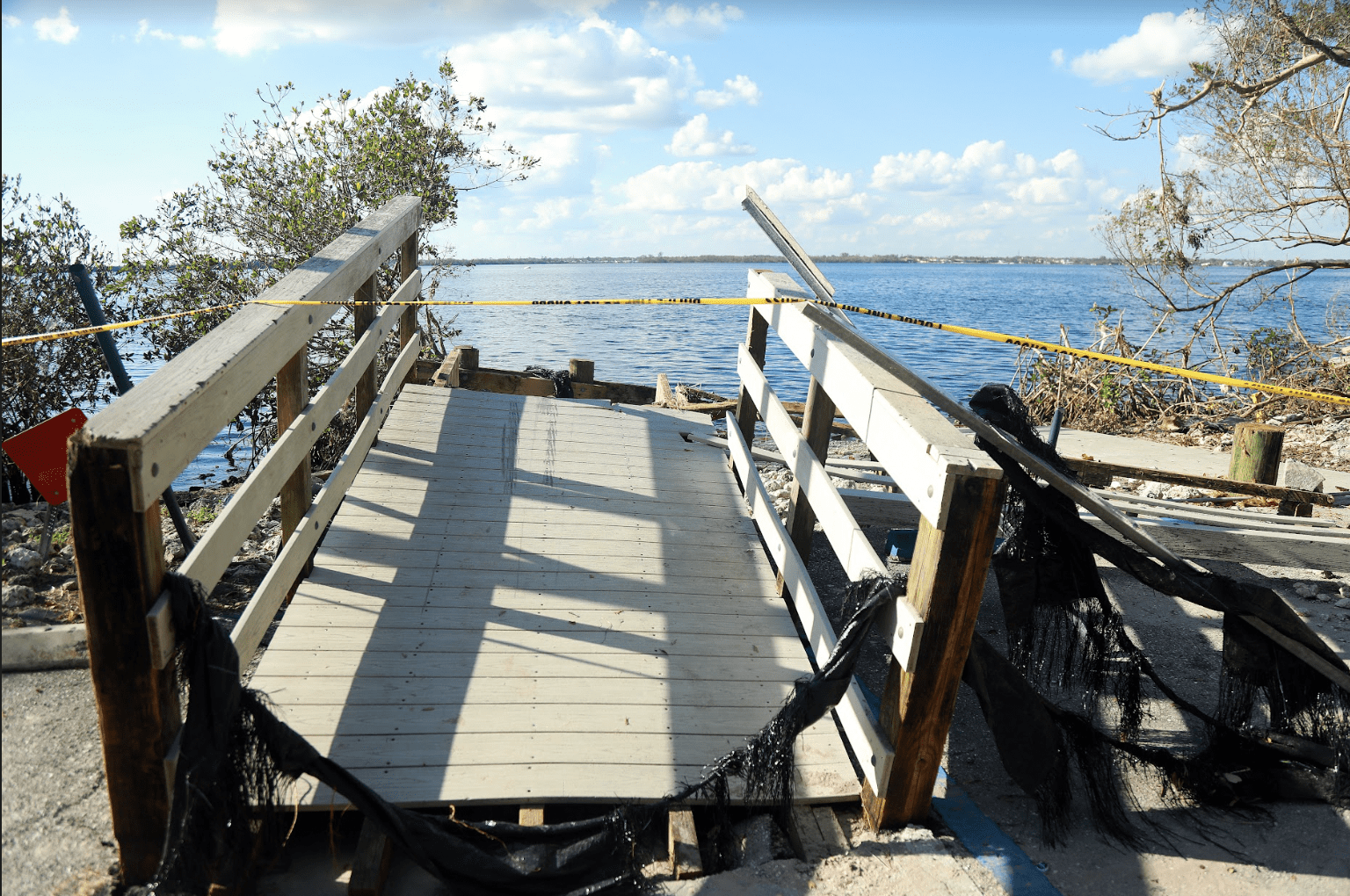 "Puppers!" the man called his dog. The name was familiar.
As we talked about the flooding of our neighborhoods so near one another, I remembered.
"Paul?" I said.
In 2021 Paul Sotty was grossing over $200,000 a year from a successful watersports business and had applied to rent our home while we were in the USVI. Now the business was gone, the house he was renting was totaled, and he was living in his truck.
"There's a boat in our living room and it isn't ours," his girlfriend showed me the photo on her smartphone.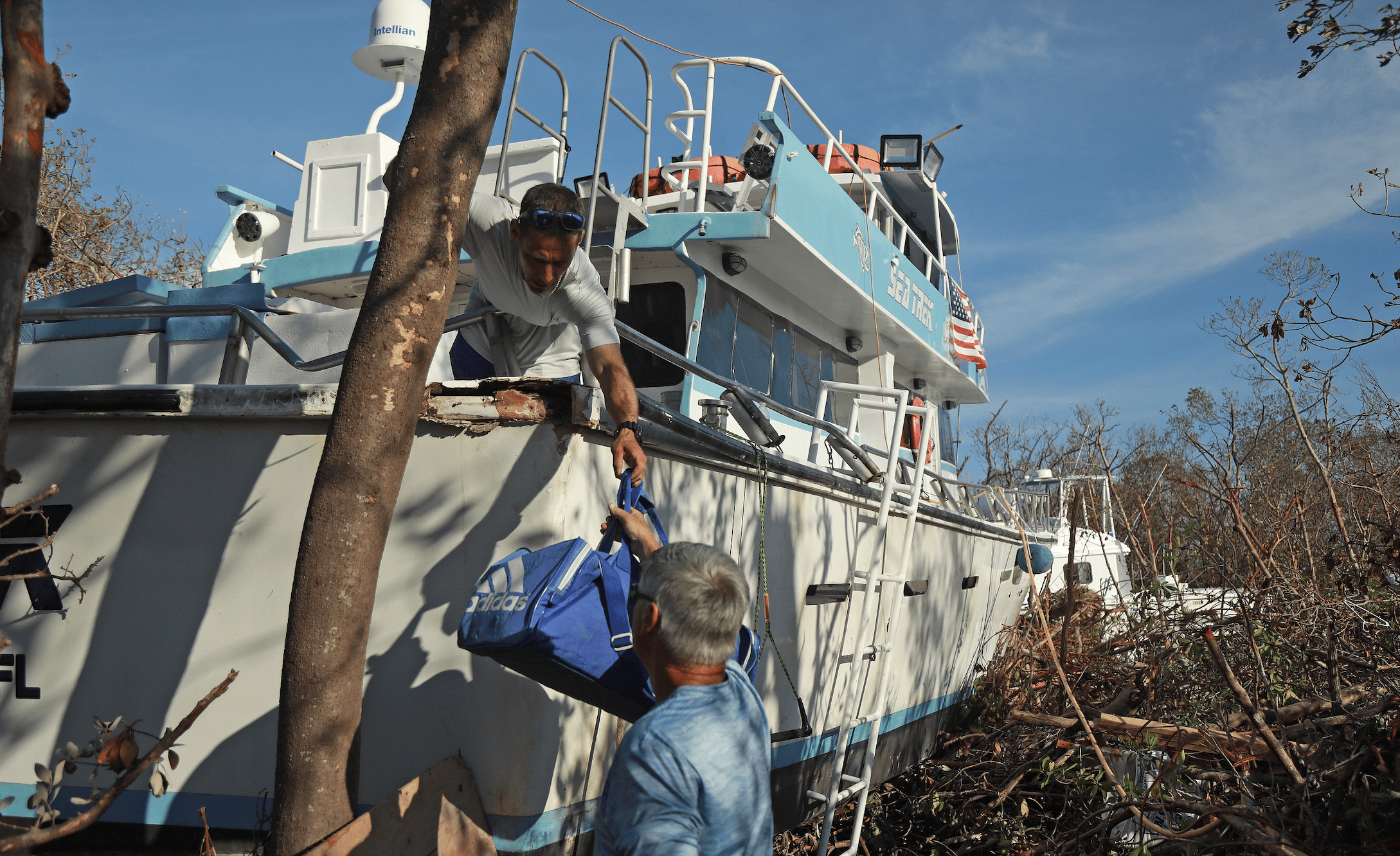 Soon they would be moving to a local food pantry parking lot where they could run their generator in exchange for free labor.
"We'll be fine," Paul said.
I have no idea what the future holds, but so will we.
There are a million stories of this hurricane. We thank the Source for allowing us to share ours.