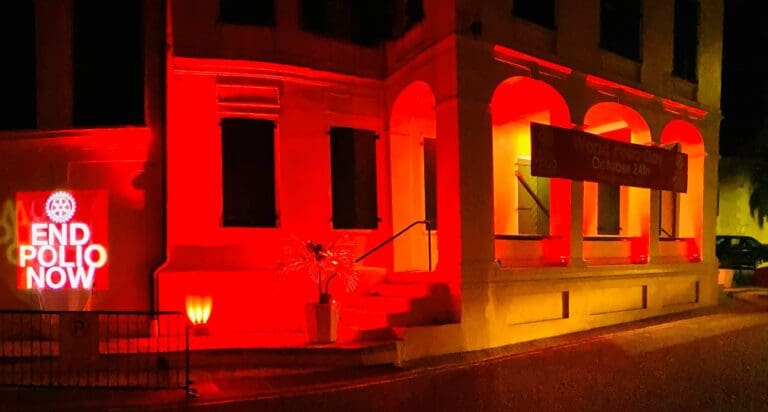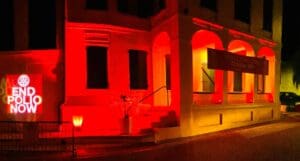 The This Close Campaign – based on Rotary International's campaign, The Rotary Clubs of St. Croix began sharing graphics on social media with the "this close" gesture meaning that We Are This Close to eradicating polio.
Locally the campaign began with Dr. Olaf "Bronco" Hendricks with Rashidi Clenance and District Governor Deborah Howell with her husband Dennis on Oct. 1. Graphics will be shared daily throughout October and include numerous Rotarians and a wide range of St. Croix personalities.  We have doctors, pharmacists, senators, retirees, attorneys and many more.  The delegate to Congress and governor will be featured on Oct. 24, World Polio Day.
On World Polio Day, we will be illuminating Government House in red with the End Polio Now logo displayed on the building.  Once again Rotary will be working with KDM Productions to accomplish the illumination. A banner announcing World Polio Day will be hung on Government House from Thursday, Oct. 20 through Tuesday, Oct. 25.
Rotary Clubs around the world light historic structures in their communities to share the message of ending polio.  Some of the structures that are lit include the British Parliament, the Roman Colosseum and the Sydney Opera House.  In years past the St. Croix clubs have illuminated Fort Christianvaern.  This year will be the second time Government House will be illuminated.
The lights on Government House will be turned on at 6 p.m. and stay on overnight.  Rotarians will be outside handing out information and have buckets available to collect donations.  Every donation made to PolioPlus is matched 2 to 1 by the Bill and Melinda Gates Foundation.
Around 7-7:15 p.m., Rotarians and friends will head over to Levels on Company Street where there will be a celebration of World Polio Day and the strategy to eradicate polio by 2026.  Tickets for the event are $15 and there will be a cash bar.  Frank Robinson has created a special red adult beverage for the event and Chef Lamar Bough will be preparing appetizers.
The Rotary Clubs have arranged for free taxi service between the Government Parking Lot, Government House and levels between 5:45 p.m. and 9:30 p.m.  Rolly's Transportation will be providing this service.