Since the Virgin Islands Government's official recognition of the Guainia Taino of the V.I. tribe in June 2021, Kasike (Chief) Maekiaphan Phillips has been forming alliances with indigenous tribal chiefs throughout the region.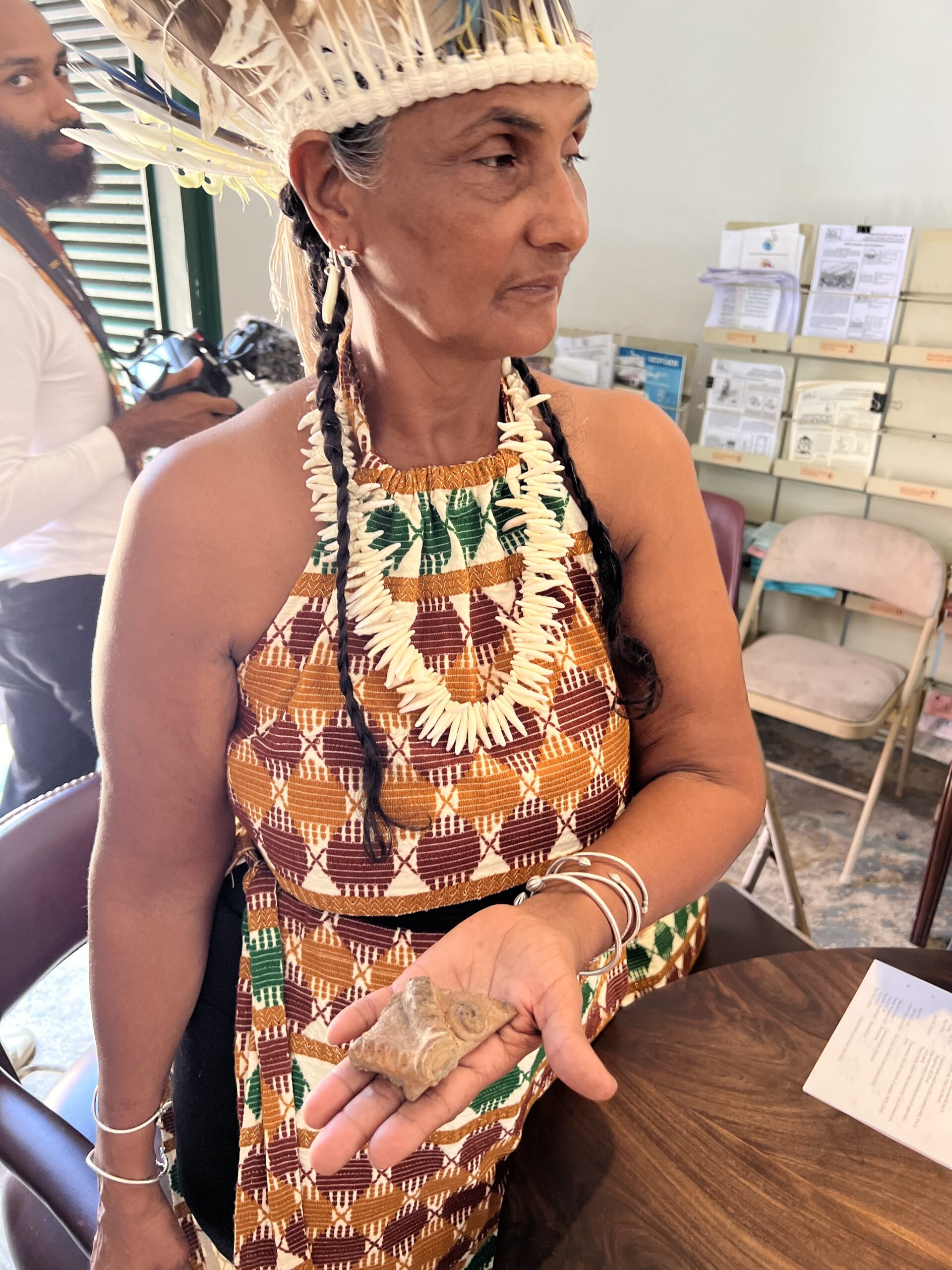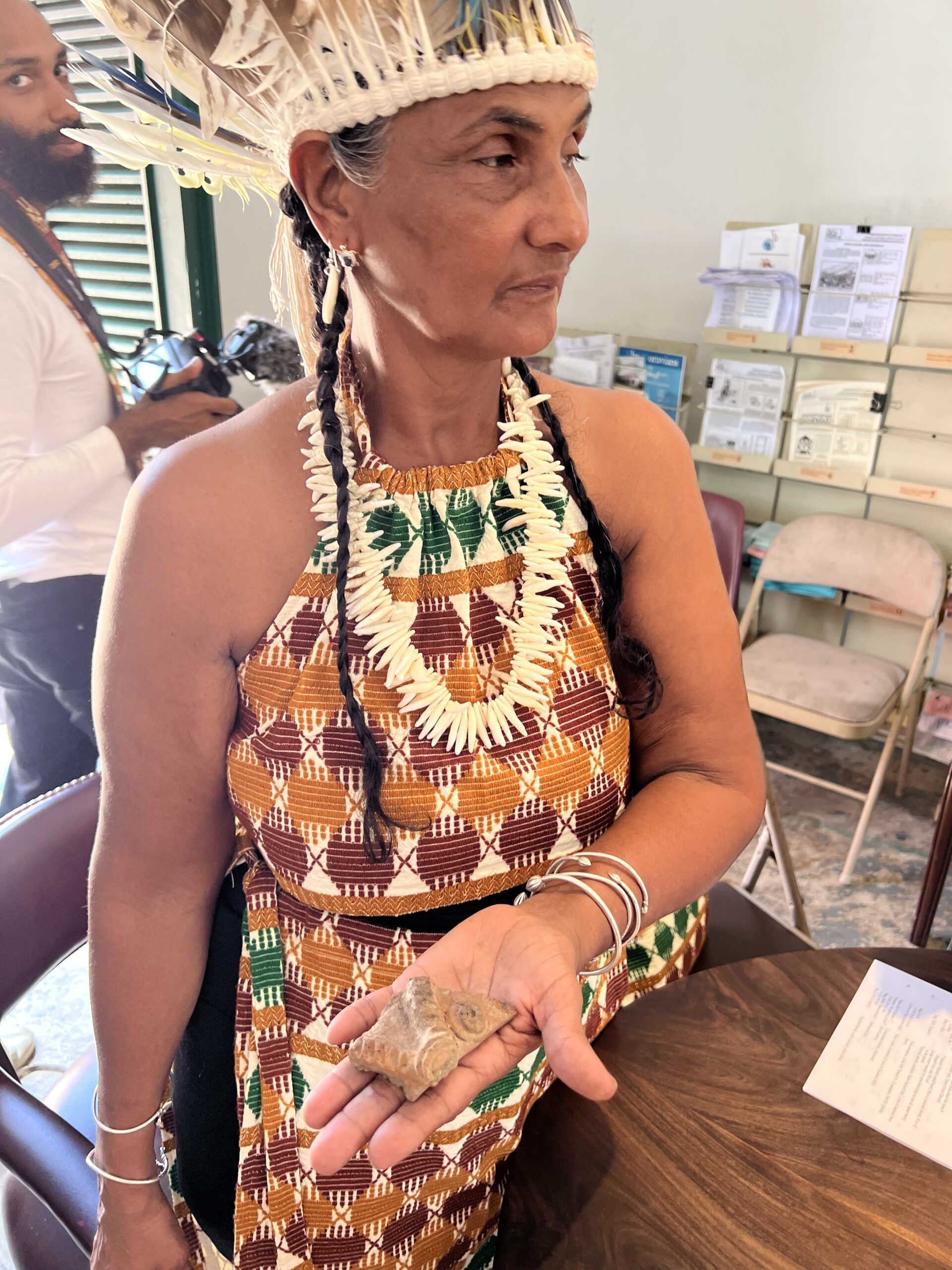 This week, Phillips met with Chief Ouboutou Lorenzo Micah Sanford, the head of the Kalinago Tribe of Dominica, to sign a treaty of mutual cooperation "consistent with the human rights needs of our People."
The treaty pledges that the two tribes "will jointly promote and or engage in spiritual, educational, economic and social activities for the benefit of our communities and future generations at the local, national and international level."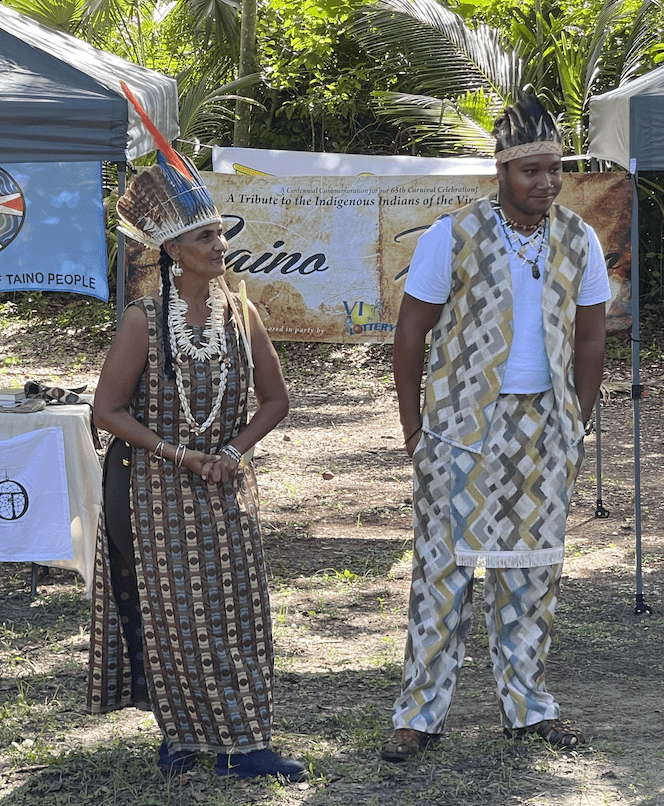 Several dozen people – including interested onlookers –gathered at a public ceremony at Magens Bay on Sunday, Nov. 20, to witness the event and share a meal.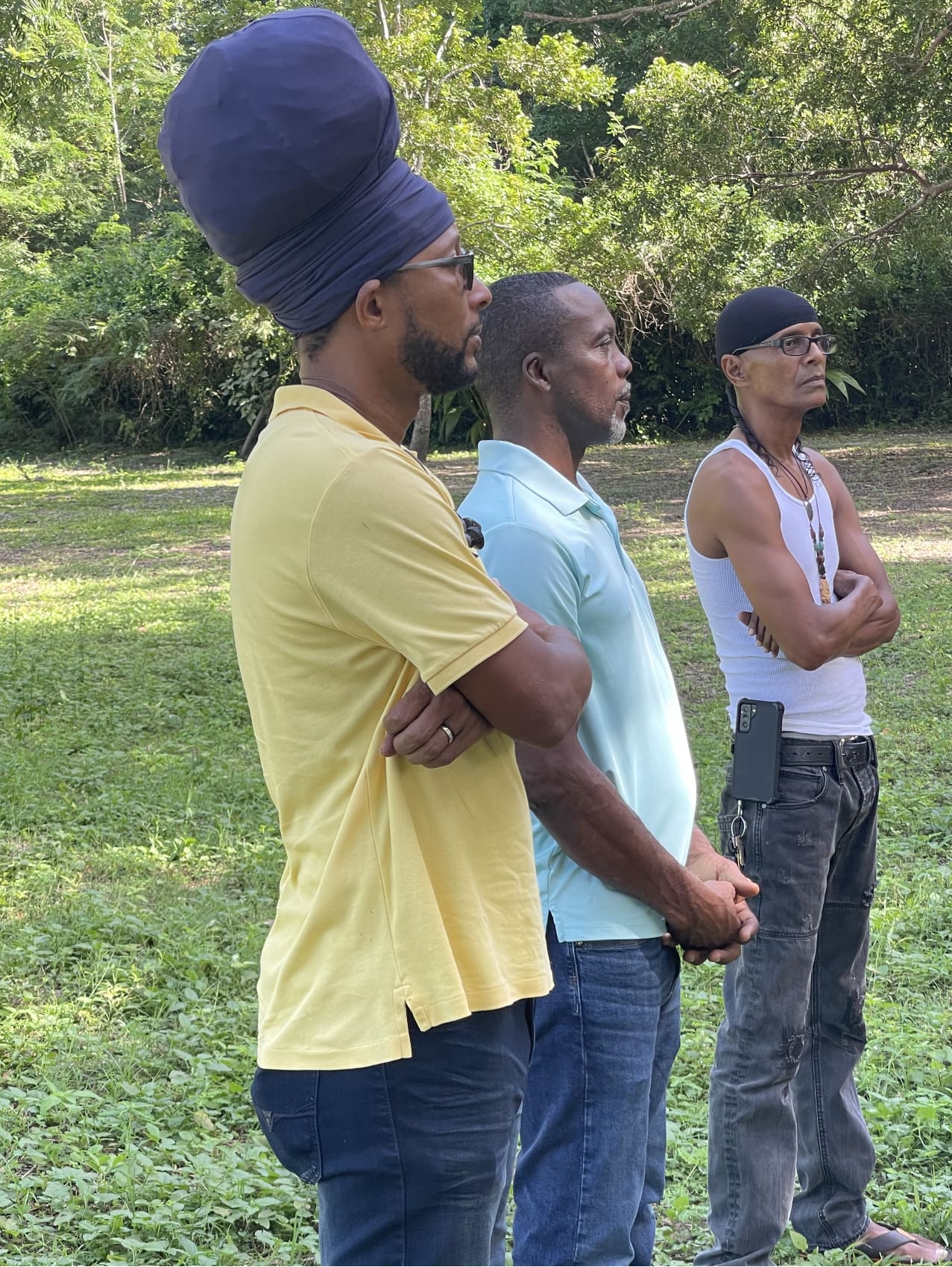 After the blowing of the conch shell, Chief Sanford said, "I am happy to be here with all of you to witness the work that Maekiaphan has started…We have many traits with indigenous people that we share."
In recent months, Phillips has been reaching out to tribal people throughout the Caribbean. She recently returned from a trip to Cuba, where she met Kasike Ponchito of the Grand Familia.
Last month, Phillips welcomed to the territory Kasike Roberto Mukaro who heads up the Guainia Taino Tribe of Boriken (Puerto Rico) and serves as president of the Unified Federation of Taino People.
The purpose of his visit was to sign a declaration of understanding between the two tribes following Gov. Albert Bryan Jr.'s official recognition of Indigenous Peoples' Day in the Territory on Oct. 11.
On Oct. 12, they were joined by two other Taino leaders and some family members, including Damon Gerard Corrie, Chief of Eagle Clan of the Lokono-Arawak Tribal Nation of Barbados and Guyana, and Guazabara Rivera, NiTaino of the Iukateke Guainia Council.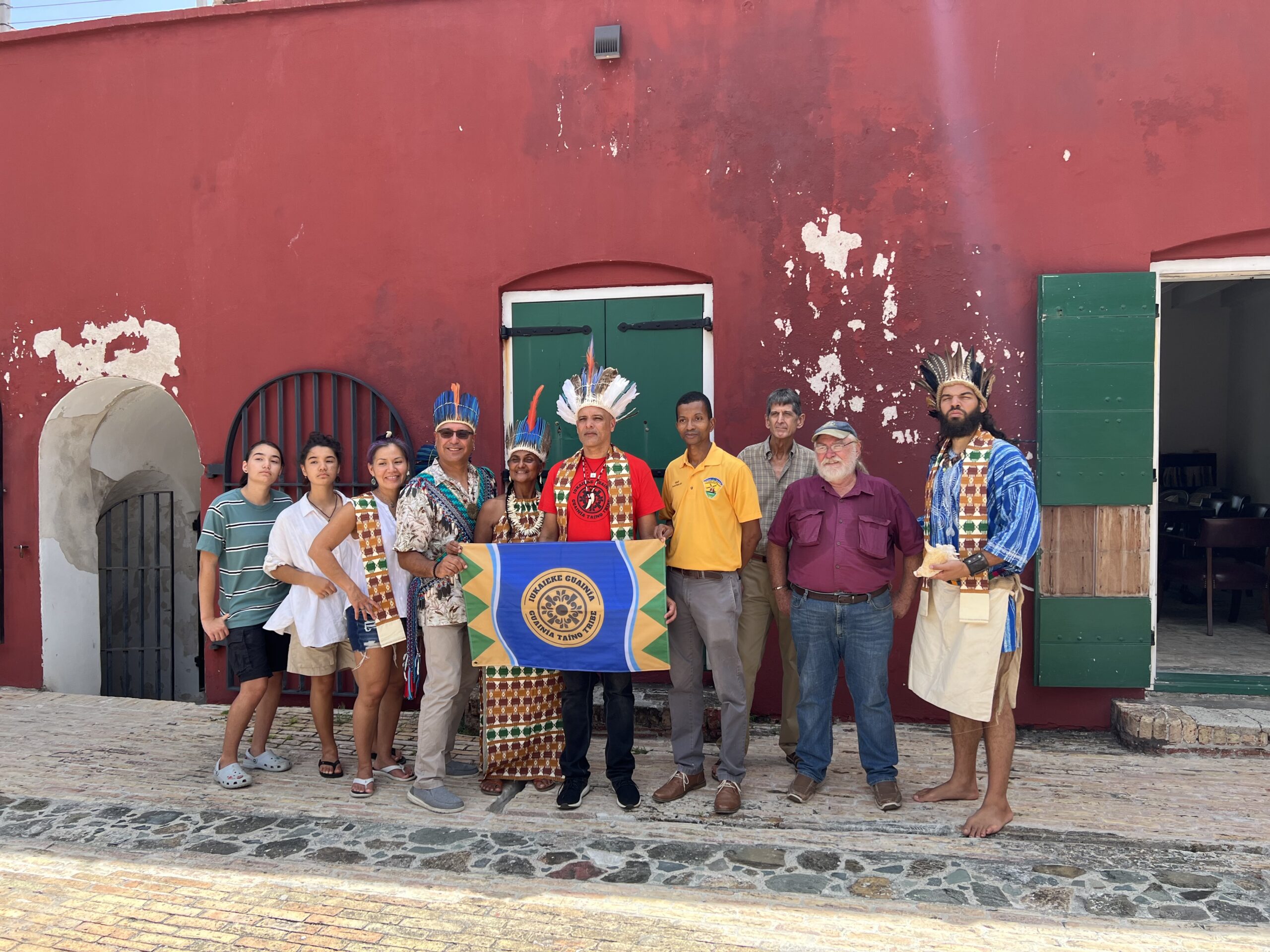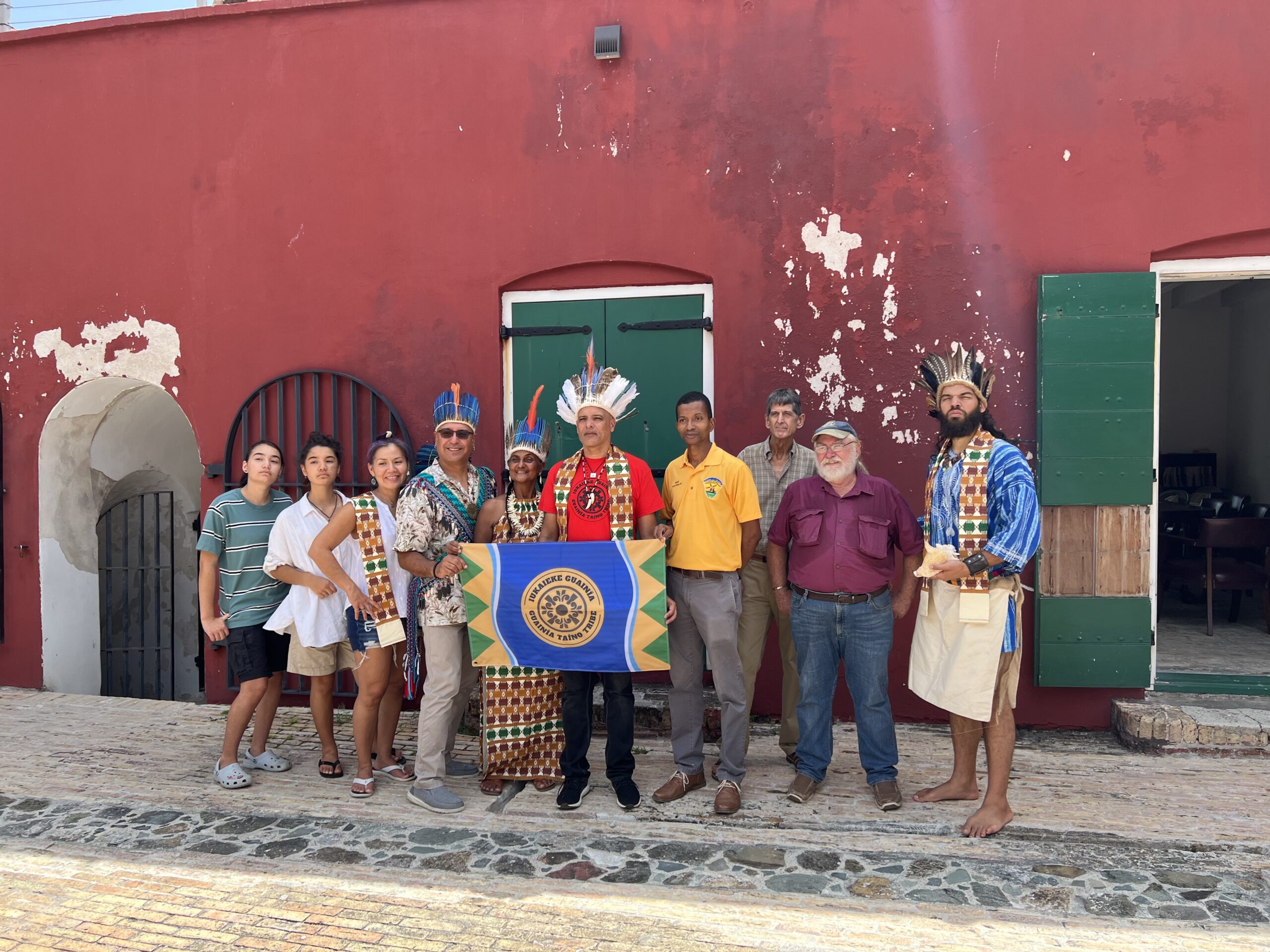 The Taino entourage met with officials from the V.I. Department of Planning and Natural Resources at Fort Christian to view artifacts, most of which were unearthed during construction activity at Tutu Park Mall in the early 1990s and at Main Street in Charlotte Amalie in 2014.
"We began discussions with Ms. Phillips 15 years ago. I'm very proud of the work she has done to develop the Taino heritage," said Sean Krigger, director of the V.I. State Historic Preservation Office, locally known as VISHPO. "We've done our best to protect all of our resources."
"We keep all of our historic sites restricted," added David Brewer, senior archaeologist at VISHPO. "We don't give out the location except to researchers."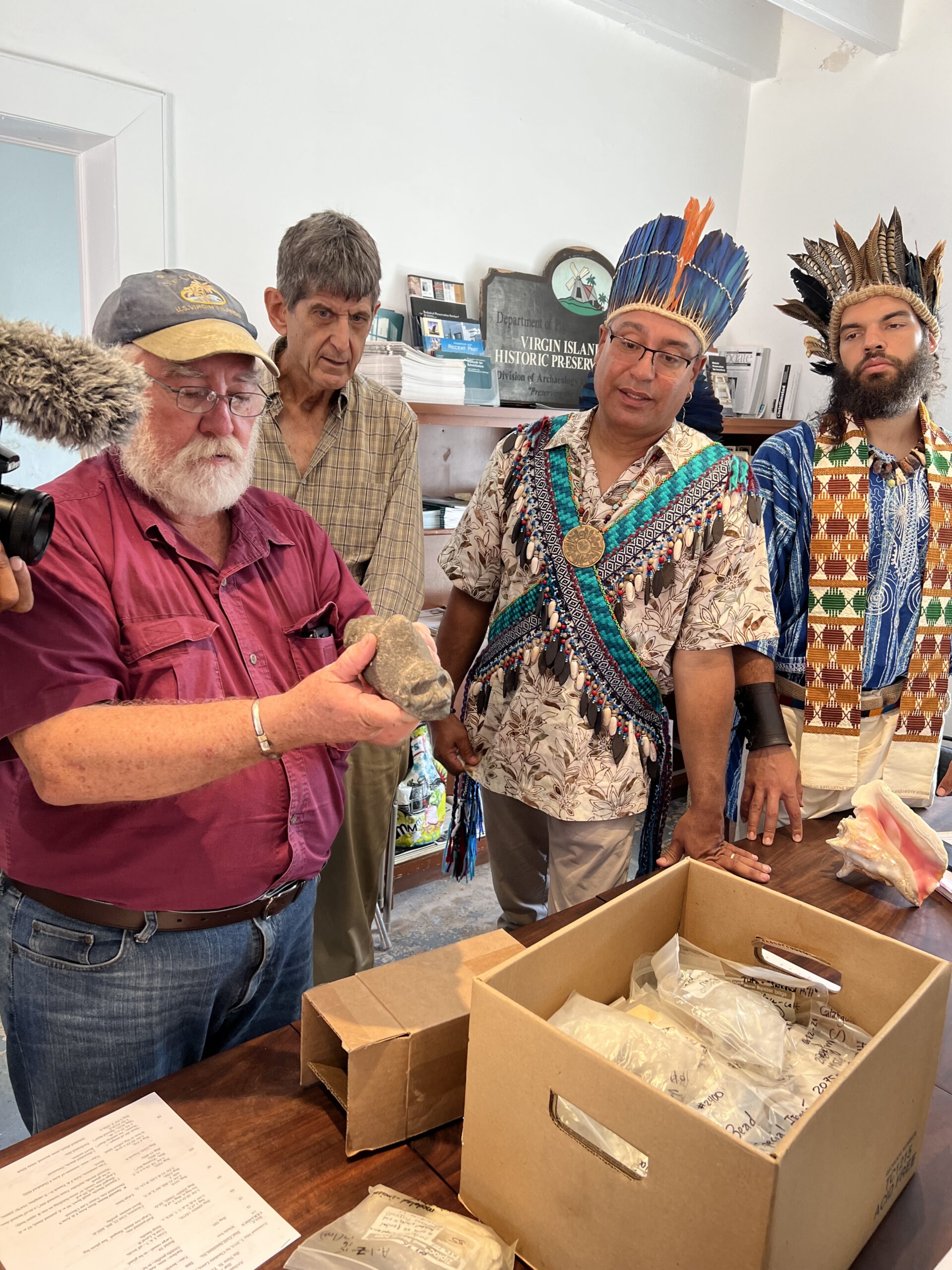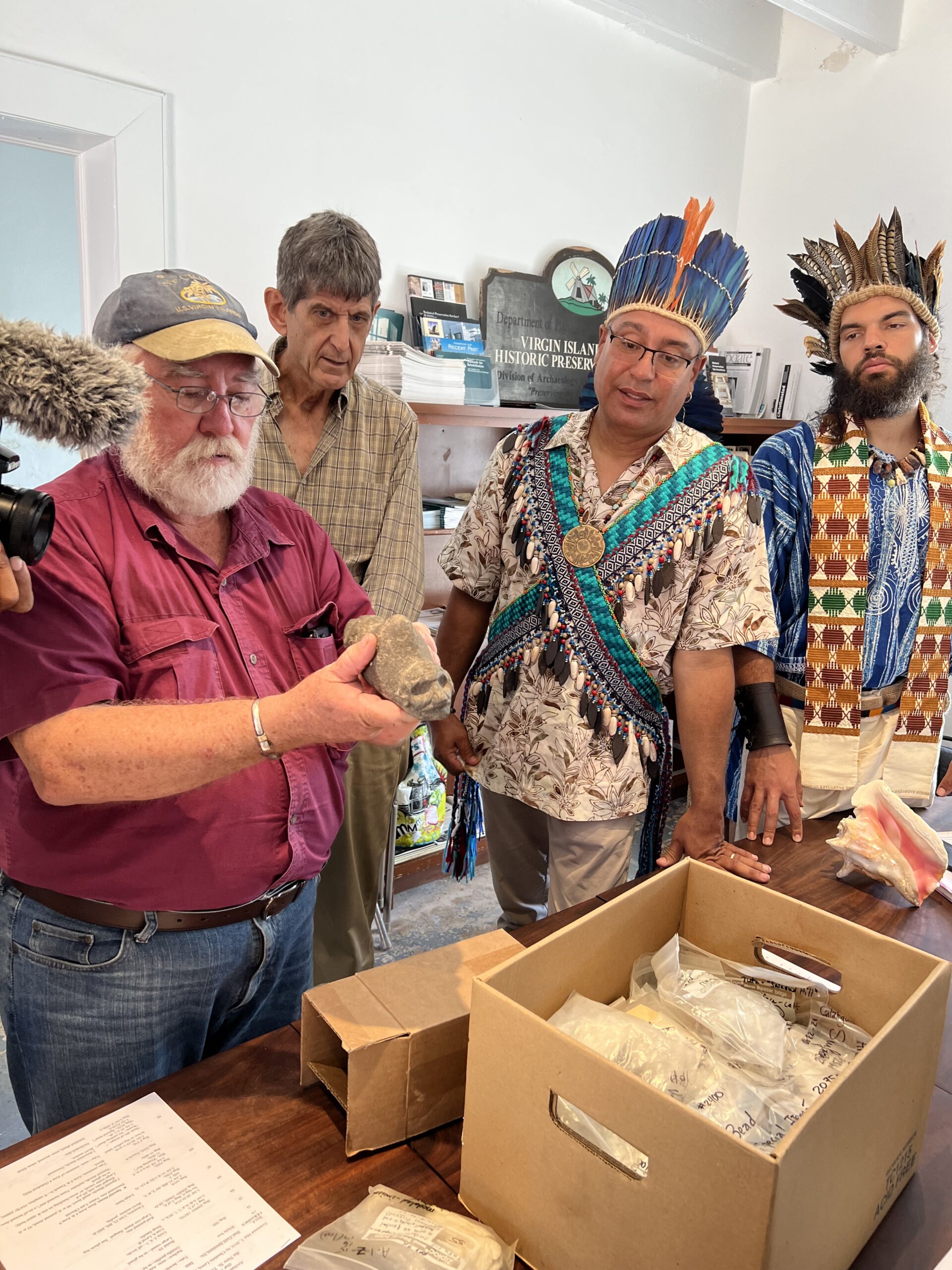 Brewer was referring to the many sites beyond those at Tutu and downtown Charlotte Amalie that are largely unexplored. The oldest site, he said, was in Krum Bay near WAPA, possibly going back 4,000 years.
"All that we know is that it is a pre-ceramic site, but the population included weavers and stone workers. They were coastal people who lived off marine resources," Brewer said.
Archaeologists sometimes refer to them as the "Crab People" because of the prevalence of land crab shells found in their midden, according to Brewer. ("Midden" refers to a place where kitchen garbage was left.)
"There are many pre-colonial archaeological sites in the USVI," said Emily Lundberg, an archaeologist who has worked in the territory for decades, including at the two major excavations on St. Thomas. "Tutu and Main Street are just two that may be more widely known," she said.
"The earliest occupation on St. Thomas and St. John began about 1000 B.C. and continued intermittently for at least a thousand years as a culture called Archaic," said Lundberg.
She outlined two other periods of habitation in the Virgin Islands – "the Saladoid culture seen in the earliest Tutu deposits (first century A.D.) and the post-Saladoid archaeological period, from about A.D. 700/800 onwards, called Ostionoid."
"Some sites of the USVI continue into the 'Classic Taino' period that ended with Spanish conquest of the region," said Lundberg. "This Taino material is very similar to that of Puerto Rico (for example, at Tutu on St. Thomas and at Cinnamon Bay on St. John), indicating that the Virgin Islands participated in the Taino chiefdoms of Puerto Rico."
Protecting these archaeological sites is critical. "We've seen first-hand how looting takes place," said Mukaro. Yet modern Taino people are "continuing to look for ways our people can engage with sites, particularly for ceremonial purposes," he added.
At the meeting at Fort Christian on Oct. 12, the VISHPO staff passed around Taino artifacts, including an incense burner, a bead, pottery, and several "semi´" – carved objects representing spirits. These artifacts are held at Fort Christian but are not on display for the public.
The visiting Tainos brought some carvings from their own regions; they touched their carvings to those found in the Virgin Islands, symbolizing spiritual reunification.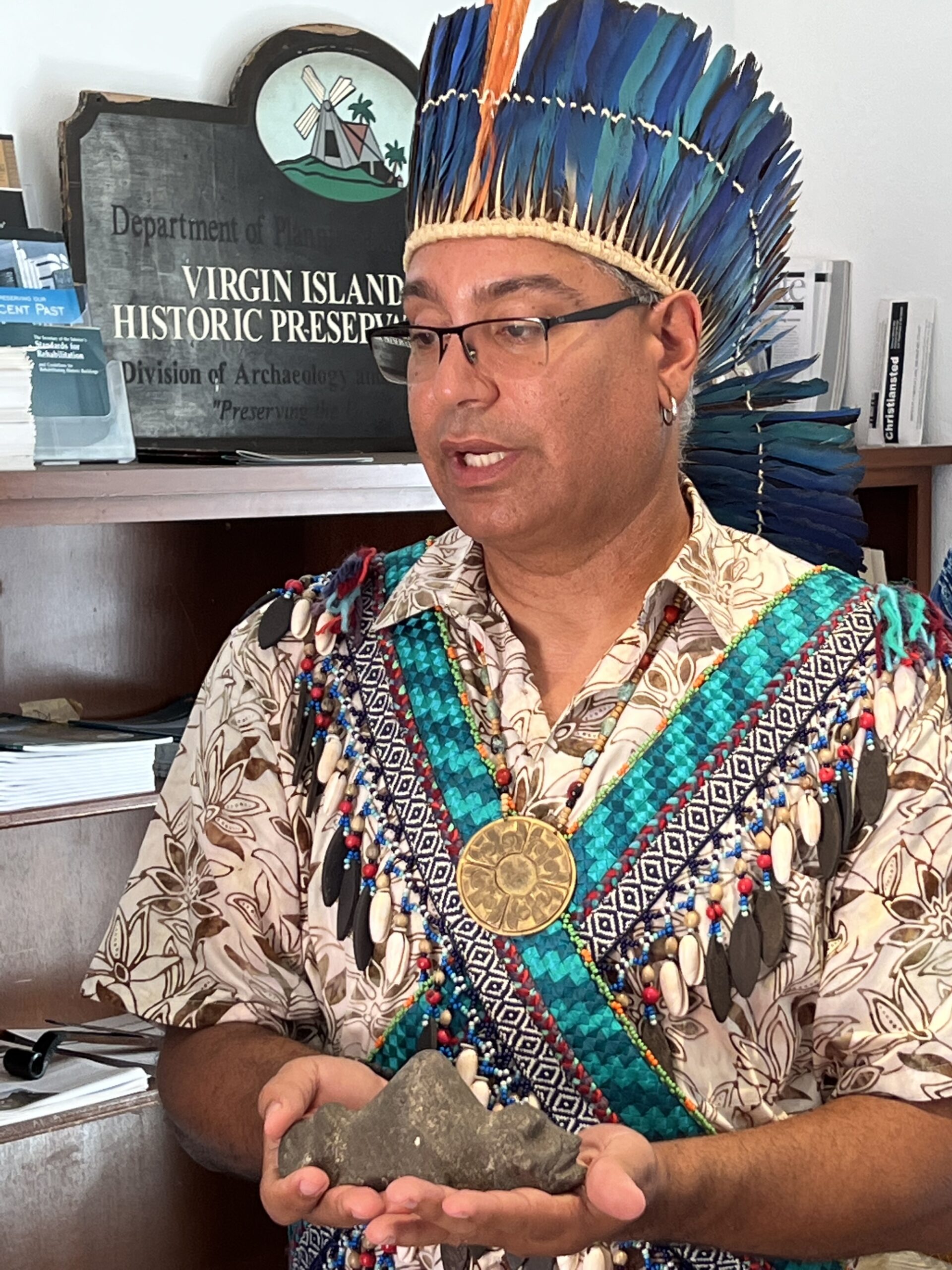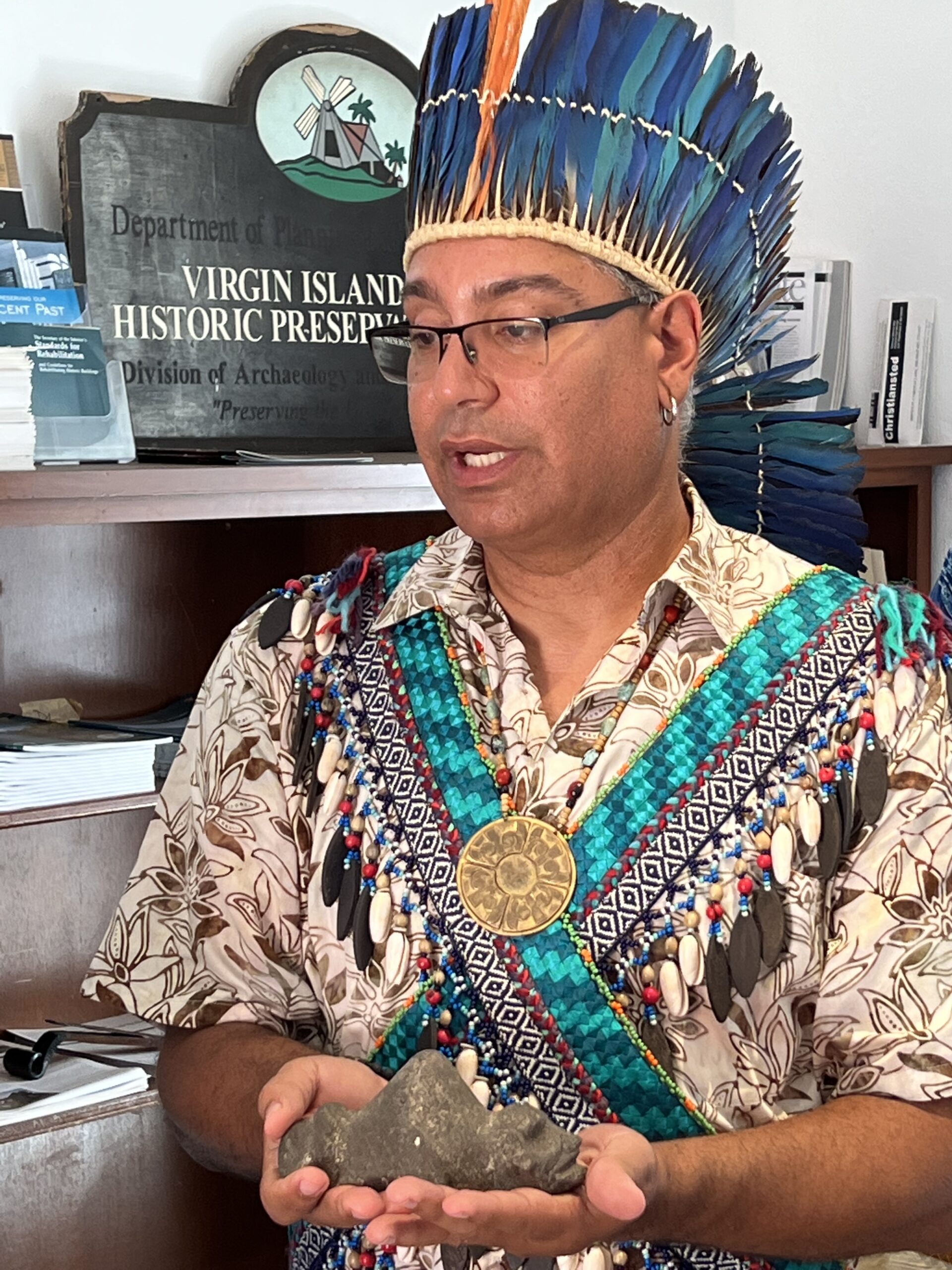 Mukaro said the Spanish cultural notion of "machismo" – the dominant male – was not part of the traditional Taino culture, which focused more on women, nature, and animals.
"It was diplomacy, not warfare, that made us so widespread," Mukaro said.
Note: The Source will soon publish a second article telling more about the artifacts and the excavations during which they were found.
*Although it hasn't received much recognition in the territory, since 1990, November has been federally recognized as National Native American Heritage Month.
Editor's Note: A previous version of this story incorrectly said Kasike (Chief) Maekiaphan Phillips met with Chief Ouboutou Lorenzo Micah Sanford during a recent trip to Cuba. She met with Kasike Ponchito of the Grand Familia.