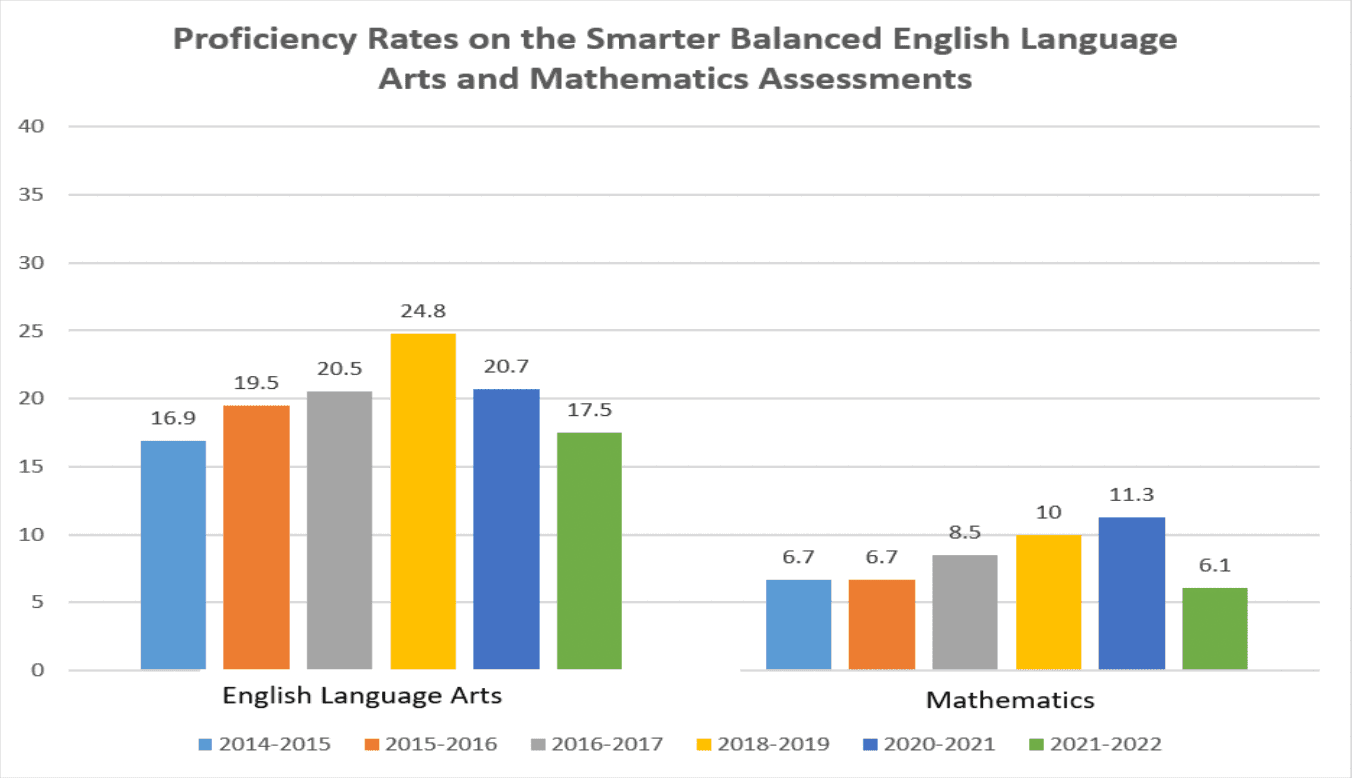 The V.I. Education Department said it is working to address pandemic learning losses with a variety of programs and interventions following a sharp decline in standardized test scores for the 2021-22 school year.
The percentage of students meeting or exceeding the standards in literacy in spring 2022 was 17.5 percent — a decline of 7.3 percentage points from the spring 2019 administration of the tests, said State Assessment Director Alexandria Baltimore-Hookfin. In mathematics, the percentage of students scoring at or above proficiency was 6.1 percent, for a decline of 3.9 percentage points, she said.
The news came during a meeting of education officials and the media Tuesday, held via Zoom, to discuss the Smarter Balanced test scores and the Education Department's plans to address the losses.
The territory is hardly alone in its declines in proficiency, said Education Commissioner Dionne Wells-Hedrington, who was nominated to the post in August by Gov. Albert Bryan Jr. and approved unanimously by the Senate at its session on Dec. 20.
"We're not surprised at what we're seeing in regard to the test scores. VIDE and the territory on a whole have been behind the national norms," said Wells-Hedrington. "Meaning, many schools in the districts across the continental U.S. went back to school before us, face-to-face, and a lot of what we are experiencing now has been experienced across the country in terms of learning recovery."
Data from the 2022 National Assessment of Educational Progress — commonly known as the Nation's Report Card — revealed that 2021-22 test scores for fourth and eighth graders across the country dropped to their lowest levels in decades, said Wells-Hedrington.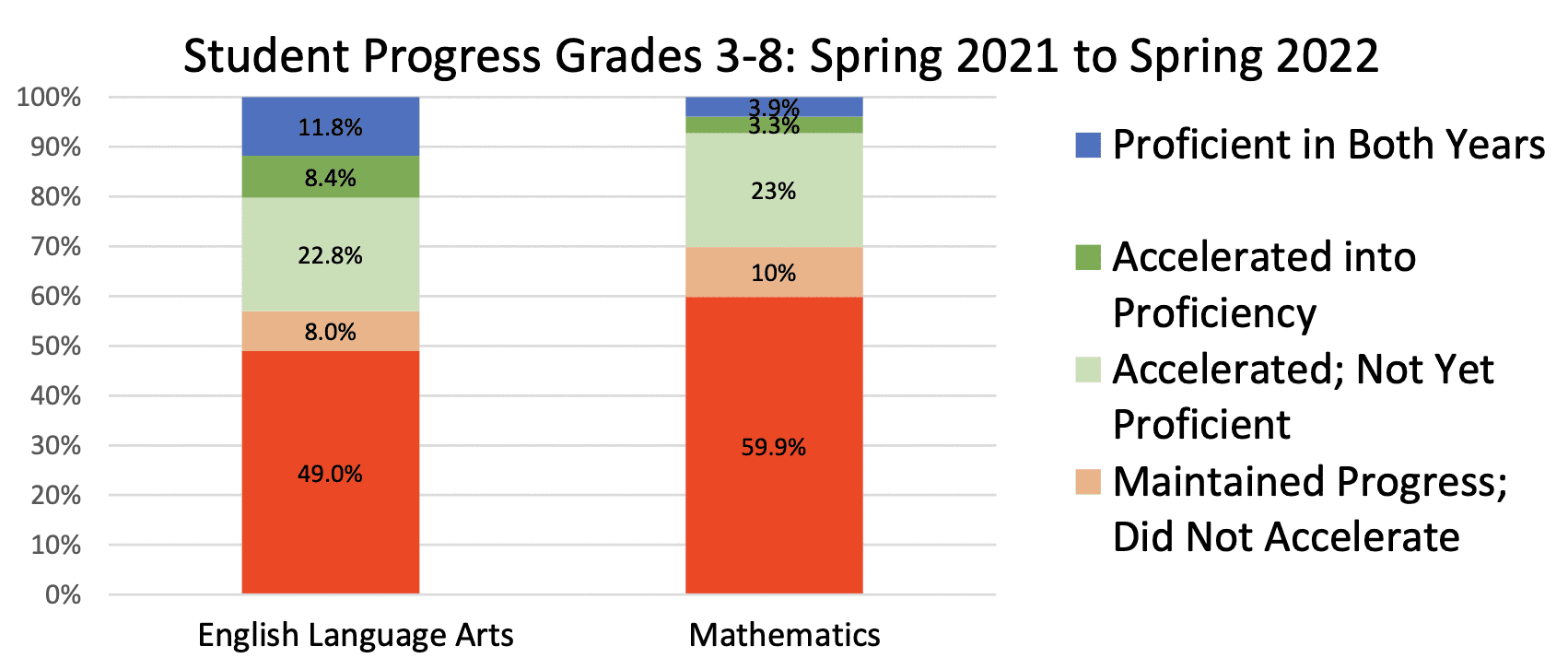 In the territory, the pandemic upended every aspect of life and resulted in students learning from home for almost two years — from March 2020 to February 2022 — in most grade levels, she noted. The spring 2022 assessment results, which for the first time included science for grades five, eight and 11, as well as the traditional English language arts, literacy and mathematics for grades three through eight and grade 11, reflect those impacts.
It's a frustrating reversal of a trend that saw achievement numbers steadily increasing since the standardized year-end tests were first administered in spring 2015 after the curriculum was introduced in 2010, said Baltimore-Hookfin.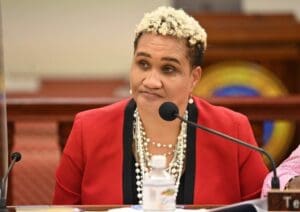 The good news is the Education Department is using the latest data to aggressively implement programs and initiatives to address the losses, said Wells-Hedrington, who stressed several times during Tuesday's meeting that her focus is on a return to the fundamentals of teaching and learning at the territory's schools, and not just their physical condition.
"Teaching and learning is our focus. I know that we've spent a lot of time talking about our buildings but we have to make that shift mentally back into where it really matters, and that is what we are producing in our students, what opportunities we are giving them, and are we really preparing them for life," said Wells-Hedrington.
"Those are the types of discussions that we've had, and that's the type of focus we are having more intentionally moving forward. Hence, why we are doing the school improvement planning and implementation coming in the early months of 2023," she said.
"For me, having the data and my team having the data present and available for us to really make a concerted effort to look holistically at each child and develop individual plans for improvement is where we are at," the commissioner said.
"I need the message to be clear that VIDE has put things in place so that we can recover some of what was lost. We call it an acceleration program because it's not learning loss, but we are meeting students where they are and accelerating them to where we want them to be," she said.

After-school programs, one-on-one tutoring, a Saturday Academy, a Homework Hotline, and summer programs — whether for credit recovery or experiential learning opportunities — are subsequently designed specifically to cater to different cohorts of students, depending on their proficiency level "because one size does not fit all," said St. Thomas-St. John District Superintendent Stefan Jurgen.
"What we've done is to look at exactly where our students are in terms of the categories they scored in (on the standardized tests), and we've pretty much come up with a continuum of services to be able to cater to students in each group," said Jurgen. A student who scored on a Level 1 — not meeting standards — would receive interventions that are totally different from a student who scored on a Level 4 — exceeding standards, he said.
Additionally, the department has modified high school schedules for the first time in 25 years with the introduction of a "flex block" that allows time to focus on academic deficiencies but also incorporates social and emotional learning, said Jurgen.
Both districts also have a math coordinator as well as new personnel to support student needs, including deans of students and student success specialists that work closely with guidance counselors to "really look after students in need of more support," said Jurgen.
The department also is employing the i-Ready Learning intervention tool that is aligned to the Smarter Balance assessments, said St. Croix District Superintendent Ericilda Xiomara Ottley-Herman. "Teachers are able to see where the learning may have been difficult for students and opportunities to reteach and perhaps engage the students differently," she said.
For example, an in-depth analysis of the Smarter Balance test results revealed that writing is an area that students across the territory need to firm up on, said Ottley-Herman. In response, the department has created pacing guides for teachers and instituted teacher training on implementing writing across the curriculum, she said.
"That means that if you are a PE teacher, we expect to see writing completed in your classroom. Music teachers, whatever content area you are, we expect to see some form of writing taking place, so our children are able to express themselves through the written word," said Ottley-Herman.
There is also a laser focus on younger grades to catch and address issues early to ensure that the proper foundation is laid for learning at a higher level, she said.
"We will continue to implement training for pre-k through fifth-grade teachers especially. We have a keen focus on pre-k to third and building up the content of our foundational grades, but making sure that our elementary grades are firm because they lay the foundation for what is taught from sixth to 12th grade," said Ottley-Herman.
Both superintendents also stressed a new focus on student recognition, not only for those who excel but also those who may not be top of their class but who have made gains.
"Across the territory, what you will see happening this semester is really a celebration of those students, and we see that as a means of motivating students to be able to do better and to take the tests more seriously. As long as there is a focus there, we believe that our students are going to do better," said Jurgen.
However, both superintendents also stressed the importance of parental involvement in student success.
Parents can assist by being better partners with teachers, asking to see their student's i-Ready reports, and reading their child's standardized test assessments that are issued to parents every year and explain what the scores mean, said Ottley-Herman.
"One of the simplest things is reading with your child. Engaging them in a conversation around what is it that they are reading. Promoting writing by having them write simple thoughts down. … Just having conversations around mathematical things or having them break down a problem and explain it to you would help to build what we are seeing in terms of the classroom," she said.
"We are not asking parents to teach the concept, we are asking them to support those critical thinking skills at home and then to engage teachers in a conversation deeper than just what the grades are, more so by just asking a quick question, 'What is the data saying about my child?' Once they have that as a roadmap they can then assist at home as well," said Ottley-Herman.
"Information is powerful, right?" said Jurgen. "So we also want our parents to be locked in step with us in terms of knowing what the children should be taught. Earlier this year we shared with parents certain benchmarks for each grade level, from pre-k through eight. That's going to tell you exactly what your child should walk away from that grade level knowing," he said.
"Another way parents can help the school out is by sending the darlings to school every day unless they are sick. We need you to send them to school every day. Attendance is extremely important to them being successful," said Jurgen.
"On time," added Ottley-Herman.
"Parents are key stakeholders, and they have to know that they play an integral part in a child's success. No longer can it be pointing of fingers. We are in this together, and it really takes a village to raise children," said Wells-Hedrington.
"So, we have to get them to buy into what is happening in school, feeling comfortable and not intimidated to come into our buildings to ask the necessary questions and to get the necessary assistance. We want to be able to provide our parents with more classes to help them with being successful parents as well. You will see more of that coming down the pipeline as we go through the remainder of this school year," said the commissioner.
"The work that has been done has really created an excellent foundation for us now to really implement and drive instruction within our buildings. I am really optimistic about the results we are going to see moving forward," said Wells-Hedrington.
"It's not going to be an immediate shift, but it will be a shift in what we are doing because now everyone's mindset is really on that and resources are being poured into the schools to allow for that to really happen. I am really excited to see the work that will continue. The commitment of this administration is teaching and learning, so we just hope to really showcase the good works that are happening in our schools," she said.