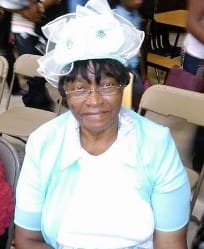 Goldeen Morris died on Dec. 4.
She was preceded in death by her spouse, Henry Morris; parents: Charles and Ismay Henry; brothers: Carlton and Vincent Henry; sisters: Cynthia Caleb and Josephine Henry-Francis; uncles: Raymond, Enoch, Lemuel and Clarence Roberts; aunts: Clarinda Robbins, Gladys Joseph and Millicent Este; and nephew, Vincent Henry Jr.
She is survived by her children: Odelia Laws, Orville, Orlena, and Osric Morris and Orresteen Reynolds; adopted children: Derek Bridgewater, Troy and Tyiasha Moore; grandchildren: Leandra Klinkhammer-Laws, Lynesha Laws, Damyan Morris, Latoya Van Leer, Samal, Shakori, Shakira, and Cidra Morris, Karon, Kajani and Kamoi Reynolds; son-in-law, Brian Laws; and daughters-in-law: Claudia Morris and Alesis Bodie-Morris.
She is also survived by sisters: Delacy Henry, Lornette Henry-Evanson, Marinella Henry-Johnson, Verneal Henry-Luke and Paulette Henry; sister-in-law: Cordella Cuthbert and family, brother-in-law, Alphonso Francis and family; and nieces and nephews: Wayne, Uriel, Urbane, Shereen, and Rashadi Caleb, Sharon and Everett Henry; Earl, Elroy, George, Phillip, Philpurt and Lisa Morris, Genna Benjamin, Verdella Horsford, Philmore and Dexter Frederick.
Other survivors include nieces and nephews: Lois Harris, Anesta Joseph; Karlene Benjamin, Ron, Oral, and Dwight Evanson, Ife Turner, Wenestter Johnson, Danielle and Pepe Weston, Eroy and Jarissa Luke; Khareem Thomas, Henrys of Buckleys, Josephs of Bendals, and Robbins of Grayhill, Antigua. Simon Family of Castle Coakley, St. Croix; beloved pastors: Reginald S. Michael and J. Wilmoth James; special friend: Marcella 'Mass' Schuster; as well as other relatives and friends too numerous to mention.
There will be a viewing at 9 a.m. followed by a funeral service at 10 a.m., Sunday, Jan. 8, at the Central Seventh-day Adventist Church on Grove Place, St. Croix. Interment will be at Kinsghill Cemetery.