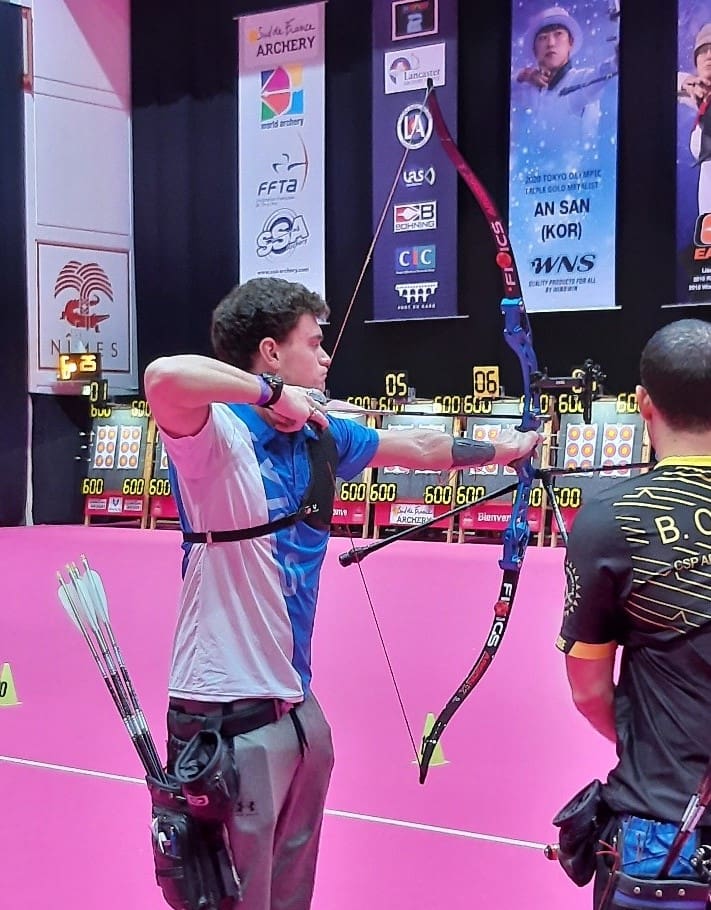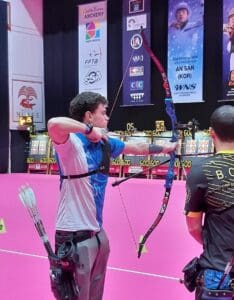 The storied stop of the indoor circuit in Nimes, France, is back to capacity. After years of restrictions due to the pandemic, nearly 1,050 archers from 43 countries took to the shooting line at the Parc des Expos in southern France this weekend (Jan. 12-22).  Nimes has long been a rite of passage for aspiring archers in Europe – but this year's event has attracted an unusually high number of entries from afar, including from Colombia, United States, Brazil, Mexico and the U.S. Virgin Islands.
The high turnout is directly related to the fact that indoor events now offer world ranking points. In just over a year's time, those ranking points will prove to be crucial for someone looking to qualify for the Paris 2024 Olympic Games, namely Nicholas D'Amour.
In a ranking round, that separated the top ten positions by 5 points, D'Amour finished 8th. His score of 591 was just 4 points off the leading score of 595, shot by Mattis Grande of Mexico.  His score in the ranking round also raised his overall ranking in the Open Division of the Indoor World Series to number 4, with an overall score of 1,168.
Nicholas' 17th place finish in Nimes raised his standing to 31 in Elite Division of the Indoor World Series.  Most importantly, D'Amour's stellar performance in Nimes raised his all-important World Ranking from 7th to 6th. The top two indoor scores count toward an archer's overall world ranking.
After winning the Hershey Winter Series held in Annville, Penn., the USA Archery Indoor Nationals at the Lancaster, Penn., site and with his performance in Nimes, D'Amour is the leading male Olympic Recurve archer in the Americas for the Indoor World Series.  The next Open Ranking Event is the Lancaster Classic on January 26-29, 2023.
The next world-ranking indoor tournament is the Las Vegas Shootout, the largest indoor tournament in the World.  Vegas will have more than 3,000 archers.  The top 16 at the end of the series will compete in the Indoor World Series Final.