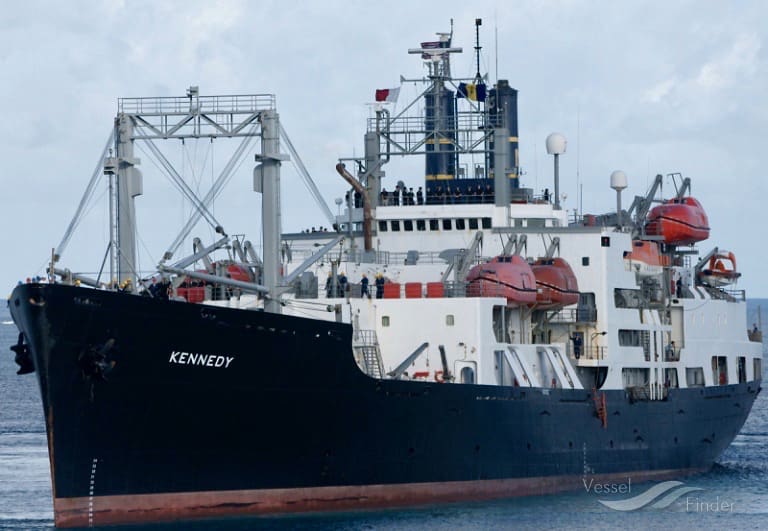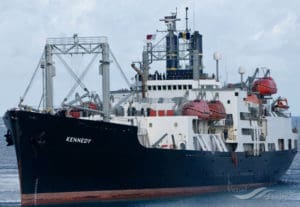 The TS Kennedy, Massachusetts Maritime Academy's training ship, entered Charlotte Amalie harbor on Friday morning, Feb. 3, guided into port by harbor pilot Robert Ripley, a Virgin Islander and 1992 academy graduate.
TS Kennedy will berth at the West Indian Company Dock through Feb. 6. The visit is one of the stops during the academy's 45-day, hands-on, at-sea educational training in the Caribbean for 467 cadets and 91 crew.
While in port, cadets will keep watch, perform maintenance duties, and come ashore for rest and relaxation.
"In short, the ship is a sailing classroom and an extension of the academy," said Anthony A. Ottley, WICO president and CEO. "We are especially honored to welcome a vessel with local ties."
After being retrofitted and reclassified, TS Kennedy was selected to become the Maritime Academy's training ship. Her name was changed in 2009 to honor the Kennedy family. TS Kennedy home ports in Buzzard Bay, Mass., home to the Massachusetts Maritime Academy. The academy was founded in 1891 and is the second oldest state maritime institution in the United States.