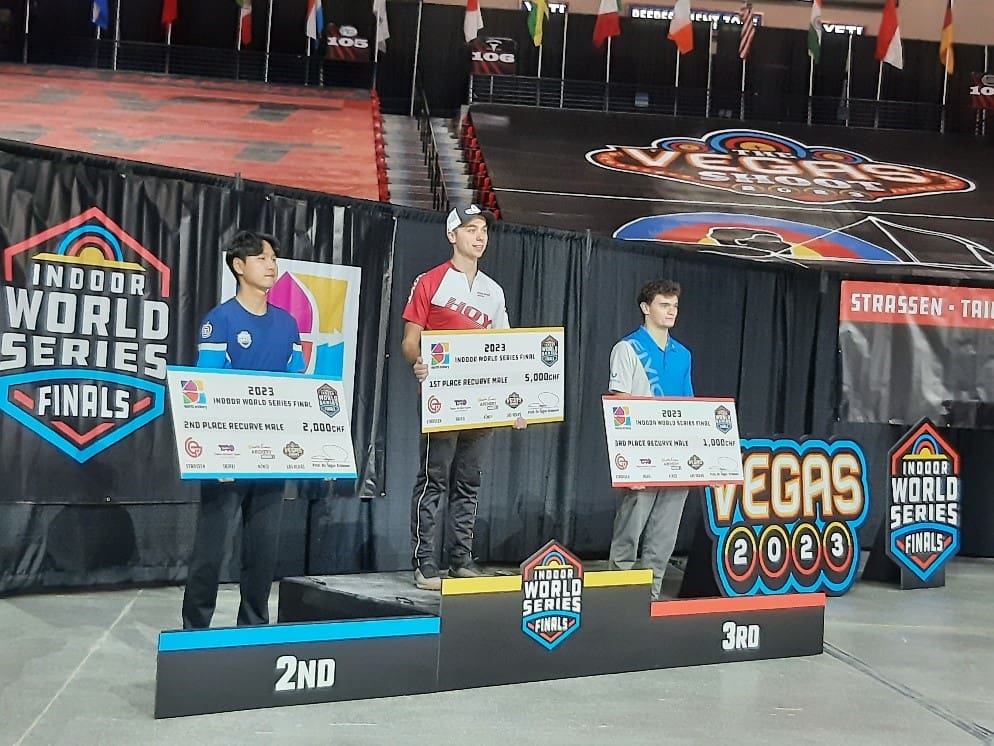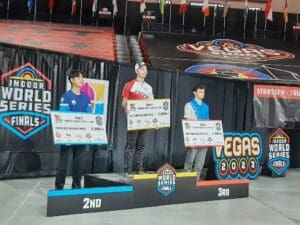 The Vegas Shoot is the largest and most prestigious indoor archery tournament in the world. The event brings together nearly 4,000 archers from around the globe ranging from beginner archers to Olympic champions. Archers from more than 50 counties participated, from seniors and youth, compound, recurve and barebow. The three-day competition featured the traditional 3-spot 20-yard Vegas Round that made this tournament famous. 
Nicholas D'Amour, Mike Gerard and Tatyana Muntyan of Team Virgin Islands were among the 4,000 archers in Las Vegas.  D'Amour and Muntyan shot in their respective Men's and Women's Championship Division and Gerard shot in the Recurve Flights Division.
In the Indoor World Series, D'Amour was seeded 5th with 390 points.  He garnered points from his 4th place Indoor Open Standing, with 1768 points from this 17th place at the Nimes Indoor Championship and his 4th place qualification in Vegas. In the Indoor Open Ranking, D'Amour is ranked 4th in the world.
In Vegas, in the first round, D'Amour, shot a 297 in the first round and 295 in the second and third rounds for a total of 887.  He finished with an incredible 49 in the X-ring. D'Amour was one point behind Felix Wieser of Germany and Jule Vautrin of France, who tied for third with an 888.  In second place was Thomas Chirault of France with an 891 and in first place was Marcus Dalmeida of Brazil with an 892.  For perspective, the highest-ranked American was Brady Ellison, who was ranked number 1 in the world and finished the ranking round at number 11.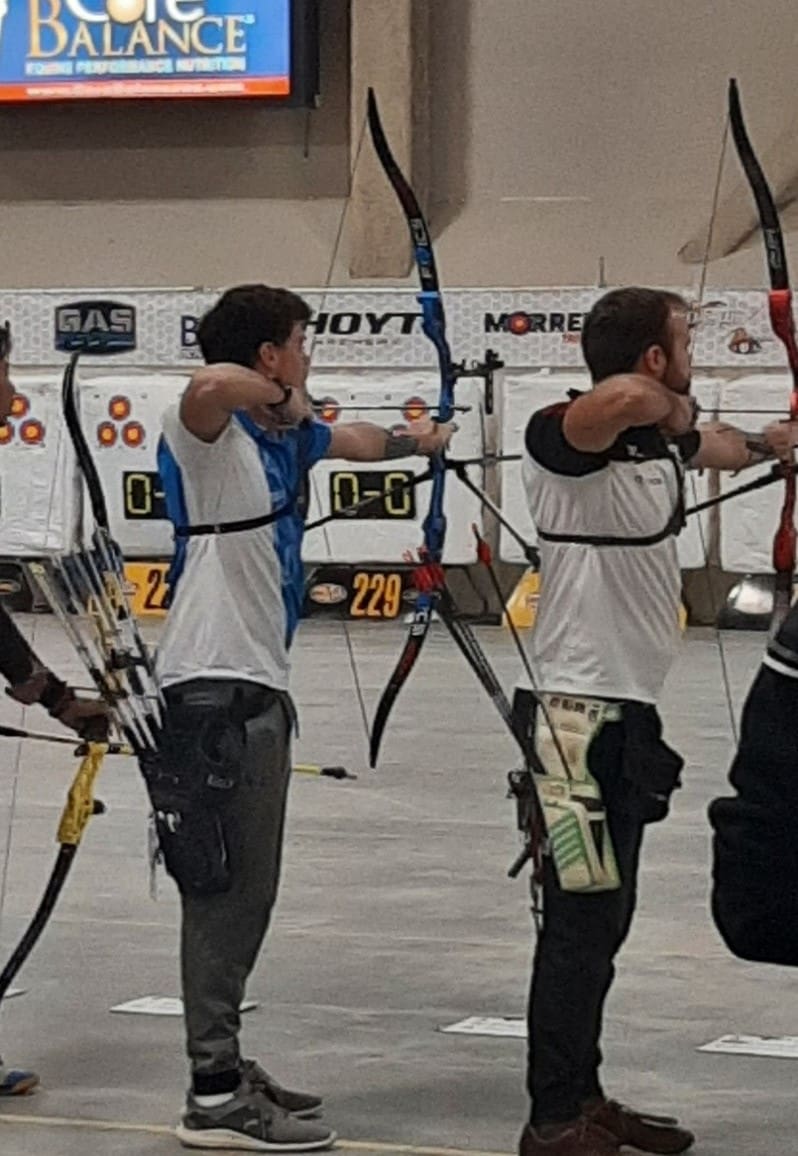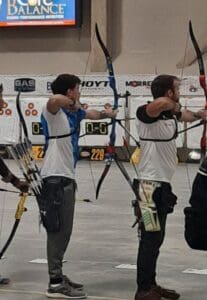 The top 16 seeds qualified for the final eliminations.  In the first round, Nicholas faced Florian Unruh of Germany, who is presently ranked 5th in the World.  D'Amour shot nearly perfectly, only dropping one 9, beating Unruh 6-2. He next faced Felix Wieser, also of Germany, who is ranked 11th in the World and the gold medalist at Nimes 2022. Then he bested Wieser 7-1.  In the semi-finals, Nicholas faced Pil-Joong Kim of Korea. In a close five-set match Nicholas D'Amour, lost 6-4.
He quickly avenged that loss with a convincing win over India's Sachin Gupta, 6-4.  In the bronze medal match against Gupta, D'Amour, was again nearly perfect, shooting 149 out of a possible 150.  Steve Wijler of the Netherlands beat Pil-Joong Kim in the finals for first and second place, respectively.
In addition to capturing 3rd place in the world Archery Indoor World Series Final, D'Amour, finished in 4th place of the National Field Archery Association Foundation — The Vegas Shoot 2023.  The importance of this indoor series is highlighted by the fact that Marcus Dalmeida has moved ahead of Brady Ellison for the No. 1 ranking in the world, based on his finish in Vegas. D'Amour remains ranked number 6 in the world.
Mike Gerard of the Virgin Islands also had a great weekend.  After day one, he qualified for flight No. 1, meaning he finished in the top 32 of 384 competitors in his division.  Over three days Gerard shot a 282, 279 and 273, for a total of 834. Gerard finished 27th in his flight.
Tatyana Muntyan shot in the Women's Championship Division.  Muntyan went nearing arrow for arrow with Gerard, shooting 281, 277 and 275 for a total of 833.  She finished 34th in Women's Championship Division.   Neither Gerard nor Muntyan participated in elimination rounds.
After a great indoor season, Team Virgin Islands will now focus on the outdoor season at 70 meters.  As for D'Amour, his next stop will be an intense training camp in Antalya, Turkey. He will be training with both the Turkish and Brazilian Olympic Archery Teams.  After the training camp, he will stay in Antalya, Turkey, for a world-ranking event – the KBSA Spring Arrows event from March 27-31.
The Spring Arrows event will be followed by the first leg of the European Grand Prix in Lilleshall, England, April 3-8, and then the World Cup – Stage 1, back in Antalya, Turkey, April 18-23.  All of these events and the ones to follow are critical world-ranking events in the lead up to the 2024 Paris Olympics.  Team Virgin Islands is off to a great start in its Olympic bid.