Fine cuisine and a glass of wine. (file photo)
The University of Virgin Islands (UVI) Center for Excellence in Leadership and Learning (CELL) Culinary Program held a closing ceremony on May 22 to recognize the accomplishments of its inaugural cohort of students.
Led by renowned Executive Chef Kerish Robles, the UVI CELL Culinary Program is a six-month beginner-certified fundamental cook program designed to provide students with comprehensive training in the culinary arts. The first cohort consisted of 15 students ranging in age from 18 to their 70s. Despite the rigorous nature of the program, 12 students successfully completed the intense training, while one student is pending the certification exam.
These students graduated as Certified Fundamentals Cooks; a recognition bestowed upon them by the American Culinary Federation (ACF). This certification represents the first level of achievement among the 15 certification levels offered by the ACF to culinary and hospitality professionals. The program's curriculum, carefully developed by Chef Robles, includes 11 courses covering essential topics such as safety and sanitation, nutrition, vegetable preparation, stocks, sauces, soups, baking, breakfast, supervision management and internships in server courses and protein fabrication, among others.
The courses align with the highest industry standards, ensuring that students gain a solid foundation in culinary skills.
"Our first cohort of students has surpassed our expectations, demonstrating exceptional dedication and passion for the culinary arts. By aligning our curriculum with industry standards, we have equipped our students with the essential skills needed to excel in the culinary world," said program manager Chef Robles.
All students obtained their Servsafe Food Handler's certification from the National Restaurant Association. The program's intensity allowed students to earn additional industry certifications, including Certified Restaurant Server, and Certified Breakfast Attendant, further enhancing their employability and professional skills.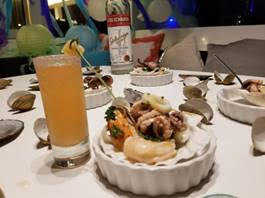 "My experience in the UVI CELL Culinary Program was very eventful and informative. My progress through it was quite delightful. All the teachers that taught me were very informative in what I had questions about, and overall, I had a great time in the program," said program graduate Je'Von Smith.
As part of their journey, the students are now student culinarian members of the Virgin Islands Chapter of the American Culinary Federation. This membership offers them ongoing opportunities to gain practical experience and pursue higher-level certifications. To achieve higher certification levels, students must complete a minimum of 90 continuing education units (CEUs), along with written and practical exams, scoring a minimum of 75 percent.
The program also offered the option to pursue certification as a Fundamental Pastry Cook, and four students bravely undertook the challenge. All four successfully passed the examination and are now proud holders of the Certified Fundamentals Pastry Cook credential, presented by the American Culinary Federation.
The impact of the UVI CELL Culinary Program extends beyond the classroom, with two students securing employment at local hotels and restaurants, and one student earning a promotion and successfully applying their skills in a newly started job since the program's inception.
During the program, students gained invaluable real-life experience by working in the on-campus restaurant, Wild Sage Bistro, for a period of four weeks. This hands-on experience allowed them to rotate through various positions, including dishwasher, server, cashier and line cook. Wild Sage Bistro was established to provide students with an authentic restaurant environment and expose them to both front-of-house and back-of-house operations. Inspired by the local wild sage plant, the restaurant offers innovative flavors while staying true to the region's cultural heritage.
"We are proud to have provided our students with a transformative learning experience that goes beyond the classroom, allowing them to gain real-life experience in our on-campus restaurant, Wild Sage Bistro," said Chef Robles. Looking ahead, the UVI CELL Culinary Program is excited to welcome its second cohort of students in the fall of 2023.
The program also aims to reopen Wild Sage Bistro in the coming fall or spring seasons. Chef Robles has developed culinary courses tailored for more advanced industry professionals and hobbyists, reflecting the program's commitment to professional development and lifelong learning. Local businesses, hotels and restaurants have recognized the talent and expertise fostered by the UVI CELL Culinary Program and have sought training for their staff or employed program graduates. This reinforces the program's mission to showcase the culinary industry's potential and meet the growing demand for skilled professionals.
For more information visit https://cell.uvi.edu or contact pr@uvi.edu.