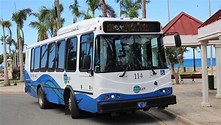 Noticing the residential and commercial growth on the island of St. John, a Transportation Advisory Committee, was formed in 1997 to implement a public transportation system. The committee consisted of public and private sector representatives from the community. Almost one year later, on June 10, 1998, VITRAN St. John became a reality. A group of seven students completed 100 hours of intensive training on June 25, 1998, to become the operation's first employees.
There were many growing pains over the past 25 years, but the operation persevered. Today, VITRAN St. John serves its residents six days a week, starting at 5 a.m. and ending at 7:30 p.m.
The department takes this moment to thank the community for its continued patronage.