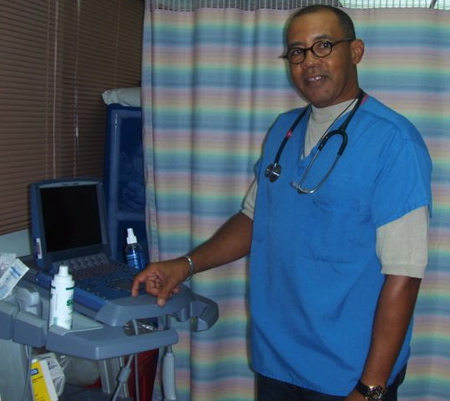 Dr. Clayton Wheatley's conversation reflects his love for St. Thomas and his joy in reuturning here to live in 2005, even though he spends his nights in the windowless emergency room of the Schneider Regional Medical Center.
"It's my choice," says Wheatley, emergency room director, of how he spends the 12 hours from 7 p.m. to 7 a.m. about half of the month, or 84 hours.
"When I wake up about 1 p.m., I look out on of the golf course, and it's usually bright and sunny," he says, "and driving home in the morning, when I come to that crest of the hill overlooking Magens, my whole demeanor picks up, just looking at the natural beauty of the island."
Born on St. Thomas to Angel and Calvin Wheatley, he experienced what he calls an "idyllic" childhood, surrounded by family and friends that he has to this day; the Watson and Wheatley families, he says, were close. In fact, it was Ruth Watson, SRMC medical director, who lured him back to St. Thomas four years ago from Atlanta, Ga., where he had been a partner in a trauma center for the past 18 years, to take the emergency room director position.
Wheatley was a marine biology student at the Inter-American University of Puerto Rico, when "my biology professor, Charles Fugler, noticed I wasn't achieving my full potential," he says. "He planted the seed, and I followed him to the states to study medicine at Oklahoma City University."
Wheatley graduated from Tufts University Medical Center in Boston and was still doing his residency in family practice at Jacksonville Memorial Hospital in Miami, when he says, "I found I really wanted do emergency medicine."
"It requires a special kind of mind-set, a special kind of doctor," he says. "My two days in the ER might be like 100 days in a normal practice behind a desk. There's the social issues, the decisions you face daily, the shift changes, the stress on the body."
"Most ER doctors burn out after 10 or 15 years," says the youthful looking 58-year old. "I've been at it 30 years now. Your body will tell you when it reaches a level where you can't do it any more. There's a finite limit to burnout – I've not achieved that yet."
After 11 p.m., Wheatley is the only doctor at the hospital, working with four or five nurses.
"You have to draw on your diagnostic abilities, trust your clinical judgment," he says. "You cover emergencies in the ICU and the rest of the hospital, as well."
Wheatley credits his mother, Angel Wheatley, for his perseverance.
"She is the most patient woman I know," he says. "I took her for her 83rd birthday lunch at the Petite Pump Room recently, and I told her 'Your gift to me is what keeps me going.'"
From his father, Calvin Wheately, well-known for his years with the West Indian Co. Ltd., the younger Wheatley says he took his work ethic, and his respect for authority. Wheatley is the eldest of four Wheatley progeny with sisters Luana and Roxanne and brother Maurice. He is divorced father of three grown children, Leila, Kyle and Tye.
Wheatley says of working now on the island: "It's a close knit community; it could be your next-door neighbor, or someone you grew up with, coming to the ER. It was the hardest thing coming back," he says, "the pressure to take special care; it's a responsibility."
He says emergency medicine "is a fast thinking, very emotional job. It requires excellent diagnostic abilities, and one of the worst things doctors must do – to tell family members of a death, especially if it's a stab or a gunshot wound.
"You're the initial contact," he says, "the one who gets the patient history, who calls in the surgeon. The obligation falls on you. The sadness is the wantonness of the violence. You feel you've tried your best … If the family knows you tried, it softens the blow, it can be rewarding."
"It's so sad because it's like putting a finger in the dike," Wheatley says. "The police are trying to get the job done, get the guns off the street." He pauses, "I realize now, what an idyllic childhood I had on Garden Street. In my teens we would sit late at night on the stoop talking, or tossing hoops. You wouldn't think of doing that today."
Wheatley is a good-looking man with a slow, contemplative smile.
"In the greater scheme of things," he says, "nothing is promised. Most of us in the profession learn what's important; the rest is small stuff. You're fine one day, and the next … you're gone. … There's an adrenalin rush you get while you are working on a patient, it helps you get through. The nurses feel it, too. It's controlled chaos. There's no such thing as a 'typical' night."
Then there's the administrative headaches.
"It's the same space it was when I left in the '80s," he says. Wheatley was the first emergency room director at the old Knud-Hansen Hospital for three years, continuing when the hospital moved to its present location.
"Privacy for patients is an issue," he says. "One of the biggest complaints we got in our first really good patient satisfaction study, was no pillows. What we think is important, isn't necessarily what the patient thinks."
As for time away from the hospital, it's no accident he lives on the golf course. Once he's awake Wheatley says that's often where he heads. Or, he cooks up some local food, things his dad or grandmother taught him, he says, "fish and fungi in butter sauce."