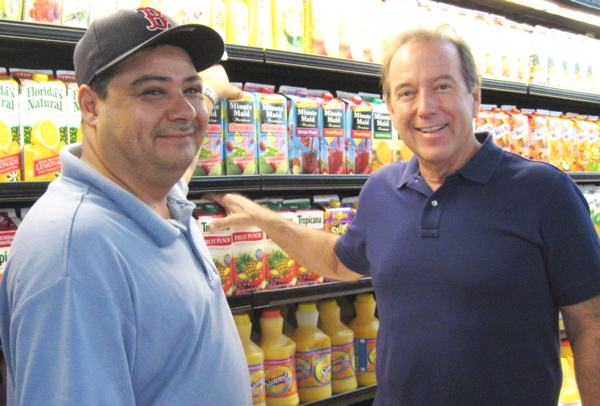 Although St. John Gourmet Market is still growing into owner Jim Overton's vision, the store has plenty to offer savvy grocery shoppers looking for competitive prices and friendly service from the store's dozen staff members.
"We have a smile for everyone," Overton said.
The store opened in late May at Greenleaf shopping center, located near the Westin Resort and Villas. Overton said he picked the location because he hoped the proximity to the resort would be good for business.
While most locals have always comparison shopped among St. John's handful of grocery stores, Overton said that tourists are now doing the same.
He's working on the store's website, and when it's up and running he plans a shop online feature. Overton said that he anticipates visitors heading to their vacation villa or other tourist accommodation will place their orders via the Internet so they can pick up their already boxed order on their way to their vacation spot.
The store definitely has something for everyone. From the Goya products liked by locals to soy flour desired by more esoteric cooks, the inventory meets many needs.
Shop for prosaic items like cereal, chicken, lunch meat, bread, juice, baby diapers, and fresh fruits and vegetable or more hard-to-find things like Nutella, a yummy chocolate hazelnut spread, and pignolia nuts.
According to Overton, St. John Gourmet Market is ramping up its focus on organic items, including produce. Indeed, the store already carries items like organic milk, rice milk, almond milk, natural peanut butter as well as other organic and natural items.
St. John Gourmet Market's shelves and refrigerators are filled with plenty of ready-to-eat items good for entertaining and nights when cooking isn't on the agenda. Think hummus and other prepared dips as well as frozen pizza.
And store manager Miguel Lopez wants to know what customers want to see stocked on the shelves.
"If you have any suggestions bring it to us and we will try to get it," Lopez said.
Lopez, a native of Mexico, has spent many years in the grocery business. He worked for many years for the Ray's supermarket chain on the west coast and most recently worked at St. John's Dolphin Market.
Dolphin owner Nael Ahmed is a partner in the business, Overton said.
Overton grew up in New Jersey and owns a construction business as well as vacation villas. His plans for St. John Gourmet Market include a deli. The cases are in place, and Overton said he's waiting for finances to improve so he can implement his plans. Lopez later said that the deli will include tables outside the store so people can enjoy their take-out on site.
The store's major challenge comes from getting inventory to the store. While all items have to be shipped from St. Thomas, Overton, laughing, said that even getting the truck up and over the steep and treacherous Jacob's Ladder poses a challenge.
"But the challenges are no different than they've ever been," he said.
St. John Gourmet Market is open 7 a.m. to 10 p.m. every day. It's phone number is 779-6001.