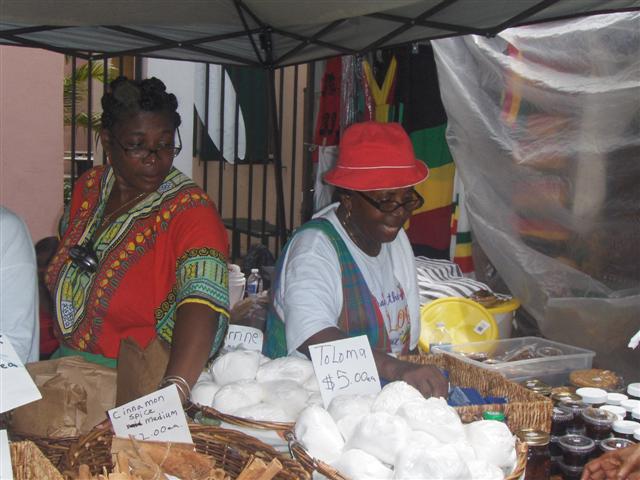 When Irvin "Brownie" Brown announced at noon Wednesday that the Carnival Cultural Fair was officially open, folks at Emancipation Garden just rolled their eyes. They had one up on Brown—the hundreds who flocked to the fair had been enjoying its bounty since early morning.
Actually, no one had one up on the traditional host, who noted with a laugh, "It's legal now, so it'll taste better."
The garden was a sea of traditional madras plaid, from Milo's Kings and the St. Thomas Heritage Dancers to the many vendors and the honoree of "Inger's Market Jamboree," J. Ingerborg Marrero, herself.
Gov. John deJongh Jr. and first lady Cecile deJongh, along with Carnival royalty, cut the orange-and-yellow ribbon to the gazebo and paid tribute to Marrero, stalwart supporter of what used to be called the Food Fair, for many years.
In fact, Marrero, who retired from a years-long teaching career in 2002, stepped in when a truck destroyed the traditional location of the fair, the Sanderilla Thomas Bungalow in Market Square, in 2003, just two weeks before Carnival, forcing the committee to find a new location, pronto!
Marrero headed a small delegation to Emancipation Garden, tape measure in hand, to sketch out the new location, which has in the years since proved far superior with its green spaces, trees and welcoming benches.
Folks on Wednesday spread out over the garden, the nearby streets and the lawn in front of Fort Christian. Every available inch of space was filled with everything from homemade soaps, soups, stuffed lobster, spices, shoes and jellies.
Booths lining the alley by vendors plaza overflowed with everything from papayas and bananas to fresh spices and plants of every description.
Charlie Leonard stood wide-eyed—not over his own bountiful bevy of produce—but looking at his neighboring Green Thumb farm. "Look at that pumpkin," Leonard said. "It's the prettiest orange I've ever seen. I told Jambie if he cut it, he'd have a counter full of people, and look now, they're lined up for it, and it's almost gone."
The drifting aromas of every imaginable food filled the air Wednesday. Curried rotis, pates, cakes, roast pork, chicken in myriad guises, broiled lobster, corn on the cob, johnnycake, stew mutton, and, of course, kallaloo, were all making fairgoers mouths water.
Retired teacher Sally George displayed her "Karibbean Kids" cotton dolls, dressed in school uniforms. Also for sale were books by local authors, lotions, and lovely bowls made from calabash.
Montessori School students sold vegetables they had raised, including bouffant bright green heads of lettuce to help finance a trip to Guatemala. Gladys Abraham Elementary School youngsters sold produce from the school garden, including eggplants, bright red pepper, kale and lettuces.
Virginia Cuffy and Miranda Isaac smiled from behind the well-stocked, aromatic spice booth they have manned for more than 20 years. "People still come back every year, from when we were at Market Square," said Isaac. Cinnamon, curries, nutmegs and coco sticks all fought for prominence over the intoxicating display.
Next door, June Archibald displayed her Precious Produce Farms jellies, passion fruit, and lemon grass, displayed in pretty pink cotton aprons appliqued with PPF, a contribution from her fair assistant, Chloe Beyer.
Two diminutive French ladies, Lillian Danet and Kathy Scabriel, were laden with bags of goodies. "We've gotten these for later," said Danet. "Sugar cakes, potato puddings, and we're just starting."
Although an unseasonably hot sun beat down throughout the day, it didn't deter the spirit of the fairgoers who kept the beat of Milo's Kings, stopping to chat or sitting under a shade tree to share a bit of fish, fungi, johnnycake or a cool drink.