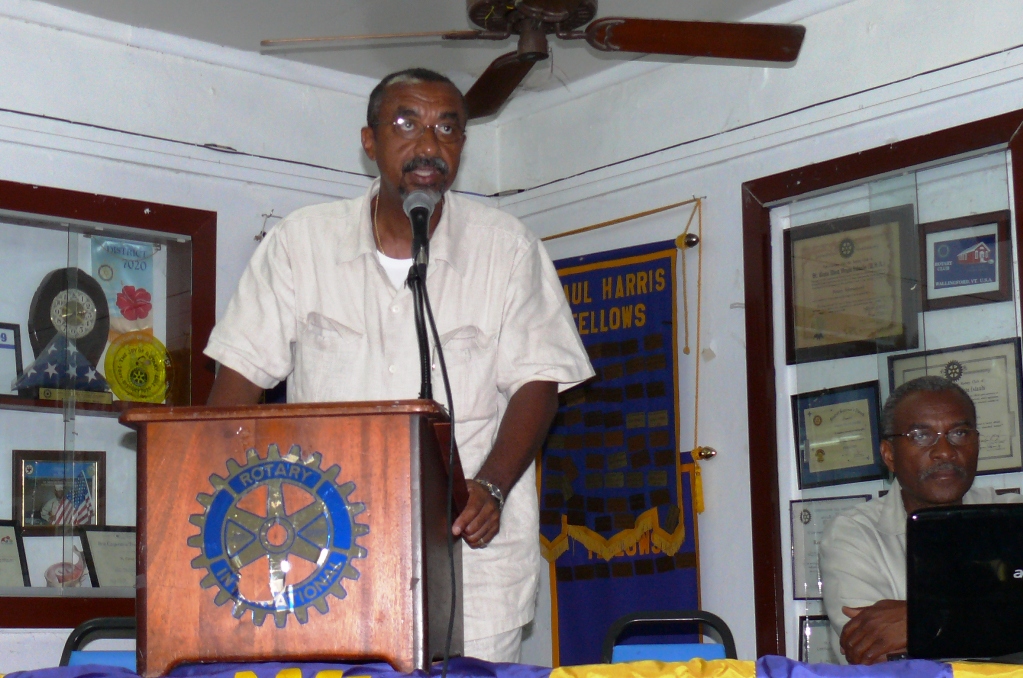 Despite controversy over native rights, most of the draft V.I. constitution now before the U.S. Congress is uncontroversial, and its passage in some form would benefit the whole territory, delegates to the 5th V.I. Constitutional Convention said this week.
On some radio talk shows and in some newspapers, "the focus is on 5 percent of the document," said delegate Gerard Emanuel, speaking to St. Croix Rotary West members Tuesday evening.
"But it contains a lot of important items, some of which we all agree on," he said.
For one, the draft constitution has a mechanism for sub-districting and municipal government— something many residents have wanted for a long time, he said.
"Also, drafts of legislative bills and their authors would have to be public," he said. Right now, under local law and the federal Organic Act of 1954, members of the Legislature "preempt" bills by submitting related bills first. Because the bill is not finalized or up for a vote, the Legislature treats these "preempting" bills as if they were private papers and will not reveal the authors. This allows senators to anonymously block legislation. The draft constitution would eliminate this problem, he said.
The constitution also creates an independent commission to set salaries for elected officials, taking away the power of the Legislature to set its own pay. And it would be easier for citizens to pass binding initiatives and referenda, he said.
"It would not be so easy as to encourage frivolous initiatives, but it would lower the threshold so that it is at least conceivable to meet it," he said. "These are very important provisions. But you never hear about any of them."
Gerard "Luz" James, the convention's president, said the issue of native Virgin Islanders has overshadowed the document.
"To me, that [native Virgin Islander question] is not an issue," he said. "What is an issue for me is our maritime boundaries."
Federal boundaries for the territory's waters put local fishermen at a disadvantage, he said. Portions of the water between St. Thomas and St. Croix are international, rather than territorial waters, which makes policing and controlling even the waters between the islands problematic, he said.
Convention Delegate Claire Roker said the Organic Act of 1954 was never meant to be a permanent governing document, and the territory needs a constitution.
"How long are we going to live under the Organic Act of 1954?" she said. "It is time for a change. And when the document comes back we need to educate the population in terms of what this constitution means.… As for native rights: I am a native Virgin Islander. You cannot take away where I was born."
The Constitutional Convention completed the draft constitution last year. Gov. John deJongh Jr. initially declined to forward the document to President Barack Obama, citing constitutional and other problems with several passages. In December, the V.I. Superior Court concluded deJongh did not have the latitude to decide whether or not to send the document on and ordered him to forward the draft. Since then, Obama forwarded it to Congress, along with a Department of Justice analysis raising questions about maritime boundaries, tax breaks aimed at native Virgin Islanders and other provisions. Congress can send the document back to the territory unchanged, or it can amend it as it chooses. In March, the House Subcommittee on Insular Affairs held a hearing where James and other delegates testified. Soon the U.S. Senate will hold a committee hearing on the subject, James said. After Congress does its work, the territory will hold a referendum on the document. Several Rotarians said more work needs to be done to educate the public about the constitution, its provisions and what it meant for the territory.
Roker said money for an education campaign is in short supply, and the convention delegates could use help.
"We are supposed to get $228,000," Roker said. "It passed the Legislature, but with the financial crisis, right now we do not know how far we are going to get."
James said financial help from the public would be invaluable. Those who want to help the public education campaign can send comments and donations to: Gerard "Luz" James II, P.O. Box 224605, Christiansted, USVI 00822.