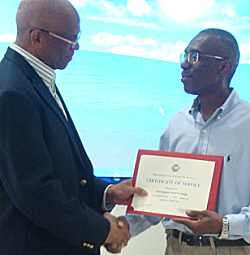 It hardly seemed like 30 years, Col. Aubrey L. Ruan Jr. said, but there he was Friday morning accepting a certificate for 30 years of service at the Virgin Islands National Guard's Employee Award and Appreciation Day.
"I didn't realize it had been 30 years," he said. "Time sure flew by."
Ruan was one of 127 Guard members – brothers and sisters in arms, as one officer put it – honored at a ceremony at the Great Hall at the University of the Virgin Islands St. Croix campus for their years of service. Together they represented more than 800 combined years of service to the country and the territory.
Born on St. Thomas, Ruan enlisted in 1980 and in the servce of his country has traveled all over the world, including a three-year stint in what was then West Germany. That's why, when he had the chance to become a member of VING and move back to the territory, he jumped at it.
"I didn't like the cold," he said. "Can you imagine three years in Germany?"
Dennis O. Dickie and Richard O. Mitchell were also honored for 30 years of service.
As each name was called out the recipients came forward to receive their certificates and shake hands with Maj. General Renaldo Rivera, accompaied by a soundtrack that included the themes from "Rocky," "Star Wars" and "American Idol." But before the 30-year-service recognitions, Lt. Col. Kai Schjang joked that the person running the sound system should put on "something slower" for the longtime honorees because "they don't move as fast." Out from the speakes came the '80s ballad "You Take My Breath Away (Love Theme from 'Top Gun.')" And Dickie, the first of the three 30-year recipients called, danced smoothly up the aisle, doing a little spin at the top before turning toward Rivera. His fellow Guard members applauded all the louder.
The event began at 8 a.m. with a breakfast. The afternoon included a game-show take-off on "Who Wants to be a Millionaire" and team-building exerises.
The recipients of the honors and their years of service follow.
Federal Technician status:
30 years: Dennis O. Dickie, Richard O. Mitchell, Aubrey L. Ruan Jr.
25 years: Henry S. Warner, Beresford F. Edwards, Milton A. Francis, Marcia I. Mills, Jessica Cornelious.
20 years: Gordon R. Moore, Sonia B. Willock, Ellington D. Martin, Kim D. Stanley, Delano L. Blyden, Ruth E. Frorup, Ronnie P. Quetel, Anesta James, Connie S. Francis.
15 years: Gary V. Thomas, Schelley M. Amey, Donald W. Woodley, Gladys C. Turnbull, Lenroy Harry, Barbara M. Mitchell.
10 years: Felicia V. Neale, Kevin A. Henley, Louin E. Chung Jr., Lisa M. Cepeda-Nicholas, Nakisha Joseph, Jean V. Collins, Robert M. Settles, Lorna M. Butler-Southwell, Stafford C. Simmons.
5 years: Jessica Sonson, Tiffany K. Pemberton, Justin C. Staples, Rudolph Joseph, Richard A. Allen, Latoya N. Letang, Lennard S. Sweeney, Trevor O. Patrick, Ashel M. Bunche, Zera J. Louis, Jeremy O. Henry.
Active Guard Reserve:
25 years: Delores Edwards, Barry Fredericks, Hollis Mcintosh, Pedro Morales.
20 years: Hillis Benjamin, Joy Carrington, Judy Clarke, Lorelie Clark, Evlis Harvey, Douglas Heywood, Melinda Johannes, Carol Morris, Alana Thomas, Roy Vialet, Wllette Francis. Michael McDonald.
15 years: Donaie Benedicta, O'Reilly Brian, Augustin Webster, Pamela Depusoir, Arthur Connor.
10 years: Eugene Canegata, Linda Cills, Claudia Frederick, Sheryll Luciana, Edgado Morales, Valery Regisson-Willie, Edward Richards, Robert Richardson, Marcia Spencer, Pete Stapleton, Zathlyn Rodriguez, Renee Samuel, Roland Lawrence, Curtis Flemming.
5 years: Henry, Jendayi Albert, Kenneth Alleyne, Mona Barnes, Anibal Berumdez, Mizelle Calixte, Olson Christian, Nina Brewley-Clarke, Fabian Claxton, Simbi Coward, Brian Douglas, James Gaston, Tyrone Gifft, Wendy Green, Susanatte Grosenvor, Seanna Hughes, Marise James, Pauline James, Felicita Joseph, Bruce Kelly, Atacha Laurencin, Geeorgina Lyles, Richard Mitchell, Jamilah Ottley, Marsha Harvey, Robert Phipps, Calvin Richards, Aesha Rivers, Rae Rouse, Joseph Samson, Edgardo Samson, Carlos Santiago, Kai Schjang, Newton Severin, Ann Marie Swan, Clayton Sutton, Kijah Todman, Gino Williams, Wanda Williams.