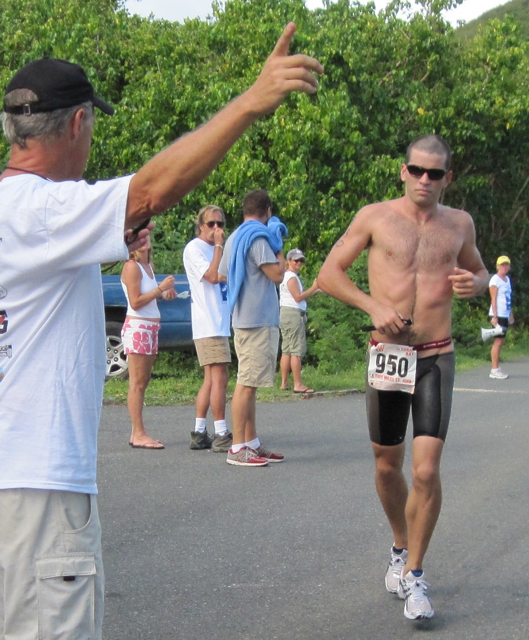 Morgan Locke handily beat all comers Sunday at the Love City Triathlon and Aquathon with a time of 1 hour, 38 minutes and 29 seconds, more than 10 minutes ahead of a pair of Tortola residents who finished almost in a dead heat for the second and third place finishes in the triathlon.
"We don't get that kind of caliber very often," race committee member Jude Woodcock said of Locke.
Locke, 24, hails from St. Croix but is now living on St. Thomas. He is training for the upcoming half ironman in Clearwater, Fla., and said he viewed the St. John event as part of his training regime.
"I've really been working on my run," he said.
Locke aced the half-mile swim across Maho Bay, where the race began, taking a "couple of minutes" lead. When it came to the 14-mile bicycle segment from Maho Bay to Cruz Bay and on to Annaberg Plantation parking lot, he said the hills were a challenge.
"I blasted the first six miles, and the last six hurt pretty badly," he said after completing the four-mile run.
Andrew Thompson, 43, took second place, just a hair ahead of third place finisher Chris Ghierse, 46. Thompson's time was 1 hour, 49 minutes and 1 second, with Ghierse finishing two seconds behind him.
"Chris caught me, but we were pushing each other the whole way," Thompson said.
Thompson said he went the wrong way on one part of the bicycle course and had to do an additional uphill. He said the swim was hard.
"And I had a cramp at the beginning of the run," he said.
Chierse, who bicycle raced professionally in his younger years, just got in triathlon shape. He said he weighed 208 pounds in July, but was down to 155 for the triathlon.
"And I swam on Tuesday to make sure I could still do it," he said.
The Triathlon is sponsored by the St. John Landsharks. It was originally scheduled for Sept. 5, but the passage the previous week of Hurricane Earl forced a postponement. The number of athletes was way down and no women triathletes participated.
Race Director Louise Wearmouth said that a similar activity on St. Croix kept that island's contingent home.
A total of 11 men raced in the triathlon. There were 18 finishers in the Aquathon, and seven relay teams participated.
In the Aquathon, a combination half-mile swim and 3.75-mile run, St. John resident Sarah Swan, 24, was first across the finish for the women with a time of 46 minutes and 40 seconds.
"I had a good night's sleep," she said when asked what was the secret of her success.
St. John resident Mary Vargo, 26, was right behind her with a time of 46 minutes and 50 seconds. She said that the hills were her strength.
"But I was one of the last swimmers," she said.
Adrianne Baird, 37, of St. Thomas was third with a time of 51 minutes and 5 seconds. She said she ran the race three times before and that experience helped this time.
She added that the race committee's fine job of organizing the event also helped her to success.
For the men, St. John resident Adam Thill, 34, was first across the Aquathon finish line with a time of 42 minutes and six seconds. A former triathlete, he said he trained for the Aquathon but no longer competed in the triathlon because he now has a family.
"It cut into my training time," he said.
St. John resident David Sapio, 40, was second for the men in the Aquathon. His time was 43 minutes and 44 seconds.
"I didn't stop at all and I didn't train," he said when asked what gave him an edge.
Jason Siska, 25 and a St. John resident, was third across the Aquathon finish line for the men with a time of 45 minutes and 4 seconds.
"I had no training. I just did it," he said.
The team of St. John resident Tory Lane, St. Thomas resident Thomas Layer and St. John resident Kevin Chitman took top honors for the relay teams with a time of 1 hour, 38 minutes and 57 seconds.
Two all-St. John teams took second and third. Lani Roberts, Austin Payne and Galen Stamford were second with a time of 1 hour, 52 minutes and 56 seconds.
Eric Bauman, Pretlow Majette and Margaret Majette were third with a time of 1 hour, 58 minutes and 56 seconds.
The parking lot at Annaberg was abuzz with people who came to cheer on their friends and take in the scene.
"I just moved here this week so I'm hanging out trying to meet some of the locals who are into the same thing," new St. Thomas resident Larry Ronsko said as he waited for the finishers to arrive.
The race brings out a huge number of volunteers who keep the participants on course, record their finish times and hand out medals. Wearmouth put the number of volunteers at about 40.
"I like to be at the end of the race so I see everybody," volunteer Lee Morris said as she got ready to distribute medals to all those who finished.
St. Thomas resident Gorden Hackstaff was honored with the Bill Gladfelter Award. Jeff Miller of the race committee said Hackstaff suffered a bad bike crash a month ago while training for the race.
"He hasn't been dissuaded and brought a relay team over from St. Thomas," Miller said.
Complete results will be posted at www.stjohnlandsharks.com.