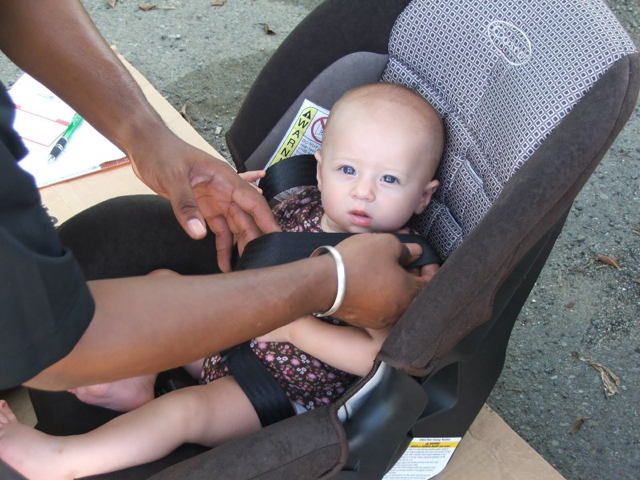 The Virgin Islands Police Department's Office of Highay Safety gave away more than 500 child safety seats and booster seats last week St. John, St. Thomas and St. Croix.
Certified Child Passenger Safety Technicians weighed children, fitted them in the seats and showed parents how to install the seat in their vehicle and safely buckle the child into the seats.
The demonstrations and give-aways were held in conjunction with National Child Passenger Safety Week, which began September 19 and ended Saturday.
Police Commissioner Novelle E. Francis Jr. got a chance to interact with some of the parents and children at the clinic on St. Croix.
"This is a great opportunity to assist the community by properly securing our young people in the vehicles they drive in," he said.
According to Francs, the police department has been in the forefront of advocating for traffic safety in the Virgin Islands with several initiatives, including traffic checkpoints, road blocks, drunk and drugged driving campaigns and now the child safety and booster seat clinics.
The clinics remind parents of the need for safe driving habits.
"A lot of times we as adults are buckled up and we're safe and the kids are left to fend for themselves," said St. John resident Jacqueline Meade.
Leslie Dickenson of the Office of Highway Safety said parents are usually confused on two major things: when should a child use a regular seatbelt and at what age should they ride in a forward facing safety seat.
Information about child safety seats and booster seats can be obtained by calling the VIPD Office of Highway Safety at 772-3025 on St. Croix and 776-5820 in the St. Thomas/St. John district.