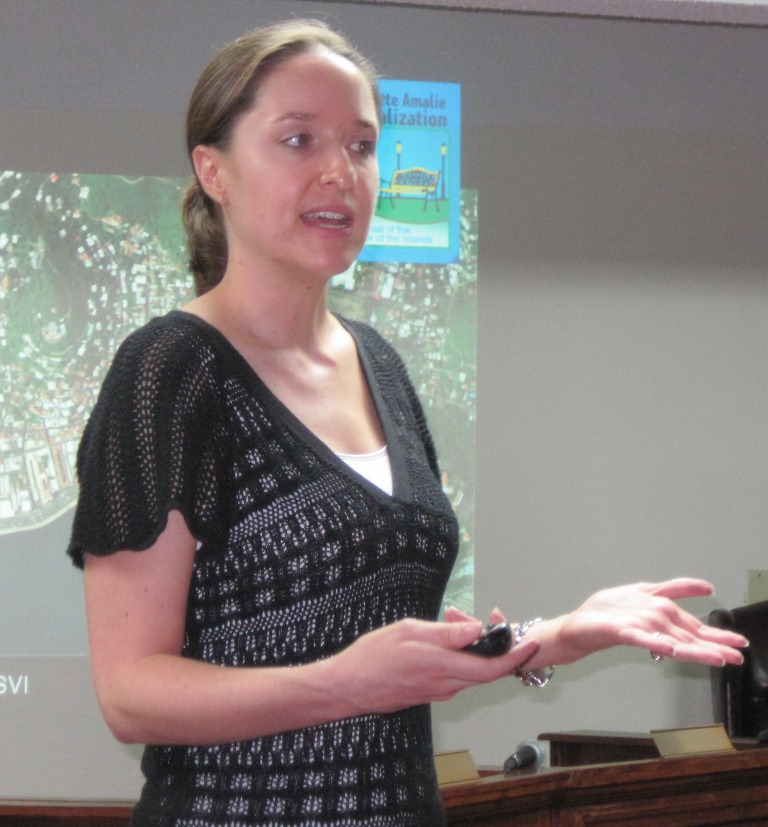 While there are no current plans to develop a form-based building code for St. John, residents had a chance Tuesday to hear what's afoot for Charlotte Amalie, St. Thomas. The Charlotte Amalie project is intended to serve as a pilot project for the rest of the territory.
"It could apply to St. John or St. Croix," said Amy Groves, a consultant with Dover, Kohl and Partners, who spoke before the dozen people gathered at the Legislature building.
Form-based building is essentially about aesthetics, a way of making sure that new and renovated buildings look similar to the other ones in the area. It takes into account things like lighting, signage, proportions of open space, street design, and many more items that go into creating a similar look for an area. A unique form-based building code would have to be developed for each of the territory's areas.
"Every form-based code is tailored to the place," Groves said.
If the Legislature gives its approval, it will be included in the revamped building code now in the works by the Planning and Natural Resources Department. However, Groves said that anyone who owns an existing building will not have to make changes.
Former St. John Administrator Julien Harley suggested that the form-based idea start on St. John because the island is smaller and its residents have a history of working together when it comes to change.
That won't happen, the Chicago-based consultant Carol Wyant said because Charlotte Amalie is already in the midst of redevelopment, and the $400,000 in funding comes from philanthropist Richard Driehaus, who has a house on St. Thomas. His donation for the development of a form-based building code for Charlotte Amalie was made to the St. Thomas-based Community Foundation of the Virgin Islands, which has signed on the consultants.
St. John resident Pam Gaffin spoke about the need for a form-based building code for Cruz Bay because the V.I. Port Authority is currently working on a waterfront development for the downtown area.
"The community input is going over their heads, and we're going to end up having a cruise ship dock nobody wants," she said.
Gaffin also spoke about laws already on the books that aren't enforced. She said St. John had plenty of examples that showed people could build anything they want.
Earlier, Harley had asked about the role of the Legislature in the development of the form-based building code. He said that although codes may be in place, when issues get to the Legislature, special interests come into play.
"I believe in reality," he said.
Dover, Kohl and Partners will hold a series of meetings and design sessions on St. Thomas to discuss the Charlotte Amalie project. They begin Dec. 3 at 6:30 p.m. at Lockhart Elementary School and continue until Dec. 9
For more about form-based building codes, visit www.formbasedcodes.org.