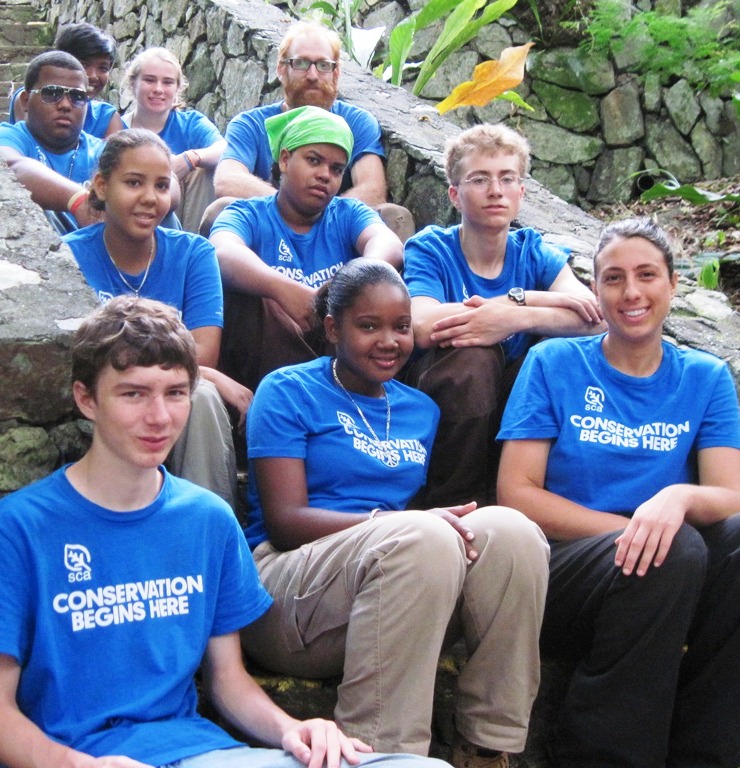 Four students from the mainland and four from St. Croix are busy fixing up trails in the V.I. National Park as part of a Student Conservation Association summer program.
Volunteers have worked on trails during the winter, but Penn said budget issues mean the park is understaffed and the people left to do the job are overworked.
"The trails barely get any maintenance except in season," Audrey Penn, program manager at the Friends of the Park group, said.
The students have a hard job to do. James Koland, 17, is a 12th-grader at the Petty School in Hightstown, N.J., but lives in Hopewell. He said he had to get used to working all day.
"But it's getting easier," he said.
On Thursday the students planned to hike almost two miles down to the petroglyphs at Reef Bay, where they are trimming trees, clearing bush and fixing water bars.
"So water doesn't destroy the trail," 16-year-old Leonela Fabian explained.
Fabian and three of her St. Croix Central High School classmates make up the Virgin Islands part of the team. This was her first time on St. John, and she called the SCA experience a good one because she likes the exercise, likes to hike and gets to spend time with friends. She's making new friends too.
Sampor Burke, 18 and a recent high school graduate from Newburyport, Mass., plans to spend next year traveling through southeast Asia but she signed on for this trip to put herself in a different environment.
"To put myself outside my comfort zone," she said.
While she was referring to new situations, the living accommodations are outside the comfort zone of some of the students without camping experience. They're living in tents at Cinnamon Bay Campground and cooking for themselves.
"Veggie meat balls," said Bery Severino, a 17-year-old 11th-grader at Central High, as students ticked off other favorites such as macaroni and cheese and dumplings with chicken.
Severino said he likes dealing with the tools the students use in fixing up the trails, but others said they liked the chance to meet new people best.
"And I like being outdoors," said Matti Hollo, a 12th-grader at Cheltanham High School in Cheltanham, Penn.
Central High 12th-grader Hernys Jimenez, 16, had the same thing to say when asked what she liked about the job.
"It's a new experience," she said.
Her classmate, Joshua Kock, 17, also said he signed up because he likes new experiences.
"And I like to help nature," he said.
Others also said they wanted to do something helpful. Emily Zapinski, a 16-year-old 11th-grader at Alderdice High School in Pittsburgh, said her family frequently visits national parks.
"There's no better way to pay back than by helping out," she said.
The students are accompanied by two leaders.
Laura Perlin, 31, hails from San Francisco, where she practices traditional Indian medicine. Dan Eldridge, 35, is a photographer and freelance outdoor instructor in Los Angeles.
The program cost the Friends $37,000, which Penn said is funded by an anonymous donor. It goes to pay a stipend to the St. Croix students, for crew leaders' salaries and training, for food and other expenses.
The SCA is a national organization that runs summer conservation work programs for youths at national parks and other similar places.